Virgin Islands Coupons and Specials
Find coupons and specials for businesses in the U.S. Virgin Islands like attractions, activities, restaurants, accommodations and more!
National Geographic Trails Illustrated St. John Map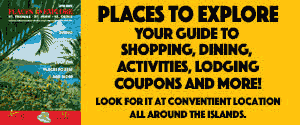 1 Ship In Port Today
Carnival Splendor
Guest Capacity: 3,006

West Indian Company Dock
×
W = West Indian Company Dock
Crown Bay Dock
×
C = Crown Bay Dock
Anchorage
×
A = Anchorage
St. John
×
S = St. John
Virgin Islands Newsletter Signup
Sign up now for our FREE Virgin Islands Now Newsletter and we will email you regular updates on what's happening in the Virgin Islands & on VInow.com. You can unsubscribe at any time. Simply fill in the form below.
×