Virgin Islands Coupons and Specials
Find coupons and specials for businesses in the U.S. Virgin Islands like attractions, activities, restaurants, accommodations and more!
St. John Off the Beaten Track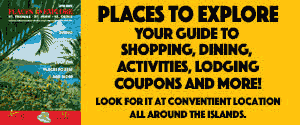 Saturday May 18th, 2013
Holiday Arts and Crafts Festival
10:00am
St. Thomas, Tillett Gardens
Tel: (340) 776-8566

Sunday May 26th, 2013
Reef Jam
1:00pm
St. Croix, Rainbow Beach
For more information visit: www.reefjam.com | Email

Event Calendar →
West Indian Company Dock
×
W = West Indian Company Dock
Crown Bay Dock
×
C = Crown Bay Dock
Anchorage
×
A = Anchorage
St. John
×
S = St. John
Virgin Islands Newsletter Signup
Sign up now for our FREE Virgin Islands Now Newsletter and we will email you regular updates on what's happening in the Virgin Islands & on VInow.com. You can unsubscribe at any time. Simply fill in the form below.
×