U.S. Virgin Islands Cruise Ship Schedule
Friday - February 1st
Saturday - February 2nd
Sunday - February 3rd
Monday - February 4th
Tuesday - February 5th
Wednesday - February 6th
Thursday - February 7th
Friday - February 8th
Saturday - February 9th
Sunday - February 10th
Monday - February 11th
Tuesday - February 12th
Wednesday - February 13th
Thursday - February 14th
Friday - February 15th
Saturday - February 16th
Sunday - February 17th
Monday - February 18th
Tuesday - February 19th
Wednesday - February 20th
Thursday - February 21st
Friday - February 22nd
Saturday - February 23rd
Sunday - February 24th
Monday - February 25th
Tuesday - February 26th
Wednesday - February 27th
Thursday - February 28th
Note Schedule subject to change without prior notice.
Historical Cruise Ship Arrivals
Desiring Paradise
If you've ever considered moving to the USVI, or if you know someone that wants to, this book is for you. Desiring Paradise is a true story about two New Englanders who followed their dream. Experience the island from a different perspective - as newcomers trying to survive their first year in Paradise. It's guaranteed to raise your eyebrows.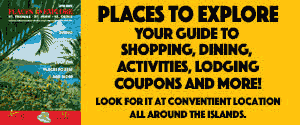 Cruise Ship Guide
The Virgin Islands have a lot to offer. To help you make the most of your visit, explore this site and decide what attractions, beaches and shopping sites interest you the most.
Cruise ships usually sail at night and dock in the early morning. Passengers generally have from 8-5 to get all their shopping and sightseeing completed. Cruise Ship Guide →
Tuesday March 31st, 2015
Transfer Day at Estate Whim
10:00am | St. Croix, Whim


Thursday April 30th, 2015
St. Thomas Carnival
4:00am | St. Thomas, Veterans Drive


Event Calendar →
West Indian Company Dock
×
W = West Indian Company Dock
Crown Bay Dock
×
C = Crown Bay Dock
Anchorage
×
A = Anchorage
St. John
×
S = St. John
St. Croix
×
X = St. Croix
Virgin Islands Newsletter Signup
Sign up now for our FREE Virgin Islands Now Newsletter and we will email you regular updates on what's happening in the Virgin Islands & on VInow.com. You can unsubscribe at any time. Simply fill in the form below.
×