U.S. Virgin Islands Cruise Ship Schedule
Saturday - January 4th
Sunday - January 5th
Monday - January 6th
Note Schedule subject to change without prior notice.
Historical Cruise Ship Arrivals
National Geographic Trails Illustrated St. John Map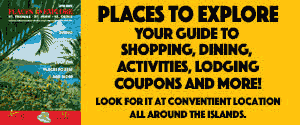 Cruise Ship Guide
The Virgin Islands have a lot to offer. To help you make the most of your visit, explore this site and decide what attractions, beaches and shopping sites interest you the most.
Cruise ships usually sail at night and dock in the early morning. Passengers generally have from 8-5 to get all their shopping and sightseeing completed. Cruise Ship Guide →
Thursday March 26th, 2015
Virgin Islands Literary Festival
10:00am | St. Croix
More Information: www.vilitfest.wordpress.com
Tel: (340) 546-4546

Friday March 27th, 2015
Art St. Croix
5:30pm | St. Croix, Top Hat Gallery


Event Calendar →
West Indian Company Dock
×
W = West Indian Company Dock
Crown Bay Dock
×
C = Crown Bay Dock
Anchorage
×
A = Anchorage
St. John
×
S = St. John
St. Croix
×
X = St. Croix
Virgin Islands Newsletter Signup
Sign up now for our FREE Virgin Islands Now Newsletter and we will email you regular updates on what's happening in the Virgin Islands & on VInow.com. You can unsubscribe at any time. Simply fill in the form below.
×