Event Calendar
Friday - May 1st
St, Thomas Carnival
Main Street, St. Thomas @ 10:00am
Event: Children's Carnival Parade. This is the big show for children of the island. From toddlers to teens the children are dressed in bright, shiny, colorful costumes depicting everything from clowns, indians, fantasy, sea animals and more. They twirl, perform and dance from Rothschild Francis Square down Main Street to Lionel Roberts Stadium. Many school groups participate, often including the schools steel pan or other musical group.
Saturday - May 2nd
St. Thomas Carnival
Carnival Village, St. Thomas @ 10:00pm
Event: Calypso Spectakula/Last Lap. Carnival Village officially closes at midnight however partiers still have a little more time to enjoy the celebration as the music continues until 3am. So from 10pm until 3am you have the Last Lap!
Planning an Event?
Submit it now to be included in the Virgin Islands event calendar.
Submit Event
* Although every effort is made to keep this information current, events are subject to change. The events are presented as is and VInow.com does not endorse them or make guarantees about them.
May View

S
M
T
W
T
F
S
1+
2+
3
4
5
6
7
8
9
10
11
12
13
14
15
16
17
18
19
20
21
22
23
24
25
26
27
28
29
30
31
+

= Event Scheduled
Saturday - May 2nd
St. Thomas Carnival
Charlotte Amalie Harbor, St. Thomas @ 9:00pm
Event: Fireworks (over Charlotte Amalie harbor).
St. Thomas Carnival
Main Street, St. Thomas @ 10:00am
Event: Adult's Carnival Parade. The adult's parade is one of the biggest events of St. Thomas Carnival. It is a magnificent culmination of the month long events. It takes place in Charlotte Amalie along Main Street and includes thousands of participants and thousands of viewers that line the parade route. Participants are dressed in all things glittering, sparkling, colorful, feathered, beaded and shiny. Costumes range from tiny bikinis covered with swinging strands of beads, elaborate feathered costumes that take up the width of the parade route and require support and wheels to help the individual carry the weight, to full lenght traditional madras dresses. Come watch the beauty and listen to the sounds as the participants slowly make their way up Main Street. The royalty comes up first including dozens of pageant queens and princesses usually riding on the back of a convertible or on a float. After them are troupes and floupes celebrating in an assortment of themes from cowboys, sea animals, blast from the past to Indians, Clowns, mocko jumbies and more. Troupes dance behind bands riding in big trucks or to recording music played by a DJ riding in front of them. The parade route starts at the Western Cemetery and runs along Main Street to the Lionel Robert Stadium. The parade usually last about 7 to 8 hours with the largest troupes which might included several hundred participants performing towards the middle and end of the parade lineup. The start time of 10am refers to the parade starting point of Western Cemetery. It takes a little bit for the troupes to make their way up the parade route.
St. John Feet Fins 4 Wheel Drive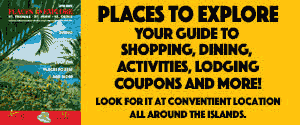 Submit Event to Calendar
×
Virgin Islands Newsletter Signup
Sign up now for our FREE Virgin Islands Now Newsletter and we will email you regular updates on what's happening in the Virgin Islands & on VInow.com. You can unsubscribe at any time. Simply fill in the form below.
×