About VInow.com
More Info
In 1999 a small team of St. Thomas' residents started VInow.com with a visitors guide to St. Thomas. The goal was to provide USVI travelers with an online community where they could learn about the USVI, plan their trips and share their experiences on a well organized, attractive website. Today the goal remains the same and VInow.com has grown to include a guide for St. Croix, St. John, Water Island and a special section for cruise ship visitors. VInow.com has two sister sites; VIMovingCenter.com which focuses on relocating to and living in the US Virgin Islands and VITraders.com an on-line store where you can find books, maps & souvenirs from the USVI.
Key Features
Comprehensive Island Guides
Sections on Culture, History, Flora & Fauna
New! Pod-cast - first one of its kind for the USVI
New! Visitor Reviews - restaurants, hotels, beaches and more
Message Board - one of the most popular for the USVI
Wallpaper Downloads - regular and monthly calendars
Photo Album - great photos
Local Event Calendar - monthly calendar, includes some event articles
Your Participation
Your participation on the site is appreciated: sign up for our newsletter, order some USVI books, join discussions on the forum, tell businesses you find on the site that you found them here, read and post reviews and enjoy the site! Thank you for your support!
Quotes from Site Visitors
"This site is the best one I have ever used. For planners like me it made a world of difference learning about the islands before our first trip.."
"I love this site. Well maintained and always informative and interesting."
"I love your website. It makes me happy to reminisce about the Virgin Islands."
"I think it's a very well-planned-out site with lots of useful information for the first-timer, and lots of great things to look at and remember for the seasoned visitor!"
"VInow is the best USVI website that I've seen."
"VINOW.com has been tremendous in helping us plan for our vacation. The message board is great. The people truly want to help make your vacation one to remember!"
"You have always been the best source of information for me, whether it be through your message board, or through the tons of information you offer. Keep up the good work! Can't wait to come back!"
"Cool site. Keep up the good work."
"Well kept site. Great information on both sites (vacation and relocation)."
"VI NOW is wonderful."
"This is a great site. We've used it extensively for our planning of trips."
"You offer a great web site! I have enjoyed it & use it frequently. It helped us to have a wonderful trip."
"This site is ABSOLUTELY PERFECT; more power to your elbows!"
"I just discovered the podcast and have been listening to it...nice addition!!! Keep up the good work!"
"This is the best site I've found on the internet for the USVI, wonderful work all."
"This is a very complete site. The travel forum is one of the most supportive that I've ever seen. Keep up the great work!"
"Awesome site. VInow has helped me so much with my vacation planning."
"The site is the number one site I use for USVI vacation planning."
"LOVE VINOW. I've been very impressed with how well it is done and it certainly has helped make my vacations to St. Croix more fun!"
National Geographic Trails Illustrated St. John Map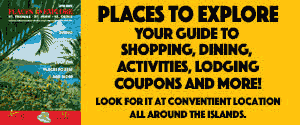 Virgin Islands Newsletter Signup
Sign up now for our FREE Virgin Islands Now Newsletter and we will email you regular updates on what's happening in the Virgin Islands & on VInow.com. You can unsubscribe at any time. Simply fill in the form below.
×