Nature Reserves on St. Croix, Virgin Islands
What To Do
Buck Island Reef National Monument
The Buck Island area was first protected in 1948 and later became a national park in 1962 under the direction of John F. Kennedy. Buck Island National Monument is 6000 feet long and ½ a mile wide. Uninhabited Buck Island is 340 feet above sea level. The National Park Service manages this underwater monument of extraordinary marine beauty. Buck Island offers a pristine white sand beach; excellent snorkeling and a wonderful look at marine life around spectacular coral reefs and gardens. There are several species of coral and almost 90 species of fish in the park's waters. This 880-acre monument created by nature is a mile off the northeast coast of St. Croix. It is made up of 176 acres of land and 704 acres of underwater area. It is one of the most popular attractions on St. Croix. The crystal clear water and beautiful underwater scenery at Buck Island is legendary. With a mask and snorkel you will be treated to some of the most fabulous underwater views in the Caribbean. This ecological site may take the whole day to explore. There are hiking trails on the island that are worth visiting and underwater trails to follow while snorkeling. Several species of turtles and birds nest in the area. Two thirds of the island is surrounded by an Elkhorn coral reef and coral gardens. The water is teaming with hundreds of colorful tropical fish. Without question Buck Island is a must see.
Salt River Bay National Historical Park and Ecological Reserve
Salt River Bay is a pristine and beautiful area. Mangrove lagoons, lush forest and waterways are worth a drive to look and enjoy the scenery. Salt River is the only documented site under the U.S. Flag where Christopher Columbus' fleet landed on the voyage of 1493 to the New World. Columbus had spotted a settlement on the shores of Salt River and sent a group to explore and look for potable water. A skirmish ensued between the Caribs and the explorers. Today the site of Columbus' landing is a National and Territorial Park. Salt River is the site of many ecological and historical treasures. The St. Croix Environmental Association conducts tours, and kayak sightseeing is available. The Salt River Bay National Historical Park and Ecological Preserve encompasses the largest remaining mangrove forest in the U.S.V.I.
St. Thomas U.S. Virgin Islands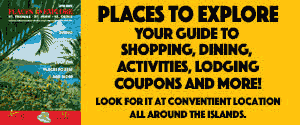 Virgin Islands Newsletter Signup
Sign up now for our FREE Virgin Islands Now Newsletter and we will email you regular updates on what's happening in the Virgin Islands & on VInow.com. You can unsubscribe at any time. Simply fill in the form below.
×