St. Croix Restaurant Guide
Dining out on St. Croix can mean a great beach buffet, Asian cooking island style, seafood platters, Caribbean delicacies, burgers and fries and on and on! There are so many opportunities to wine and dine on St. Croix.
In Christiansted you will find various restaurants. There are several along the wharf overlooking the sparkling blue water, they are great spots to sit and enjoy the breeze with a nice cocktail after eating a fine dinner. Along the main roads in Christiansted you will find many more restaurants, albeit they may not be open air with spectacular views but always-great food.
Featured Dining
The Buccaneer
(Hurricane Status: Open for Business.) St Croix's finest dining, both day and night, are at The Buccaneer. Enjoy casual beach side lunches and seasonal dinners at The Mermaid. Experience award-winning fine dining at The Terrace, featuring Chef Dave (formerly of Kendrick's). Sample vintage cocktails, live music and a light fare menu at the Kendrick's Lounge. The Buccaneer is five minutes east of Christiansted. Secure free parking available. 2014 Wine Spectator Award of Excellence. Open daily.
The Buccaneer Information Request Form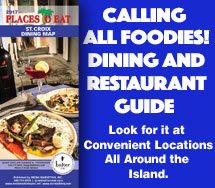 Many of the resorts offer great dining facilities as well; some include Caribbean themed buffets, fine dining, poolside dining, casino and more. If you are staying at one hotel it is acceptable to go to a restaurant at another hotel property should you wish to do so. Many beachfront properties have beachfront dining, always a gorgeous settings to have lunch and dinner in.
St. Croix is a big island, compared to its sister islands, and there are quite a few restaurants outside of Christiansted and resorts. In and around Frederiksted there are several fun casual dining spots. Other casual local spots are located along the roadside heading east and along the north shore.
St. Croix offers a wide variety of mouth-watering delights.