Honeymoon Beach
Looking for a sun kissed stretch of sand to relax and revitalize, while also having the option to get active and explore. This is it. Honeymoon Beach is a pretty beach with sandy shoreline surrounded by sea grape and coconut trees. Hammocks and picnic tables are scattered under the trees. The crystal clear turquoise waters are rich in marine life and offer great snorkeling, particularly around the rocky headland that extends into the water between Honeymoon Beach and Solomon Bay next door.
You can access Honeymoon Beach via Lind Point Trail which starts just behind the Virgin Islands National Park Visitor Center in Cruz Bay and connects to Caneel Bay Resort, see our National Park trails page for more information. Or you can take a taxi, or drive and park at Caneel Bay Resort and from the parking either walk a trail to Honeymoon Beach or there is a golf cart shuttle ride for a small fee. The shuttle leaves from the Caneel Bay Gift Shop and goes to and from Honeymoon Beach.
Watersports equipment is available at the Honeymoon Hut including snorkel gear, lounge chairs, kayaks, stand up paddleboards, floats and lockers. These can be rented individually as you like; or rent them all with a Day Pass.
The Honeymoon Beach Hut offers drinks, snacks and restrooms; and just next door Canella's Beach Bar sells freshly made sandwich wraps, homemade gelato ice cream, cold beer, wine, piña coladas and famous rum painkillers.
Featured
Honeymoon Beach All-Inclusive Watersports Daypass
Experience St John's most romantic beach with the All-Inclusive Day Pass; includes snorkel gear, life jacket, lounge chair, float, kayak, standup paddle board & locker. Relax in a hammock! Snorkel with sea turtles! Honeymoon Hut sells drinks & souvenirs with food available. Taxi to Caneel Bay Resort; then walk 8 minutes to Honeymoon Beach, or take a $5pp each way shuttle between the Caneel Bay parking and Honeymoon Beach. Another option, hike from Cruz Bay via Lind Point Trail to Honeymoon Beach. Perfect for wedding, corporate & private groups. $49 per adult. $10 per child. Book online using promo code VINOW for 10% discount or call toll free.
Virgin Islands EcoTours offers guided Kayak Hike & Snorkel Adventures at three locations: St. Thomas Mangrove Lagoon; St. John Honeymoon Beach; and Historic Hassel Island. Book online right now using promo code: VINOW, for your 10% discount!
Book Now
Honeymoon Beach All-Inclusive Watersports Daypass Information Request Form
User Ratings/Reviews

namaste
True paradise
The hike to this beach is really easy. The day we went we mostly had it all to ourselves. There was a snorkle boat that stayed anchored off to one side for awhile. This is one of the most beautiful beaches we have ever been to. Palm trees line the beach and offer shade. The water is crystal clear and the ocean is gentle. We stayed all day spent most of the time just hanging out in the water. This is the beach you picture in your dreams...Beautiful!
Explore More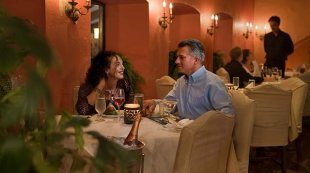 The Old Stone Farm House Restaurant is situated in a 200-year old, restored plantation field house overlooking the Mahogany...