St. John Activities: Watersports
The Virgin Islands has a huge playground all around its islands; the ocean! Our beautiful ocean and beaches combined with gorgeous year-round summer weather make Watersports hugely popular for residents and visitors. Whether you are looking for a bit of high in the sky fun with parasailing or a bit of speed with waverunners, you'll find them on St. John. If you have a sense of adventure, want to explore some of the coastline or beach hop you can look into renting a dinghy.
Desiring Paradise
If you've ever considered moving to the USVI, or if you know someone that wants to, this book is for you. Desiring Paradise is a true story about two New Englanders who followed their dream. Experience the island from a different perspective - as newcomers trying to survive their first year in Paradise. It's guaranteed to raise your eyebrows.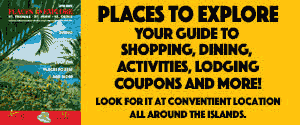 Virgin Islands Newsletter Signup
Sign up now for our FREE Virgin Islands Now Newsletter and we will email you regular updates on what's happening in the Virgin Islands & on VInow.com. You can unsubscribe at any time. Simply fill in the form below.
×