St. Thomas: BVI Excursions
The British Virgin Islands (BVI) are made up of about 50 islands and islets. The four largest islands are Tortola, Virgin Gorda, Jost Van Dyke and Anegada. Tortola is the largest island with an area of 21 square miles. The other larger islands are Anegada at 15 square miles, Virgin Gorda at 8 square miles and Jost Van Dyke at 3 square miles. Smaller islands include Great Tobago, Peter, Cooper, Norman, Guana, Beef, Great Thatch and Marina Cay. The British Virgin Islands are among the world's loveliest cruising grounds for charters and yachts. Take a day trip to the BVI and visit some of the top sights like the Baths on Virgin Gorda and picturesque Jost Van Dyke, it will be a vacation highlight!
St. John Feet Fins 4 Wheel Drive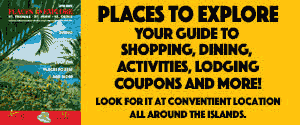 Virgin Islands Newsletter Signup
Sign up now for our FREE Virgin Islands Now Newsletter and we will email you regular updates on what's happening in the Virgin Islands & on VInow.com. You can unsubscribe at any time. Simply fill in the form below.
×