Mermaid Beach (at Buccaneer)
Mermaid Beach is a great white sand beach and is home to the Buccaneer Resort. The shore is dotted with many tall, beautiful coconut trees; they provide ample shade for those seeking refuge from the bright Caribbean sun. Some areas of the water are rocky and there are parts with seagrass. Conch and starfish are attracted to seagrass so its possible you might see some of those sea critters along with other marine life. A beach bar and open-air restaurant is located a short distance from the sandy beach front; perfect for getting a bite to eat or a cool drink. The beach is often busy with hotel guests during high-season.
User Ratings/Reviews
STXDreamer
The Perfect Beach!
A great beach for swimming, floating, and even snorkeling. Very well protected due to a large reef. Great sand, gradual drop-off, clean water, clean beach with lots of facilities available. Mermaid restaurant and bar is very good--love their pina coladas! Highly recommended.
Explore More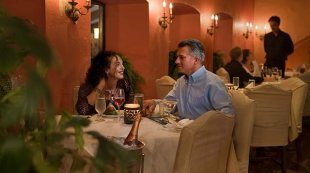 The Old Stone Farm House Restaurant is situated in a 200-year old, restored plantation field house overlooking the Mahogany...