Virgin Islands Travel Forum
Adopt an Island Dog or Cat While on Vacation on STT/STJ and It Flies Free!
St. John Feet Fins 4 Wheel Drive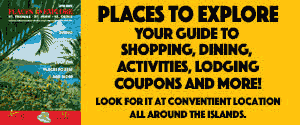 Virgin Islands Newsletter Signup
Sign up now for our FREE Virgin Islands Now Newsletter and we will email you regular updates on what's happening in the Virgin Islands & on VInow.com. You can unsubscribe at any time. Simply fill in the form below.
×