Virgin Islands Travel Forum
Restaurant Coupons in St John? Early Bird specials??
Anybody know of a place or guidebook with restaurant coupons for St. John? We are going in October the first week 2012 and staying at Grande Bay. Also any ones that might have an early dining special?


Sorry, only registered users may post in this forum.
St. John Feet Fins 4 Wheel Drive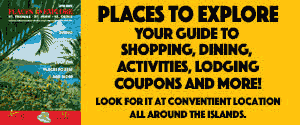 Virgin Islands Newsletter Signup
Sign up now for our FREE Virgin Islands Now Newsletter and we will email you regular updates on what's happening in the Virgin Islands & on VInow.com. You can unsubscribe at any time. Simply fill in the form below.
×