Virgin Islands Travel Forum
Trip report part 3 (6/1)
I woke up in the middle of the night at Maho and I had NO CLUE where I was...I think it took me a good minute before my eyes adjusted and I was like "oh yea" I really thought I was at my bed at home for a minute but imagine my delight when I realized I was still just a few steps from the beach. phew

We woke up!

I walked out onto our little deck to see our view. A couple trees were in the way but I could still see the aqua waters below.

I went and got myself ready and headed down to the beach.

The water was nice and clear and pretty soon Naomi joined me

We decided to snorkle so we went around the beach area a little and then started heading around the bend to big maho.

Really cool area to snorkle!

There were lots of fish, a sea turtle, a stingray, and these cool yellow fish that group together in bunches.

I love how St John looks...So lush and green.

And underneath the water so much life!

I walked up to take a few videos of maho beach and then headed back to meet naomi. We snorkeled a little bit more and then met back up with jill.

We went to the annaberg sugar mill and walked around there for a little bit. Really neat history!

Just up the hill is the overlook to Leinster Bay. Oh...MY...GOD...

The sun was at the perfect position in the sky and the whole bay went between deep azure and a turquoise that i just cannot describe. As usual the sun put on a display illuminating the water and the islands ahead. I saw The BVIS and some cool islands that I wish i could take a boat to.

We hopped back in the car and drove to coral bay!! The drive into coral bay was very very scenic. We stopped at the coral bay overlook and I swear it looked like one of those backdrops in a 50s movie!

Once in coral bay noami was already out of the car talking to these rasta guys who were selling coconuts. We chatted for a bit then went to island blues for a couple drinks with our coconut!

The owner, Collette, was very nice and we had a great conversation.

After that we went back to talk to the rasta guys some more and have them cut open our coconut that we drank the water out of

Back to maho! We were going to go snorkeling at another beach (waterlemon perhaps) but time escaped us and jill was running out of gas

OH! I almost forgot. When we got to coral bay there is loves city mart or whatever. OH MY! That smell is just PUTRID. I dont think I have ever smelled anything so vile in my entire life..

Anyway we got back to Maho and this couple from a catamaran in the bay ran out of gas for their dinghy and needed a ride into town. We decided to hike back to the camp from big maho so that the couple could ride into town, and jill could go back to st thomas (she had a softball game)

Naomi and I parked ourselves right on the beach in this secluded spot at sunset ( i know BAD idea but we brought deet...) It was so worth it thought!. We talked and laughed just sitting in the water and having some cruzan rum cocktails right on the beach!

Time to hike back...

The hike back to the camp was so serene!

A beautiful doe came up out of the woods and just looked at us as if it was a loved one that had passed and was saying hello. I have never seen a deer come so close!

The trail was rocky and fun and we got back to the camp and relaxed for a minute. Hmm...what should we do...

We got all nice and showered up put on the best clean clothes we had and headed to cruz bay!

We had an appetite and it was dark when we arrived. The town seemed busy and there were so many choices for retaurants!

We ended up going to iguana grill but it was kinda noisy so we went across the street to la tapas! Great great choice!

We sat at the bar and met a new friend named Andrea. She was so awesome but we didnt know we would become friends at the time...more on that later

We got a seat on the street and Naomi ordered mahi and I got a ribeye with onions and hollendaise that was out of this world!

After we went down by the cruz bay ferry dock and i waved at my friends on the st john spice cam and met some new friend on the dock. we drank and had fun and saved someones wallet from the water!

It was getting late so we had to head back to the camp for the night...We got back on the maho taxi and enjoyed a peaceful nighttime ride through the hills of st john back to maho. I cant describe how relaxing it is to be in an open air bus riding through the hills and trees at night (minus the fumes but whatever we're livin life!)

more later =)


got a chance to read first 3 installments. Thanks so much for taking the time to give us a trip report. I'm loving it! Couldn't go this winter due to job change, so I REALLY appreciate hearing your tales!


Sorry, only registered users may post in this forum.
St. John Feet Fins 4 Wheel Drive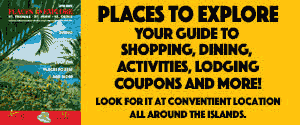 Virgin Islands Newsletter Signup
Sign up now for our FREE Virgin Islands Now Newsletter and we will email you regular updates on what's happening in the Virgin Islands & on VInow.com. You can unsubscribe at any time. Simply fill in the form below.
×