Virgin Islands Travel Forum
lost child's wetsuit near Hanlouver today
Hello all, I know this is a long shot, but it'll make a big difference to our vacation: we were near Hanlouver Bay today (Coral Bay side of road) and our ten-year-old son, a budding snorkeling enthusiast, lost his wetsuit after we finished. He lost it near the road, not on the beach. We went back as soon as we realized, but it was gone. If by chance you picked it up and delivered it somewhere, we would be eternally grateful if you'd let us know at our registered email or on this thread. Thanks in advance (fingers crossed!). We're here until the 24th.

Brett



Edited 1 time(s). Last edit at 06/19/2012 06:46PM by sweitzmath.


Sorry, only registered users may post in this forum.
St. John Feet Fins 4 Wheel Drive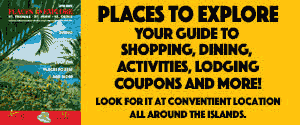 Virgin Islands Newsletter Signup
Sign up now for our FREE Virgin Islands Now Newsletter and we will email you regular updates on what's happening in the Virgin Islands & on VInow.com. You can unsubscribe at any time. Simply fill in the form below.
×