Virgin Islands Travel Forum
What happened to Cellar restaurant??? VIP Rentals great, etc.
Just got back from 10 fantastic days on St. Thomas. Our only real disappointment this year was Cellar restaurant, which we saved for our last night based on last year's great experience there. We were told they changed their whole menu except for the Mac and cheese. The food wasn't horrible but definitely not even close to last year. The real problem was the lonnnnnggg wait for everything. Absolutely unbelievable. And even more unbelievable, none of the staff even apologized or gave any indication that the wait was not normal! Top meal again this year was Tavern on the Waterfront's Tuesday Night 22 dollar lobster meal .. Delicious and more than reasonably priced. In Charlotte Amalie. Also good was the North Side Bistro. I also have to plug Glenn and Pat who run VIP Rentals for the great 4 bed 4 bath townhouse on the beach at Cowpet Bay East. If you have a party of 7 or 8 and need a large place, this is your rental .. It's on the Elysian beach and you get all those benefits. I thought Caribbean Seafood Restaurant there was okay but we spent many a lunch and afternoons at Sangrias .. Everything there is good ESP. The pizzas but it "ain't" cheap. But nothing is on the island, is it? I already posted about the fantastic sail and snorkel day on New Horizons which was amazing. Also always a great time are Duffys Love Shack and Señor Frog. Still our number one favorite beach is the magnificent Trunk Bay, on St. John.


Thanks for the trip highlights. We always stay on the north side, and had never heard of most of the restaurants you mentioned. New we have some new ideas. Big Dittos on Trunk Bay. It is amazing at many levels, especially if you get there early before the crowds arrive and the breezes and water are calm....mmmmm
Sorry, only registered users may post in this forum.
St. John Feet Fins 4 Wheel Drive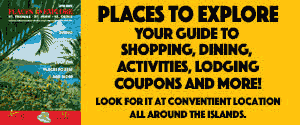 Virgin Islands Newsletter Signup
Sign up now for our FREE Virgin Islands Now Newsletter and we will email you regular updates on what's happening in the Virgin Islands & on VInow.com. You can unsubscribe at any time. Simply fill in the form below.
×