Virgin Islands Travel Forum
Hermit Crab Migration... Nanny Point
Amazing footage of an annual event on St John... video by Steve Simonsen.

Crab Migration

The Hermit crab is predominantly a land creature, but it still has close ties to water and the sea. In fact it can never be entirely away from water, and solves this problem by always carrying a supply of water in its shell. Moreover, the hermit crab returns to the sea in order to reproduce. At certain times of the year hundreds of these creatures scramble and tumble down the mountainsides and make their way to the seashore where the females crawl to the water's edge. They then cast their fertilized eggs in the sea where the newly born hermit crabs spend their next few months before returning to land.
From [www.seestjohn.com]



Edited 1 time(s). Last edit at 08/28/2012 10:03PM by lprof.


Apparently the link I posted above is to Steve's video,but was not placed on Youtube by Steve. This link goes right to Steve Simonsen's "Hermit Crab Migration" on Youtube. Fascinating stuff!

Hermit Crab Migration


Sorry, only registered users may post in this forum.
St. John Feet Fins 4 Wheel Drive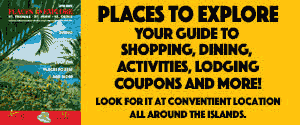 Virgin Islands Newsletter Signup
Sign up now for our FREE Virgin Islands Now Newsletter and we will email you regular updates on what's happening in the Virgin Islands & on VInow.com. You can unsubscribe at any time. Simply fill in the form below.
×