Virgin Islands Travel Forum
Carnival
When cruising what is the best date to port in St. Thomas for Carnival? When coming to St. Thomas as a destination what are the best days to be there and what are the best 4 to 5 star resorts to stay at? Thanks


Admin
Hi. If you are cruising by cruise ship or by term charter and trying to catch one day of Carnival in St. Thomas… probably your best bet is April 27th, 2013, that's the day of the Adults Parade. After that April 26th, for the kids parade. During the parades you get a great feel for the energy, music, costumes.

The last couple years however I don't recall there being cruise ships in port on the days of the parades. If that is again the case in 2013, then you might look for an itinerary that calls on St. Thomas on April 24th. That is the day of Food Fair. That event includes a variety of vendors selling local foods, drinks and crafts; plus there are typically local bands performing and sometimes dance groups.

If you are also considering an on island visit and want to catch Carnival, then the last week of April would be the best…. 21st to 28th for example. You'd catch the village, food fair, jouvert, the parades, fireworks.

Big resorts… Ritz Carlton, Marriott Frenchman's Reef and Morningstar, Sugar Bay.


Sorry, only registered users may post in this forum.
St. John Feet Fins 4 Wheel Drive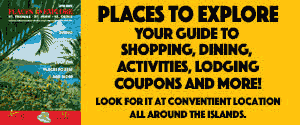 Virgin Islands Newsletter Signup
Sign up now for our FREE Virgin Islands Now Newsletter and we will email you regular updates on what's happening in the Virgin Islands & on VInow.com. You can unsubscribe at any time. Simply fill in the form below.
×