Virgin Islands Travel Forum
JEWELRY IN ST. THOMAS
LOOKING TO PURCHASE OUR WEDDING RINGS WHILE IN ST. THOMAS. CAN ANYONE SUGGEST A SHOP(S) WHERE THERE IS QUALITY AS WELL AS REASONABLE PRICES. NATURALLY DIAMONDS WILL BE INVOLVED (DUH) ESPECIALLY IN MY RING. DATING FOR 13+ YEARS AND ENGAGED FOR 4--DON'T YOU THINK IT'S TIME FOR THE WEDDING RING?? THANKS FOR YOUR HELP IN GETTING THIS RELATIONSHIP TO THE NEXT STEP!!


Just got back this morning from St. Thomas. We always do our jewelry shopping at a small place named "Glitters". It is in the same building as the Hard Rock Cafe (but on the first floor - right side as you walk towards Main St.). The prices, as we have found, are about the same (or a little less) as the large shops but they are more helpful and friendly. It is more like a family operation. Have a great time.


Just back from STT and my wife found a nice selection and great prices at Ajanta Jewelers in Drakes Passage. Ask for "Dimple" or Vinny. The small shops off main street can usually beat the prices of the other stores because their rent is a lot lower, therefore less overhaed.


I hope it's not too late for reply. I have been dealing with Shawn Malani of Gold Mine for at least 10 yrs. or more. He has superb selection, very helpful and great prices. You cannot beat this store. It is located right off Waterfront on side street behind Lingerie store.


I got my engagement ring at Ajanta thru friend recommendation and it was absolutely gorgeous and good price. It was appraised higher than expected. My two carats center stone is brilliant, sparkling, white, higest quality they picked for me. I just do mail order and tell them what I want. The custom service (labor) of making the ring was free. Later I changed my mind and wanted a princess cut for my side stone and they glad redo the ring at no charge. Next time I am in St. Thomas I am heading to Ajanta for another piece.


Palim,
My wife has been buying jewelry from Ajanta for years with the same satisfaction that you have experienced. Of course they will treat a paying customer to drinks from Bobby's bar while you shop. Maybe that's why I always seem to not mind spending so much there.
Vinnie is not there anymore. He got married last spring and moved to New Jersy. He must be crazy or in love.



Edited 2 time(s). Last edit at 12/31/2007 12:37AM by Bassman.


Anybody else notice that the last two posters are responding to a posted question and responses dated August 2001?!!!! Thought it a little odd when I saw reference to Hard Rock Cafe which is long gone. Cheers and Happy New Year!


I noticed. What's up with that. Hmmm.

BOB


Bobbie,

If you are interested in designer lines, recommend Jewels, Azura or Little Switzerland. You can check their web site@

www.jewelsonline.com
www.azurabyjewelsonline

They have stores downtown, Havensight, Yacht Haven, the Ritz-Carlton and St. John. All prices will be the same in USVI and a considerable savings from stateside.

Little Switzerland started a liquidation sale of discontinued items and you can find SOME GREAT deals there - up to 75%

Good luck and congratulations.


gcgem: I would imagine that Bobbie found her rings in 2001...


My husband and I were married on St. Thomas, we purchased our rings at Cardow. I have had the best luck and have a pretty diamond and didn't pay more there than anywhere else. Every time I go back they clean and check my ring for free and are very pleasant to us. I got quality and professional attention.


Sorry, only registered users may post in this forum.
St. John Feet Fins 4 Wheel Drive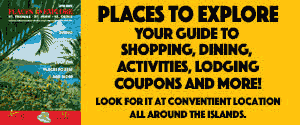 Virgin Islands Newsletter Signup
Sign up now for our FREE Virgin Islands Now Newsletter and we will email you regular updates on what's happening in the Virgin Islands & on VInow.com. You can unsubscribe at any time. Simply fill in the form below.
×