Virgin Islands Travel Forum
Grocery & Liquor Shopping in St. Thomas
Newbie here! I'm wondering if someone can advise of the best stores to pick up groceries, fresh veggies/fruits/liquor if shopping on St. Thomas before we take the car ferry to St. John. Thank you!


It depends on how much shopping you want to do.

For mild to moderat shopping, try Marina Market in Red Hook (across street from ferry). It is a smaller, boutique market with a fresh selection of meats and veggies....plus anything else. . They have a wonderful deli area with fresh salads, etc. This is a great palce to stop after a day at the beach, etc. There's a fresh fish counter that is lovely. They have a nice selection of wines and beers.

For better prices and a HUGE selection of everything, try Cost-U-Less in the TuTu area (you can take a route to Red Hook /STJ ferry so that you pass this place on the way from the airport). It reminds me of something like a BJs Wholesale Club (or Sams)....but the produce selection is amazing and was crispy fresh on my couple visits.....and not much more expensive than my favorite stateside market, if at all.

I used to recommend Food Center, but I now find their meats to be poor quality and their prices to be too high to warrant a recommendation. Yucky...yucky.....green meat!

~Blu

*Here is the link to the FAQ post with lots of links from former posts covering some of our most popular topics: [www.vinow.com]



Edited 2 time(s). Last edit at 01/28/2007 07:11PM by Bluwater.


I agree, do not shop at the Food Center. Produce was horrible when we were there last month. I wish I had read this board more carefully & went to Cost Less! I say bring as much as you can from home.


P.S. Cost-U-Less have best liquor prices, IMO. I have found them to be the same as KMart....but I can make one stop to get liquor and food.

~Blu

*Here is the link to the FAQ post with lots of links from former posts covering some of our most popular topics: [www.vinow.com]


The liquor prices at the airport at the duty free shop are only marginally higher. We usually just grab it there while waiting on our bags.

"I gotta go were the weather suits my clothes"


We will be flying in and going to our charter at CYOA , Frenchtown Marina, St.Thomas. Any thoughts regarding the best place to shop for groceries and liquor/beer for a week....how close to marina? etc....Jane


Jane, probably the closest & cheapest would be the Pueblo across from the DMV. Not the best supermarket in the world but not the worst & it would be convenient with decent prices on liquor.

There's a Gourmet Gallery in Crown Bay which is very good but pricey but for fancy foodstuff, it's excellent.

~Trade~


If I come in on a cruise, how do I get to the KMart. Can I walk there and do I get to go through neighborhoods and shop in local shops too?


Linda - if your cruise ship is docking at WICO, it's not a long walk to the KMart location at Lockhart Gardens. If at Crown Bay then impossible and requiring a taxi ride. If you're coming into the WICO (Havensight) dock and want to post again I'll be happy to give you simple walking directions.

Beachluvers: CULess is good. As with most supermarkets their produce can be a little up and down quality-wise and depending on the day of the week. It's sometimes awesome and sometimes a bit "off." I shop there once a week and shop at Plaza Xtra in the Tutu Park Mall a few times a week to get the extras that the commercial island food suppliers can't supply me with. You just have to be a careful shopper.

Plaza Xtra also has a pretty good selection of ethnic foods. (East) Indian foods, curry mixes, a variety of frozen papadoms and parathas, Middle Eastern and Far East staples, some British stuff (!) and also a whole section devoted to vegetarian products. They also do sushi packs on a daily basis and I can tell you that they're VERY good and I'm not a big sushi fan.

I seem to be waxing euphoric about Plaza Xtra and am probably boring you to death but I have to also plug their hot take-out dinner/lunch counter, I own a restaurant but I rarely eat my own food, as great as it is because when you're doing it day in and day out - well, what can I say? My point is that I LOVE other people's cooking. Plaza Xtra does the very best "stew chicken" I've ever tasted. I think they only do it a couple of times a week, probably Wednesday and Friday. Awesome!

Enough for now! Cheers to all and enjoy your vacation!


thank you for the information. let's say we will be coming in at Havensight. They said it will be determined by weather and how many other ships are there. Can't wait to see your island in September. We are trying to find the best location and then maybe fly in instead of cruise. I like being waiting on though. You can usually get a cruise for 100 dollars a day for room, food, fun and relaxation.


Hey, Linda -

If you are cruising with either Princess or Holland America, you will be docking at Crown Bay, regardless of the weather or # of other ships in port with you. These lines have an exclusive deal with that facility. Carnival, Royal Caribbean, Norwegian and Celebrity will dock at Havensight unless it's full, in which case they might anchor in the harbor.

Cheers!


Thank you so much for the information. Do you know the directions to the K Mart?


Linda - answered you on your other post. Just ask any salesperson or security person in the Havensight Mall and they will direct you.


I agree with bluewater. Marina Market in Red Hook is our favorite. We stay at Sapphire STT and always shop there. Booze prices are as good or better than others and thier stuff is always fresh. Deli and Backery are very very good and they have a good over all selection. Unless you are doing a lot of shoping, we find the traveling around not worth the effort. Savings are marginal at best and it consumes a precious comodity, time.


What's the best place to grab cheap liquor, beer, and snacks for a week long trip to STT? We are staying at the Marriott.

Thanks,
Jeff


Depends on if your driving or taxing. The cost of the extra taxi rides can easily eat up any savings. Snacks are not cheap on Island. Selection is good at the Food Center, East end. They also have a good beer selection and beer is pretty much same $ everywhere. They have a decent wine selection. We bought Kaluha here and found the same bottle for $3. less at the Marina Market. K-Mart has a good selection and prices are very good. They also have a snack food section.


directions to kmart from havensight stores walking


Would have been better if you'd posted this separate from an old thread. Anyway, when you come out of the main entrance of the Havensight Mall, cross the street and walk left past the tramway to Paradise Point and several other stores. You'll come to Pueblo Supermarket on your right, stay on the road in front of it (there's a sidewalk), walk up a bit and you'll see KMart right across the street.


Sorry, only registered users may post in this forum.
St. John Feet Fins 4 Wheel Drive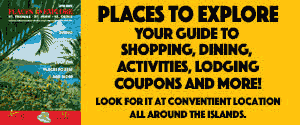 Virgin Islands Newsletter Signup
Sign up now for our FREE Virgin Islands Now Newsletter and we will email you regular updates on what's happening in the Virgin Islands & on VInow.com. You can unsubscribe at any time. Simply fill in the form below.
×