Virgin Islands Travel Forum
Message for New Board Users, Please Read
Admin
Welcome to the VI Now Message Board!
This message board is a community that includes 1st time visitors to the U.S. Virgin Islands, experienced travelers that visit often, folks visiting by cruise ship, residents, USVI enthusiasts… and you!

Tip! Looking for information & discussions on Relocating to and Living In the Virgin Islands? Visit VI MovingCenter.

Message Board Rules & Help Page

Anyone can participate on the message board; from the discussions everyone benefits in gaining information, tips and advice. Before you join in please read the Board Rules and Guidelines, they are in place to help maintain a positive and productive discussion board.

Help is available if you have questions related to using the message board. On the Rules page there is also information on registration, how to post messages, private messaging and other "how to" topics.

Check the Frequently Asked Q&A Page

In Frequently Asked Q&A there are popular questions travelers have asked on the site over the years. Take a look, you may find the questions/answers you were looking for and some you might not have thought to ask!

Navigating the Message Board

There are many pages of discussions; navigate through them using the page links found at the top of the message board. You can also use the search option to look for discussions related to specific topics.

Tip! Looking for guidebooks, beach guides, pictorial guides, planning kits & maps? Visit VITraders.com.

Thank you and See you on the board!

PS. To get back to the Message Board, click on 'Forum Home' in the Forum Tools.

--Islander
Message Board Moderator


Sorry, you can't reply to this topic. It has been closed.
St. John Feet Fins 4 Wheel Drive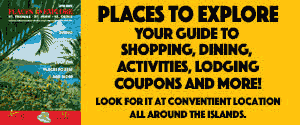 Virgin Islands Newsletter Signup
Sign up now for our FREE Virgin Islands Now Newsletter and we will email you regular updates on what's happening in the Virgin Islands & on VInow.com. You can unsubscribe at any time. Simply fill in the form below.
×