December in St. Croix, US Virgin Islands means festival fever! It's Christmas and Carnival time baby. There are community holiday events in Christiansted, in Frederiksted, at popular attractions like Whim Plantation and St. George's Botanical Garden, there is Jump Up, venues for artists, and there is the Crucian Christmas Festival, an annual event that starts in December and ends in January. If you are visiting St. Croix in December be sure to attend some of these community events. VInow.com presents the Top Christmas Events on St. Croix.
Holiday and Festival Jump Ups
Jump Up is held four times a year in Christiansted. While it's a favorite at any time of the year, the Holiday Jump Up is one of the most anticipated of them all. Held in November it marks the beginning of the holiday season. In 2019 the organizers added a 5th event, a Festival Jump Up in late December. So, what's the fuss all about? Jump up on St. Croix is a huge, fun, block party — well really a town-wide party. It includes live music, entertainment including performances by the famous mocko jumbies (a highlight for all ages), shopping, dining, local street food like pates, johnny cakes and roti, vendors and much more. Businesses stay open late. Join in and enjoy an evening of dining, music and shopping. The music and food start at 6pm through 10pm, and the mocko jumbie parade between 8pm and 9pm.
Old Time Christmas at Estate Whim Museum
With a name like that you know it's an event filled with tradition! Expect a Crucian inkberry Christmas tree, music of the season including Caribbean favorites, an open house, cash bar, exhibits, and traditional food and drinks. Look out for the lantern and mask parade. There is usually a 50/50 Raffle. This holiday favorite on St. Croix is a two-day event. The Lantern and Mask Parade is usually held on Saturday.
Christiansted Lighted Boat Parade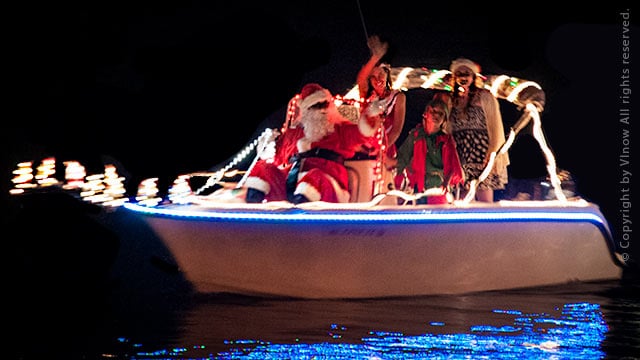 This event is a must see for the holidays on St. Croix. It is a family friendly event filled with entertainment. While there are festivities beginning at noon, the boat parade takes place in the evening. Boats are decorated in themes and with lights, inflatables and decorations. Onboard people sing, dance and shout out holiday cheer to those watching from the Christiansted Boardwalk. Prizes are awarded to the best boats. The parade is often followed by a fireworks display.
Christmas Spoken Here is one of the great holiday traditions on St. Croix. Explore the beautiful grounds of the St. George Village Botanical Garden while enjoying the holiday festivities. You will be delighted by the sounds of choirs singing, can pick up a bite to eat, and purchase locally made items including the Crucian traditional Christmas drink, Coquito! Be sure to take photos in front of the superbly decorated Christmas tree in the Great Hall.
Starving Artist Day at Estate Whim
The holiday edition of Starving Artists Day offers you the chance to shop for items that are typically hard to find, unique items made by artists and craftspeople on St. Croix. Plus, the event highlights Crucian culture with live music, dancing and island dishes, deserts and drinks. This holiday event is hosted in the historic setting of Estate Whim Museum.
Holiday Fest in Frederiksted
Join the community for a fun, family holiday event in Frederiksted. The festival features live music, cultural dancers, steel pan orchestra performances, mocko jumbies, majorettes, and arts and crafts vendors. There is also a Christmas tree lighting, visit from Santa Claus, and face painting for the kiddos.
Gallows Bay Holiday Festival
This annual family friendly event features Christmas music, live performances by quadrille dancers, extended shopping hours at the stores in Gallows Bay, a visit from Santa at Undercover Books and Gifts and more.
Crucian Christmas Festival
Its Carnival on St. Croix. The Crucian Christmas Festival is the largest cultural event on St. Croix. It begins in December and ends in early January and is filled with events such as soca competitions, pageants, fairs, festival village with live nightly music, j'ouvert, parades and more. FYI: Crucian Christmas Festival is not so much about Christmas though the name might imply that it is, the Festival is about celebrating the island's culture including Caribbean music, food, and masquerading traditions.
Save the Date: Find the dates and times of these Christmastime favorites on St. Croix US Virgin Islands, in addition to other holiday events, on the VInow.com Events Calendar!