It's beginning to look a lot like Christmas in St. Thomas, US Virgin Islands! Santa has been spotted on a few occasions at shopping centers and we hear he was seen taking a swim at the beach. There are Christmas trees in the parks and shops are stocked with ornaments. As much as we enjoy the decorations and Santa in the islands, the highlight of Christmastime in St. Thomas and St. John are the community events filled with music, food, vendors, shopping, caroling, dancing and celebrating with friends, old and new.
If you are planning a December visit to St. Thomas or St. John in the Virgin Islands, consider attending a couple holiday events. VInow.com presents the Top 8 Christmas Events in St. Thomas & St. John.
Miracle on Main Street & Lighted Boat Parade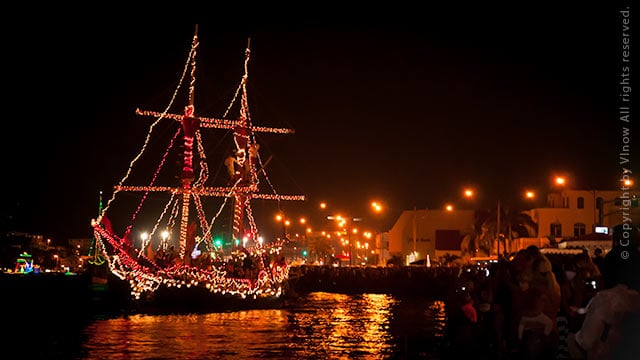 This all-day St. Thomas event is a must, it's a highlight for residents and visitors. Main Street in Charlotte Amalie, St. Thomas is all a buzz for Miracle on Main Street. A vendor area is set up in Emancipation Park and it features locally made products and crafts, plus food and drinks. Shops and boutiques in the downtown area are open all day and offer special deals. In the evening live bands, dancers, carolers, and hundreds of people celebrate in the street.
A highlight of the evening is the lighted boat parade in the Charlotte Amalie Harbor. The lighted boat parade involves dozens of boats decorated with lights and filled with people dancing, singing and entertaining those watching from the Charlotte Amalie Waterfront. Miracle on Main Street is a Christmastime favorite in St. Thomas for over two decades. PS: Miracle on Main Street on St. Thomas, USVI is usually the 3rd Friday of December.
St. John gets island fancy at this annual holiday party held at Mongoose Junction. It's where everyone goes to celebrate the season, get dressed up and dance the night away. There is live music, food, drinks and shopping. This event is always the centerpiece of the holiday season on St. John, The All Island Holiday Party has its roots in trying to rebuild the community after Hurricane Marilyn in 1995, and through the years has become a social highlight for many full time St. Johnians and a homecoming for many seasonal residents. It's an opportunity to dress up and celebrate the holidays in the gracious courtyards of Mongoose Junction, with friends new and old, amid holiday cheer and festive decorations.
A Christmas tree lighting, carolers, dancing and shopping spells Christmas at the annual Havensight Christmas Tree Lighting event on St. Thomas. Vendors set up with with items for sale including arts, crafts, food and drinks. Musicians and bands play at different corners of the outdoor shopping center and entice everyone to dance. Expect holiday shopping, face painting, entertainment from mocko jumbies and traditional Caribbean dancers, a fabulous 20-foot Christmas tree and of course Santa Claus!
Get ready for a crazy good time for the holidays at the Annual St. John Coral Bay Bizarre Bazaar! The Bazaar is the largest holiday shopping event in Coral Bay and an important fundraiser for the Coral Bay Community Council. This one day only event in Coral Bay features local vendors, live entertainment, a silent auction, 50-50 raffle, food and drinks, donkey rides, and Santa! Come out to the Bizarre Bazaar and show your support for Love City!
Rising Stars Christmas Concert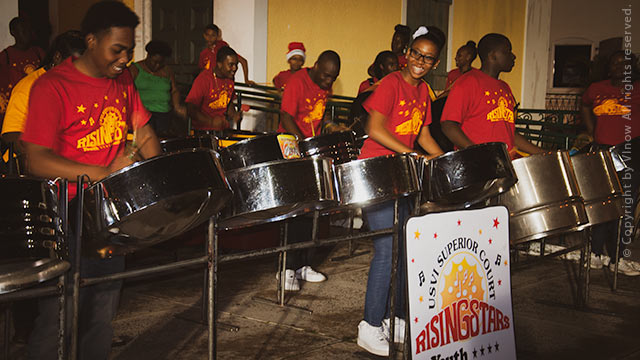 The Rising Stars is a steel pan orchestra comprised of children between the ages of 10 and 18. It's a program started in 1981 by Judge Verne Hodge to help guide young people in the community. The program has been a resounding success and the group has received numerous awards and recognition. Their holiday concert is an annual favorite on St. Thomas. Attend the concert and enjoy Christmas favorites played in Caribbean style on steel pan while supporting this wonderful youth organization.
This annual St. Thomas event gives a nod to an old-time tradition in St. Thomas. Choirs join at Emancipation Park to show-off their volume and vitality in a sunrise Christmas morning show of sound. Choirs from schools, churches, and organizations rehearse for months and meet on Christmas morning to present a few hours of beautiful Christmas music in the park.
The event was created over 40 years ago to pay respect to an old island tradition where neighbors went house to house singing and celebrating on Christmas Eve in the wee hours of the morning. When this tradition faded, those that remembered it fondly got together and planned a community singing event, Challenge of the Carols. Join in on this early morning celebration on December 25th.
The University of the Virgin Islands Music Department, St. Thomas Campus, will entertain you at their pre-holiday concert. It features performances by the UVI Concert Band, Steel Band Ensemble, the Concert Choir, and the Jazz Ensemble. Usually held in November it's the perfect start to the season and will get you in the holiday mood.
The Crown Bay Center on St. Thomas lights up for the holidays with a Christmas tree lighting, a visit from Santa, shopping, live music by multiple bands, and entertainment. This event is quickly becoming a popular addition to the holiday lineup.
Save the Date: Find the dates and times of these Christmastime favorites on St. Thomas and St. John, in addition to other holiday events, on the VInow.com Events Calendar!