St. John Jan 2018 Trip Report
Please Sign in / Register to take part in discussions about the Virgin Islands.
I thought it might be helpful to post a report on our most recent trip to St. John (STJ) since there are obviously a lot of questions about how they doing with the hurricane recovery efforts. We have been visiting STJ since 1991. We used to stay at Maho Bay Camps until they closed and now have been renting houses around the North Shore and Coral Bay.
This trip we rented a house in Upper Peter Bay Estates. We found the house on VRBO and the property manager is Diana Hall.  Here's a link: https://www.vrbo.com/377939?unitId=3236839
We would recommend this house and you can see my review on the VRBO site.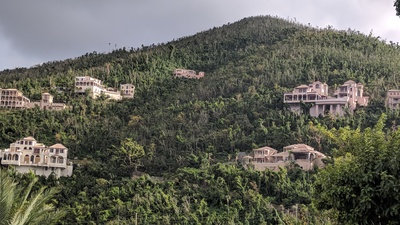 Here is a video I took of the view from Villa Azul: 
My most straight forward review of the trip is that St. John is absolutely open for business. There has been an incredible amount of work done to clear roads, beaches and hiking trails. Many restaurants are open (more than we could patronize in 8 nights) and shops as well. We are hikers and beachers but for this trip we mostly did the beach thing. Here's a review of what we did each day:
Jan 10: Arrived On American. Baltimore-Miami-St. Thomas. We rented a car on STJ from Mr. Pipers Jeeps and they now have a shuttle on STT that will take you and you only from the airport to Red Hook without stops. And it's less expensive than the normal taxis. On top of that the folks at Mr. Pipers Jeeps are incredibly professional, friendly and attentive. We landed at 2:05 and were able to catch the 3:00 Ferry. Mr. Pipers picked us up at the ferry and then the Villa manager Diana Hall met us at the rental office to escort us to the villa. That night we had an excellent meal at Extra Virgin in Cruz Bay. Go.There.For.Dinner.
Jan 11: Spent the day on Francis beach. Like most beaches now, much of the trees along the back side of the beach have been uprooted and flipped back into the mangroves of woods. But everything has leafed out and is growing again. This beach was pristine as usual. But with hardly any people. Good for us tourists but bad for the local economy. If you know the beach, we showed up at 11 and parked in the main parking area and there were still spaces available. Saw rays swimming along the beach here. Dinner was at Ocean Grill which is located in Mongoose Junction. This is a good restaurant if you want good food but not the cost of a place lie Extra Virgin or La Tapa. But it's of course not as good as those either. But an absolute solid meal. Again we were one of about 3 tables.  All the stores in Mongoose are open.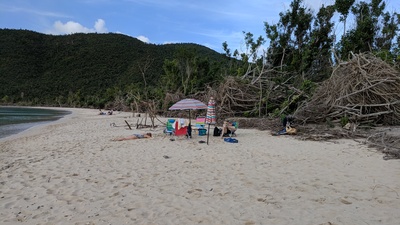 Jan 12: Spent the day at Trunk Bay. There is one building renting snorkeling gear open but all other amenities are closed and entrance is free. Many of the palm trees are gone but this beach is as beautiful as ever and hardly anyone there. Dinner in our rental villa. BTW, Dolphin and Starfish markets in Cruz Bay are fully stocked and operating.
Jan 13: We intended to head to Lameshur beaches but the road to there and VIERS is currently closed for utility work. It was expected to be blocked for a couple weeks. So we spent the day at Salt Pond Beach. Hot as normal over there but that one big tree at the bottom of the beach path is still there and gave us shade. I'll mention that because of the lost vegetation you HAVE to have beach umbrellas. That's a much for shade. The west end of the beach is now a bit rocky and overgrown with creeping vines but otherwise the beach is fine. Saw turtles and rays among other sea life. There's a good view of Concordia from the beach now and they really have been devastated. The main building and restaurant are still standing but no roof on the main. The tents that wrap around the hill toward Drunk Bay are gone. It will be a while if they decide to rebuild. We ate dinner at the Taproom which is St. John Brewery's restaraunt in Mongoose Junction. Good Burgers and beer there and watched some playoff football.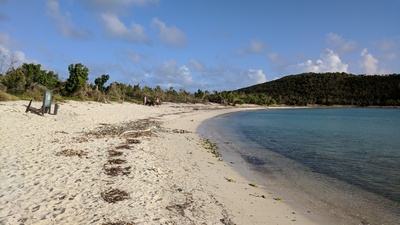 Coral Bay/Harbor: Coral Bay is probably 2 months or so behind Cruz Bay in their cleanup. It looks very rough over there with mountains of debris and debris still to be cleaned up. There is an active salvage operation going on to clean up boats washed onto the shore and sunk, Skinny Legs IS open but we missed dinner there because they are currently closing at 6 most days. Might be open till 8 on Sundays. They have a blue tarp roof but nonetheless are open. Jolly Dogs is non longer located at Skinnys but are over in the Isola Shops. Jeff is there working many days and they are open everyday.
Jan 14: We toured through Annaberg Sugar Plantation (ruins intact) and then walked the trail out to Leinster Bay and Waterlemon Cay. Saw many Donkey's here and elsewhere around the island. Trail to Leinster detours around two boats washed onto shore but otherwise easily passable. Trail has changed quite a bit since every piece of vegetation along the shore is now gone. You just walk along the rocky, sandy, coral shoreline. Leinster beach is still there but it's smaller and more rocky at one end. The trail from here to Waterlemon is blocked so you just walk along the shore to get out there. No problem. The snorkeling on the outside of Waterlemon is actually pretty unaffected. Reefs is shallower areas have been pretty damaged. From Waterlemon we went to Big Maho Bay. The magroves along the Annaberg Rd. and behind big Maho have been devastated. They have not regrown yet so it's completely open and barren. Also Big Maho in general is pretty beat up. The road has partially washed away but easily passable in one lane.The beach now has some rocky sections but otherwise great. Saw turtles, stingray and two Eagle rays here.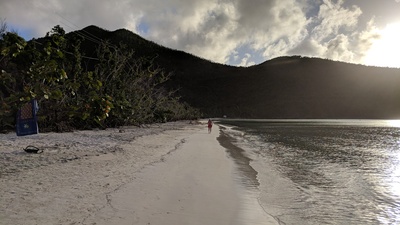 Jan 5: Spent the Day at Hawksnest Beach. Same deal as other beaches here. Beach is terrific but not much shade. Very few people. Parking lot totally intact. Dinner in our rental villa
Jan 16: Because we were renting a house in Peter Bay Estates that gave us access to the Peter Bay Beach. So we decided to take advantage of that and spend the day there. There's nothing terribly special about this beach, except for the fact that we were literally alone all day. Because there are three houses right on the beach it feels a bit like you're sitting in someone's back yard. These properties took some big storm surge waves and at least one of the house is still not livable. Since we looked across at Cinnamon Beach all day we decided to head over there at the end of the day before going back to the villa. We wanted to see what the damage was like and also swim there since Peter Bay was pretty wavy. For all intents and purposes Cinnamon Bay Campground has been destroyed. The only building that could potentially be restored or renovated is the main building with the restaurant. All other structures are gone or rubble. It will be a long rebuild but in talking to a contractor on the beach they will start clearing the site of downed trees and vegetation in the next couple weeks. We returned to the Ocean Grille at Mongoose Junction for dinner. I'll reiterate that this is a great restaurant for a solid but not overly expensive (for the caribbean) meal
Jan 17: After seeing how beautiful the Cinnamon Bay beach was the day before we decided to spend all of this day there. It was very surfy which was fun for body surfing, but the snorkeling was bad. No visibility. This is the time to check out Cinnamon Bay Beach. It rivals Trunk in it's beauty, and it's bigger than Francis. And no people. The ruin that sits right on the beach has been mostly destroyed although there are still partial walls standing. Dinner at La Tapa restaurant in Cruz Bay. It's right under the Quiet Mon Pub. We've eaten there before and it didn't disappoint. Great meal but also (justifiably) pricey. They are closed Mondays.
Jan 18: Because we love Francis Bay so much we spent out last day there. It was calm and sunny and generally quiet. We even had visitation from a donkey heard of about 9 Donkeys come onto the beach for a while. I did a little fly fishing in Mary's Cove. Like I said before, you need an umbrella to be at the beach since all of the shade from trees is now gone. The west end of the beach is now a little rocky. Dinner at The Lime Inn in Cruz Bay. We've eaten at the Lime Inn before and had forgotten how good it is. This place flies under the radar and is slightly less expensive than La Tapa and Extra Virgin. Definitely go there.
Note About Little Maho Bay/Beach: It used to be that you had to swim to get from Francis to Little Maho. There was so much catastrophic cliff erosion caused by the storms that you could actually walk there with a couple very minor rock scrambles. The changes are impressive. Little Maho beach has also changed quite a bit. Lots of erosion of the base of the wooded back that leads up to the old campground and the western 2/3 of the beach is now rocky. Only a small patch of sand at the east end.
Jan 19: This was the day we had to head home. A big question on departure day is always how early to be at the airport and which ferry to take. Out flight was with American and departed STT at 4:30. American is asking passengers to be at the airport 3 hours before flight time. I wanted to take the 1:00 ferry which I projected to get us to the airport around 2:30, 2 hours before the flight. I consulted with our taxi driver on St. Thomas and he said we needed to do the 12:00 ferry so that's what we did. So we left St. John at 12, had our Mr. Pipers Jeeps taxi which took us from Red Hook straight to the airport. Lines at check-in were not bad and we were through check-in, customs, and security at 1:30. So it took 90 minutes to get from St. John through security at STT. Probably the best case scenario which made us wish we had taken the 1:00 ferry but you just never know when there is going to be a crush of departing passengers which can cause the wait times to grow exponentially.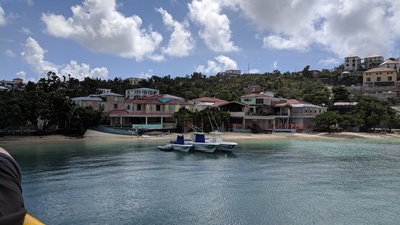 Notes about the Airport: They say you don't need a passport to travel to the USVI which technically is true. But having a passport significantly expedites and simplifies the customs process. Absolutely take a passport if you have one. The customs agent literally told me that if we didn't have passports he was going to have to manually enter all our information and it would have taken a while. Also the airport cafe on the other side of security is currently closed. They have set up two smaller food stands but the choices are a little limited.
I have posted a video of my drive from Annaberg to Francis Bay here: 
So that's it! Back to Maryland. Hope someone finds this helpful. I'm happy to share photos with anyone of answer any questions. I can be reached directly at miles@southforkstudio.com.
-Miles Barnard
Topic starter
Posted : January 25, 2018 1:56 pm
Thank you (@miles2321) for sharing your trip report! I'm sure it will be useful to people considering up coming vacations to St. John. 
Posted : February 5, 2018 5:52 pm
Thank you for the report! Heading down soon and found this helpful, especially the fact that beach umbrellas are a must now for a little shade.  We will be either traveling some down with us or try to purchase at kmart on STT if they have any in stock
Posted : February 11, 2018 3:00 pm
Great report!  
My husband & I are planning an trip first week in December. What beaches have BBQ grills? I think it would be fun to go to the beach and grill lunch. I saw that Cinnamon has grills but are these grills just for the people staying there??
Posted : July 10, 2018 12:55 pm
Hey cowolter. Hawksnest has 2 or 3 basic grills right by the shed. And Trunk Bay has a couple too. At Trunk Bay there were wood steps going up to the trees from the beach/sand and that is where the grills and picnic tables were located. I don't know about grills at Cinnamon Bay, can't remember if we saw any there. The grills at Hawksnest and Trunk Bay were typical public park grills; bring aluminum foil and a big onion to clean up the grate.  ? 
Posted : July 10, 2018 5:09 pm
Francis bay grills and most picnic tables are buried as of 7/19/2018.
Posted : July 21, 2018 10:03 pm