Water Island
Experience the Best of the Virgin Islands
Water Island offers visitors a superb opportunity to relax away from everything and enjoy a laid-back vacation.
About Water Island
Water Island is a small residential island; the smallest of the four USVI islands at just 491.5 acres. It is also the youngest having been transferred to the local government in December 1996. It has a population of less than 200 people.
A vacation on Water Island might include: relaxing days on the beach, kayaking, exploring the shoreline at Limestone, a day of fishing or boating, a day trip to St. Thomas, hiking around the island, exploring the remains of military fortifications, joining residents for movie night on the beach, having lunch and drinks at Honeymoon Bay and taking a bike tour.
Real Estate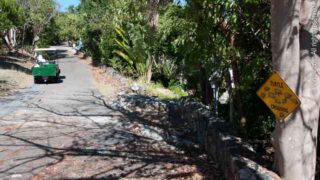 Water Island's real estate market is small and fairly exclusive. The real estate possibilities are very limited in quantity due to the island's small size and to a low turnover rate.
Real Estate >
Cruise Ship Information
St. Thomas Ferry
Island hop between the big island of St. Croix and its sister island St. Thomas by ferry.
Book Tickets Now
Residences dot the island's hillsides in areas such as Flamingo Point, Sprat Bay and Carolina Point. Among these residences are accommodations that cater to vacationers such as vacation homes, apartments and a campground with eco-cabins.
Water Island does not have taxis, public transportation, gas stations, hotels, shops or a main town. Residents and visitors depend on St. Thomas, located just a half-mile away, for groceries to mail service. The gateway to Water Island is the St. Thomas airport. A ferry operates between the two islands.
Visitors on St. Thomas can easily day trip to Water Island. It is a good option for cruise ship passengers docked at Crown Bay Dock, which is a short walk from the Water Island ferry at the Crown Bay Marina.