A charter vacation in the Virgin Islands combines the atmosphere of a Caribbean cruise and the quality and service of an exclusive resort into an experience that is better than both!
The Virgin Islands are considered one of the finest sailing grounds in the world. They offer sunny weather, dependable trade winds, beautiful scenery, protected anchorages and short passages between islands. Chartering a sailboat, catamaran or yacht is unquestionably a fantastic way to explore the islands. Imagine your honeymoon; cruising into quiet anchorages, eating dinner on the water at sunset or running down a sandy white bay on an unpopulated island. Picture your family vacation; kids enjoying the beach and the whole experience of it all and adults enjoying everything from water sports and romantic sunsets to special time with the kids and the relaxing environment. Sounds wonderful doesn't it? Here is more.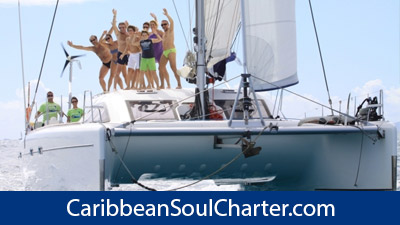 Caribbean Soul Charters offers crewed yacht charters aboard luxury monohulls, catamarans and motor yachts. Let your captain and crew wine and dine you aboard your private yacht and whisk you away to islands and beautiful anchorages. In most cases, this is an all-inclusive vacation as to gourmet meals, snacks, drinks, cocktails and water toys. We offer specialty charters: honeymoons, anniversaries, learn to sail, scuba diving, by the cabin, captain only, clothing optional, and spa/wellness. Our office is aboard our own sailboat anchored amongst charter yachts and crews - so we know them as neighbors as well as professional charter hosts. Together we will create the best Caribbean yacht charter vacation you'll ever enjoy.
Charter GET ALONG a 57-foot catamaran that accommodates 10 guests in 5 queens, with a crackerjack new crew that can charter both in the BVI and USVI. 10% discount on all charters through July 2023! (5 night minimum). Availability subject to change.
Book Now
You can pick where you want to go; which islands would you like to visit and explore. You can set your own pace and not feel rushed. Visit beaches not accessible by roads. You can snorkel, swim, read and relax! Stay on the yacht cruising along or pull into harbors and enjoy the uniqueness the islands offer. Forget about large hotels, beaches with chairs just for guest and cruise ships with large groups; think unique, think a yacht charter vacation all about what you want!
Bareboat or Full Crew
If you or someone in your group is an experienced skipper then you can try a bareboat charter and sail the boat yourself. Bareboat means that the yacht only possesses the bare essentials and has no crew. Variations exist however; a skipper can be added, water toys are included, snorkeling and diving equipment perhaps, so the charter is not completely bare. For the ultimate in luxury and pampering consider a private yacht with a full crew including a cook; meals prepared for you at your request, choose your daily excursions and so much more. Some yachts have jacuzzis and spas, gymnasiums and even helicopters! For the price of a cruise you and your friends and family can sail in comfort with first class service and have everything be about you and just you.
There are several types of term charter boats to select from and in each category there are many unique vessels. Here are some options: (Prices are estimates and vary depending on season)
Small sailing yachts
37 feet to 49 feet in size, designed to carry 2 to 4 passengers in comfort. Average $1,250 per person for one week, based on 4 passengers.
Medium sailing yachts
50 feet to 60 feet in size, designed to carry 4 to 6 passengers in comfort. Average $1,200 per person for one week, based on 6 passengers.
Large sailing yachts
60 feet and up in size, designed to carry 6 to 8 passengers in comfort.  Average $1,650 per person for one week, based on 8 passengers.
Small motor yachts
Up to 60 feet in size, designed to carry 2 to 4 passengers in comfort. Average $1,825 per person, for one week, based on 4 passengers.
Large motor yachts
From 65 feet and up, designed to carry 4 to 8 passengers in comfort. Average $2800 per person for one week, based on 8 passengers.
Catamarans
Are unique sailing vessels that can range in size from 45 feet to 60 feet. Most catamarans are designed to carry up to 8 passengers comfortably. Prices average $1,800 per person for one week, based on 6 passengers.
Charter companies are your best source for planning a term charter vacation. They can help you select which type of charter best suits your group, your needs and your wants. They will find out what foods you like, what activities, what your personal needs are and help to insure these are all met and that your charter vacation is catered to you and your group. Go on a unique vacation, go chartering in the Virgin Islands!
Note Motor yachts in comparison to a sailing yacht can cover a much greater distance quickly. They are more expensive because of fuel and machinery costs.