The Caribbean is considered one of the finest yachting grounds in the world, and the Virgin Islands are one of the top destinations in the region. Itineraries in the Virgin Islands for a yacht charter vacation include the United States Virgin Islands (USVI), the British Virgin Islands (BVI), and the Spanish Virgin Islands. Between them there are around 100 small islands, cays and rock islets.
On a yacht charter in the Virgin Islands, you can expect emerald islands, stunning clear blue water, plentiful watersports, gorgeous harbors, towns with laid-back vibes, and quiet bays that offer the romance of peaceful solitude. The sun-kissed destination enjoys a warm climate year-round, dependable trade winds, protected anchorages, and short passages between islands. This inviting setting is fantastic for yachting.
Ever dream of cruising through the Caribbean on your own private yacht? Our premier collection of luxury yachts in the US Virgin Islands and British Virgin Islands offer all-inclusive 5-7 night charters on sail, power, and luxury motor yachts. We pride ourselves on presenting you with the most extraordinary yachts. To us, being the best means providing our clients with the best available options, not every available option. The foundation for our collection is based on the caliber of the yacht design, the comfort of the guests, the amenities offered, experience onboard, and most significantly, the performance of the crew. We have done the searching, now allow us to unveil the crème de la crème. Your Ocean Adventure Starts Here.
Caribbean Soul Charters offers crewed yacht charters aboard luxury monohulls, catamarans and motor yachts. Let your captain and crew wine and dine you aboard your private yacht and whisk you away to islands and beautiful anchorages. In most cases, this is an all-inclusive vacation as to gourmet meals, snacks, drinks, cocktails and water toys. We offer specialty charters: honeymoons, anniversaries, learn to sail, scuba diving, by the cabin, captain only, clothing optional, and spa/wellness. Our office is aboard our own sailboat anchored amongst charter yachts and crews - so we know them as neighbors as well as professional charter hosts. Together we will create the best Caribbean yacht charter vacation you'll ever enjoy.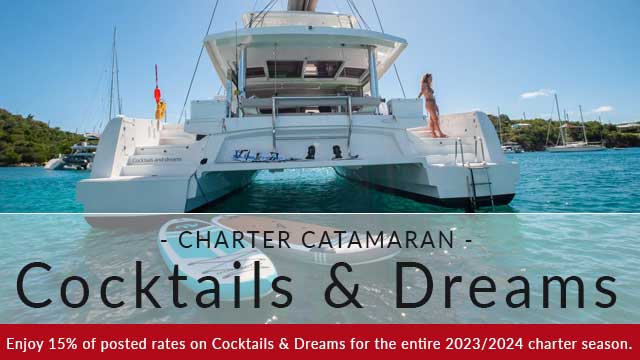 BIG NEWS! Enjoy 15% off posted rates on yacht Cocktails & Dreams for the entire 2023/2024 charter season. This 5 start luxury 2022 Bali 54 accommodates up to 10 guests in 5 Queen ensuite cabins with the potential for 12 guests with 2 single berths for young adults. They're offering a 15% discount off posted rates. Book by June 26, 2024 and sail before July 31, 2024. Tons of space. Tones of toys. Awesome crew.
Book Now
An Unforgettable Adventure Awaits You on a Yacht Charter in the Virgin Islands
Yacht charters in the Virgin Islands include bareboat, skippered, and crewed arrangements. Charter yachts include sailing yachts, catamarans, and motor yachts. Each of these choices has different benefits, and which one is right for you depends on what you want from your yachting experience. Yachting options include private vacation charters and luxury charters, in addition to specialty charters for a honeymoon or romance, for families with young children, with a focus on watersports, to compete in a regatta, or because you want to learn to sail.
Yachting in the Virgin Islands is a treasured travel experience. Imagine cruising into lovely anchorages each day, eating dinner on the water with an epic view, or strolling down a sandy white bay at sunrise. You can visit popular spots in the USVI such as Magens Bay on St. Thomas, Maho Bay on St. John, or quieter anchorages like Christmas Cove off of Great St. James. Your BVI yacht charter vacation can include Jost Van Dyke, Virgin Gorda or Cooper Island. And in the Spanish Virgins you can explore Culebra, Culebrita and Vieques.
There are many yachts from which to choose, so whatever type of charter you are looking for, there is sure to be one to match your requirements and surpass your expectations.
Yacht Brokers Make It Easy for You to Find the Perfect Charter in the Virgin Islands
Professional charter yacht brokers prioritize having in-depth personal knowledge about the yachts they represent, the crews available, and the destination choices within the Virgin Islands. They make it easy to find a yacht charter. Their websites offer yacht brochures with photos, descriptions, yacht specs, amenities, and yacht toys. They provide crew member bios, and sample menu options from the chef. They offer itineraries for you to consider including location choices for a St. Thomas and St. John charter, and destinations for a BVI yacht charter. A charter yacht broker will help you understand the options available and assist in creating the perfect yachting experience for your group.
Frequently Asked Questions about Charter Yachts in the Virgin Islands
What is the difference between crewed yacht charters and bareboat yacht charters?
A bareboat charter is an arrangement where no crew or provisions are included. It is the most cost-effective way to charter, however guests must have skippering experience to do so. Proving your ability to skipper varies by company and type of yacht but might include having a license or approval of your boating resume. On a bareboat charter guests need to go ashore and provision or hire a provisioning company; and guests are responsible for navigating, itinerary, cooking, cleaning up, managing their activities and transportation. Essentially you must be self-sufficient on a bareboat charter.
Another option within bareboat yacht charters is captain only. This option means there is a captain onboard for the entire yacht charter. Guests remain responsible for provisioning and taking care of their own needs. On a captain-only bareboat charter you are responsible for providing a cabin and meals for the captain.
A fully crewed yacht charter is when a private yacht is rented with a professional crew to operate the vessel and provide guest services. The crew may include a captain, chef, steward, and deckhands. Some yachts, depending on size and amenities, have additional crew members. On a fully crewed yacht charter in the Virgin Islands the crew takes care of operating the yacht, cooking and serving, cleaning and maintenance, setting up activities and arranging transportation to shore.
How long can I charter a yacht in the Virgin Islands?
The standard multi-night yacht charter in the Virgin Islands is 7 nights/8 days. Yachting options may be available for shorter terms, however most require at least 3 nights.
How much does it cost to charter a yacht for a week in the Virgin Islands?
The cost of an overnight yacht charter in the Virgin Islands is dependent on various factors, and this makes it challenging to give an average. Yachting prices differ considerably between bareboat charters and crewed charters. The size of the yacht, the number of cabins, occupancy, amenities offered, number of crew members, and types of yacht toys available all have a factor in the cost of a yacht charter. The time of the year is also a factor. In the Virgin Islands, winter season rates for yachting are higher than summer season rates. There may also be running expenses, which are often associated with large motor yachts. All-inclusive crewed yachts are more typical of smaller sailing yachts and catamarans. Visit yacht broker websites, there you can review charter options and compare prices.
What's the best time of year for a yacht charter in the Virgin Islands?
There are two seasons in the Virgin Islands. The winter/high season which is mid-December through late April, and the summer/low season which includes May to mid-December. Winter season in the Virgin Islands is typically cooler and drier, with more breezes. Christmas winds can blow in for a couple of days which create invigorating sailing conditions. Christmas and New Year rates are higher for yacht charters, and the weeks that include those holidays are in high demand. The summer season is warmer, and wind and waters are generally calmer. The Atlantic hurricane season runs between June 1 and November 30, with the most active weeks between mid-August and mid-September. Anchorages in the USVI and BVI are quieter in the summer season, and charter yacht rates are generally lower.
Can I sail from the US Virgin Islands to the British Virgin Islands on a private yacht charter?
Week-long yacht charters can focus on destinations solely within the US Virgin Islands, locations just in the British Virgin Islands, or a combination of destinations within the US Virgin Islands and the British Virgin Islands. There are also yacht charter options that explore the Spanish Virgin Islands.
How do I book a yacht charter in the Virgin Islands?
In order to research and book a yacht charter in the Virgin Islands it is best to contact a yacht broker with knowledge of the area, the yachts available, and the crews. The broker will listen to what you want and require, and then help you find the best yacht charter. You will need to determine the dates you can go on the charter, consider the experience you want to have, and the destinations you want to explore. Once you have the best yacht charter package for your group, you will secure your booking with a contract and a deposit. A final payment for your yacht vacation is typically due around two months before the start of your charter. Ask your yacht broker about the chartering terms, cancellation policy, payment options, and customs and immigration details.
Bon Voyage!