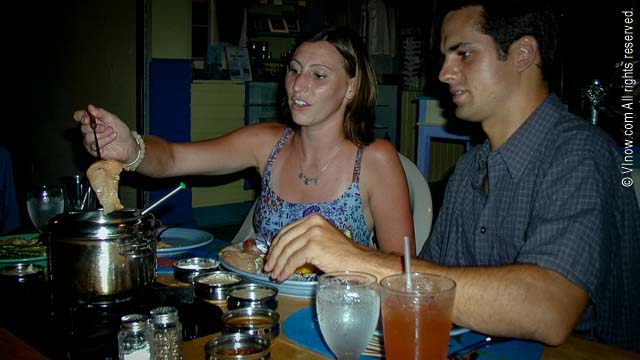 Restaurant choices in St. Thomas are largely grouped around three cuisines: American, Caribbean and Globally Inspired. Some restaurants focus on seafood, as one might expect on a Caribbean island; but just as many serve burgers and bar food. Continental cuisine and pizza are easy to find. There are a few Mediterranean, BBQ, steakhouse, and Sushi restaurants. Mixed in with these is a Spanish restaurant, a German restaurant, Mexican, Thai, and a couple vegetarian, Latin and Chinese restaurants.
For tropical ambiance choose a restaurant with a water view, perhaps even on the beach! If you've been on the beach all day and prefer an air-conditioned restaurant – they are available too. Grab a bite at a casual spot, or enjoy fine dining. Some restaurants double as bars and offer happy hour specials. Live entertainment of guitar, vocals, or a band are offered at various places. Also, Sunday brunch is popular on St. Thomas so get ready for bottomless mimosas maybe with mango juice or some other tropical twist.
Don't just visit St. Thomas, taste it!
Discover the culinary treasures of St. Thomas with our comprehensive restaurant guide! From hidden local gems serving authentic Caribbean cuisine to upscale dining establishments offering breathtaking ocean views, our list of St. Thomas restaurants is your passport to a gastronomic adventure.
Uniquely Caribbean
St. Thomas's local flavors are unique to the Caribbean region. The island's population is around 70% Caribbean people; and the island's history and culture are distinctly Caribbean. Be sure to try some Caribbean cuisine. Enjoy entrees of fried fish with sides of fungi and plantain, fish soups, conch and rice, kallaloo, johnny cakes, or bull-foot soup. Satisfy your sweet tooth with delicious deserts and drinks made from coconut, mango, guava, soursop and other tropical fruit. Experience what is unique to the island by trying a few Caribbean favorites while visiting St. Thomas.
Want to make Caribbean recipes at home? Get a Virgin Islands cookbook or rum drink book.
Food Events on St. Thomas
Attend a food event while on vacation in St. Thomas. The most popular food event for Caribbean cuisine is the annual Carnival Food Fair in April. It's a fantastic place to try local dishes and desserts and to purchase stewed tropical fruit and hot sauces. Competitions and food cook offs are all the rage right now. There is King of the Wing, a Slider Competition, a Chili Cookoff, Chowder Cookoff and a Coal Pot Cookoff! Several non-profits host food events as fundraisers including Montessori International Night and Taste of Two Islands. St. Thomas' food truck scene gets to shine occasionally with Food Truck Fete events. Two Agriculture Fairs highlight locally grown fruits and vegetables as well as local dishes.  Visit the Event's Calendar for more information and to see what food event is going on while you are on island.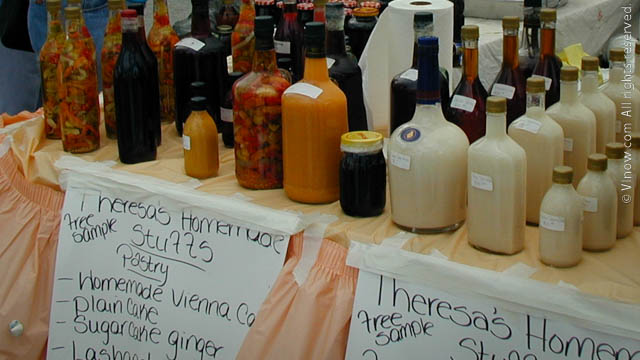 Take Home Local Food Products
Local products that you might like to take home with you include a large variety of hot sauces from mild and savory, to hot, hot, hot. The US Virgin Islands is known for rum! Cruzan Rum is the popular choice. It is made on St. Croix, the sister island to St. Thomas. Also, Captain Morgan's Rum is produced in St. Croix. A variety of other Caribbean rums are also available, including some that are relabeled as being Virgin Islands rum. You can pick up packages of bush tea in gift shops, and boxes of rum balls and rum cakes. A variety of tropical jams, marmalades and candies are made from tropical fruit. Look out for the home-made jams and sauces during fairs. These are the best and are made by St. Thomas' residents that serve as culture bearers continuing the community's food traditions. Around the holidays, booths at Christmas events sell a variety of treats including traditional holiday drinks like guava berry rum, coquito, and sorrel drink. Sometimes the locally made food items can also be found at farmer's markets.