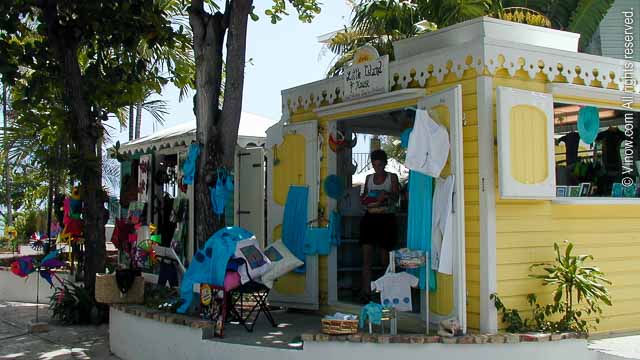 Shopping areas on St. Croix include shops, restaurants, bars, attractions and even beaches all in close proximity! The main shopping areas are in Christiansted and Frederiksted. Both towns are historically important to St. Croix and contain numerous historical buildings. Shops are either housed in or near to historic sites. Restaurants and bars are available along the main streets and on the harbor front. Beaches are either a short walk or a very short ferry ride away.
Shop online for souvenirs and travel guides from the Virgin Islands. Order a St. Croix calendar, map of the island, a great St. Croix hat, yummy hot sauces, curry or jerk seasoning, mango tea, a Christiansted magnet, postcards, rum cakes, or a St. Croix bracelet. Pick up a few St. Croix island facemasks. Add a beautiful St. Croix Christmas ornament to your collection. St. Croix cookbooks, rum drink books, playing cards, shot glasses, stickers and more. Find a great selection of travel guides and St. Croix souvenirs on VItraders.com.
Shopping in Christiansted
You could easily spend the whole day in Christiansted; have breakfast in a cozy café while you talk to locals or read the paper. After having your OJ and bagel, head out for bargains and unique Crucian souvenirs. Quaint pavilions and alleys are filled with shops that offer china, crystal, arts, perfumes, clothing, alcohol, jewelry and souvenirs. Small stores often feature unique locally crafted items like hand painted shirts, pottery, bath products, hand made jewelry with island themes, crucian bracelets and crucian rum! After a few hours of shopping take a break and explore the colonial architecture of the historical buildings like Fort Christiansvaern and the Scale House.
The National Park Service that maintains the Fort and other historical buildings has a small store that sells books about St. Croix history; another similar store is the St. Croix Landmark Society. After sightseeing, head for some lunch on the boardwalk and enjoy the pleasant breezes and view. Then its back to shopping for those items you saw and wanted to think about and have now decided you just must have.
In Christiansted the main shopping area is along King Street. Company and Strand Street also offer a variety of fine shops with a large assortment of items. Make sure to explore the small alleys that run between streets and you will discover a mixture of boutiques, many selling unique souvenirs. More shopping opportunities await just east of Christiansted at the Gallows Bay Marketplace, where you will find gift-shops, bookstores, boutiques and other shops.
Shopping in Frederiksted
Frederiksted is also historically significant to St. Croix and contains numerous buildings worth exploring including Fort Frederik. Stores in Frederiksted offer souvenirs and locally crafted items. Frederiksted is not as busy as it was a few years ago, however government and local groups are working on renovating the town and restoring it to its former glory. A few great water sports shops are located in Frederiksted, along with pleasant restaurants and bars.
Shopping Around the Island
Other shopping areas on St. Croix include SunnyIsle and Sunshine Mall which primarily cater to residents and offer pharmacies, grocery stores, clothing stores, movie theatre and offices. Many resorts offer on-site shopping at small boutiques that sell an assortment of souvenirs, clothing, sunglasses, arts and other items.
Shopping on St. Croix offers the convenient ability to sightsee, dine and shop all in one. Shoppers can find crystal, jewelry, perfume, cosmetics, liquor and cigarettes at great prices. Many shops showcase locally made arts, crafts, woodwork, leather goods, ceramics and fabric designs. Be sure to pick up some of these locally made items – they make unique souvenirs. Happy Shopping!