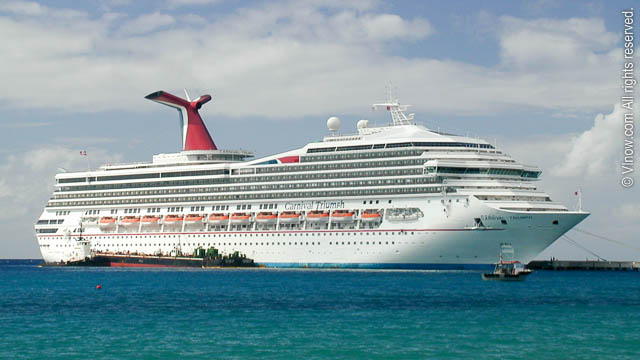 Cruise ship passengers will be in awe when they dock in St. Thomas, one of the most beautiful cruise ship ports in the Caribbean. St. John does not have a cruise ship dock however a few ships do stop there. There is also a cruise ship dock in Frederiksted, St. Croix.

Cruise ships usually sail at night and dock in the early morning. Passengers generally have from 8-5 to get all their shopping and sightseeing completed. The Virgin Islands have a lot to offer. To help you make the most of your visit, explore this site and decide what attractions, beaches and shopping sites interest you the most. This cruise guide is a special guide that discusses the most frequently asked questions cruise ship visitors to the Virgin Islands ask.
A Cruisers Guide to the USVI
The USVI is one of the most beautiful ports of call in the Caribbean. It is made up of 4 main islands; St. Thomas, St. Croix, St. John and Water Island. Each island has its own unique personality. St. Thomas, considered the cosmopolitan Virgin Island, is home to world-renowned shopping. St. John is often referred to as the gem of the Virgin Islands. Water Island offers peace and tranquility. St. Croix offers a little bit of everything.
In this section you will find answers to many frequently asked questions that cruise ship passengers have about taxi cost, ferry schedules, best beaches and more. If you do not find the information you are looking for in this guide or if you want advice and feedback from other travelers then post your question on the Travel Forum.
In-depth Island Guides
St. Thomas, USVI
The most popular port of call in the Virgin Islands is St. Thomas. Charlotte Amalie, the capital of the Virgin Islands, welcomes visitors to its shores. Cruise ships call on St. Thomas at the West Indian Company Dock in Havensight, at anchorage in the Charlotte Amalie harbor and at the Crown Bay dock in Subbase. The island is packed with attractions, beaches and world-renowned shopping. St. Thomas Guide →
St. John, USVI
St. John offers cruise ship guest a visit to the Virgin Islands National Park. Fabulous beaches, dozens of hiking trails and ruins of sugar plantations invite you to explore the magnificence of St. John. Cruz Bay, the main town, is where you will find shopping, restaurants, taxi dispatchers, rental cars and other services. Cruise ships do not frequently call on St. John and those that do remain at anchorage. St. John is an easy trip for cruise ship passengers calling on St. Thomas; many tours go to St. John and it is easy to do on your own by ferry. St. John Guide →
St. Croix, USVI
Spend a leisurely day on the big island of St. Croix. Residents are friendly, diving is excellent, the food is good and the scenery in the main towns and around the island is wonderful. The island is rich in history and has numerous historical attractions. Your ship will dock in Frederiksted. You can take a taxi or rent a car and see the island, enjoy the sunny beaches, verdant hills and great attractions that await you. Charters and tours of the nature reserves that exist around St. Croix, including Buck Island, are easily arranged. St. Croix Guide →
Water Island, USVI
Water Island does not receive cruise ships. It is a small island located in the Charlotte Amalie harbor and is home to less then 200 residents. Water Island offers a wonderfully quiet day in paradise and is an easy day trip from St. Thomas by ferry. Water Island Guide →