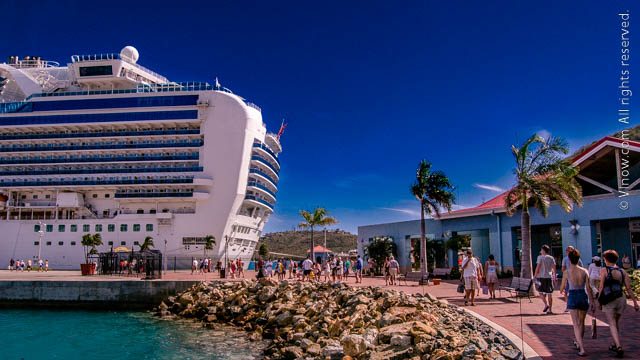 Planning your day on the island is often affected by the numbers of other folks who will be visiting the same day as you. Find out how many ships will be in port the day your ship is in. Cruise Ship Schedules
What is considered a busy day?
On St. Thomas 0-2 ships is a slow to good day. 3-5 is busy and 5 and up is real busy! St. John often gets one ship at a time only a couple times a month; because the island is small one ship makes the island's favorite spots / attractions very busy. Busy ship days on St. Thomas also affect St. John because many ship passengers day trip over to St. John on an excursion or on their own. St. Croix is the largest USVI so with one or two ships there is still lots of room to play!
Docking/Pier Information
On St. Thomas ships most commonly dock at the West Indian Company Dock (WICO) in Havensight. They also dock in Crown Bay and some large ships remain at anchorage in the Charlotte Amalie harbor. Passengers are then tendered into the Waterfront in Charlotte Amalie. On St. Croix ships dock at the Frederiksted Pier. Ships that call on St. John remain at anchorage off the St. John shore; passengers are tendered onto the island. More information and monthly schedules are available at USVI Cruise Ship Schedule
How to get to St. John from Ship
Ferry Service is available between St. Thomas and St. John, St. Thomas and Water Island and St. Thomas/St. John and the BVI Islands. For details on ferry schedules, prices, operators and length of ferry ride per destination visit Ferry Schedules. Visiting close neighboring islands on your own while in port is possible through the use of these inter-island ferry services.
Many cruise ship visitors to St. Thomas want to visit St. John and rely on the ferry. You should note that there are two passenger ferries; one in Crown Bay that has infrequent trips; and one in Red Hook with hourly trips. There is only one car barge that takes passengers and their cars over to St. John; it leaves from Red Hook.
Which passenger ferry should you take depends on your schedule. View the Ferry Schedules to find out which ferry service works best for your plans. How To Ferry To St. John from Cruise Ship Docks (St. Thomas)
Taxis and Rates
Taxis are everywhere, literally. When you disembark from the ship you can be assured that there will be taxi drivers and tour drivers waiting for you. Popular destinations like Magens Bay, St. Thomas and Trunk Bay , St. John also always have taxis waiting to take you back to the ship or ferry. Rates for taxis are not metered they are per person and per destination. Below you will find a table with rates between popular destinations for cruise ship visitors.
Popular Destinations on St. Thomas
FROM
TO
1 PERSON
2+ PEOPLE (EACH)
TIME
Havensight
Magens Bay
$10
$8
15 min.
Havensight
Charlotte Amalie
$4 per person
6 min.
Havensight
Red Hook
$13
$10
17 min.
Havensight
Coki/Coral World
$12
$9
12 min.
Havensight
Mountain Top
$11
$8
17 min.
Red Hook
Magens Bay
$12
$9
20 min
Crown Bay Dock
Charlotte Amalie
$5
$4
8 min.
Crown Bay Dock
Magens Bay
$12
$10
25 min.
Crown Bay Dock
Coki/Coral World
$14
$10
26 min.
Crown Bay Dock
Mountain Top
$12
$9
30 min.
Crown Bay Dock
Red Hook
$15
$11
31 min.
Popular Destinations on St. John
| FROM | TO | 1 PERSON | 2+ PEOPLE (EACH) | TIME |
| --- | --- | --- | --- | --- |
| Cruz Bay | Caneel Bay | $6 | $5 | 6 min. |
| Cruz Bay | Trunk Bay | $8 | $6 | 12 min. |
| Cruz Bay | Cinnamon Bay | $9 | $7 | 14 min. |
| Cruz Bay | Hawksnest | $6 | $5 | 8 min. |
| Cruz Bay | Annaberg Plantation | $13 | $9 | 22 min. |
| Cruz Bay | Maho Bay | $13 | $9 | 18 min. |
| Cruz Bay | Salt Pond Bay | $20 | $14 | 40 min. |
Popular Destinations St. Croix
| FROM | TO | 1 OR 2 PEOPLE | 3+ PEOPLE (EACH) |
| --- | --- | --- | --- |
| Frederiksted | Christiansted | $20 | $9 |
| Frederiksted | Estate Whim | $7 | $3.50 |
| Frederiksted | Carambola | $22 | $9 |
| Frederiksted | Mt. Washington | $12 | $6 |
| Frederiksted | Divi Carina Bay | $30 | $15 |
For more detailed taxi schedules and taxi information please visit: St. Thomas Taxi | St. John Taxi | St. Croix Taxi.
Renting a Car
Renting a car or van is a great idea for large groups or families. Rental cars range in price from $55/day to $95/day on St. Thomas and St. John. Prices depend on size of car and time of year. On St. Croix rental cars range in price from $38/day to $70/day. Taxis charge per person per destination so beach hopping or an island tour can quickly add up to over $100 in taxi fares for a small to medium size group. Renting a car will allow you to see more of the island at your leisure and for the same price or less then you might have spent on taxi fares. If you are a couple you might also consider renting a car to beach hop, go to St. John or just to feel the freedom of sightseeing at your pace. On St. Thomas there are offices conveniently located a short walk from the Havensight cruise dock area and some rental car agencies have special arrangements for cruise ship passengers. St. Croix, St. Thomas and St. John have car rental agencies in the main towns, hotels, airports, close to the dock and you can arrange to be met at the cruise ship dock. More information: St. Thomas Transportation | St. John Transportation | St. Croix Transportation.