St. John's beauty is in the island; in its beaches, forests and historical ruins, and they are best explored by motored transportation. There are many trails within the National Park, therefore hiking during the day is a good option for getting around the park. Roads are narrow and without sidewalks in most cases so walking on roads should be done with great caution. St. John is hitchhiking friendly.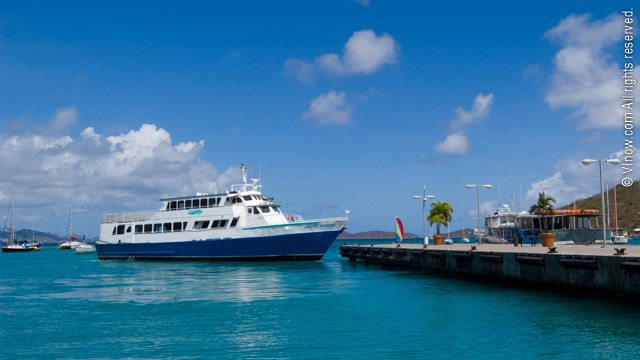 Inter-Island Ferry Service
Inter-island travel is facilitated by reliable ferry service. Get more more information about Ferry Schedules.
Scooters, Motorcycles, Bicycles
There are a few shops that rent scooters in Cruz Bay. Motorcycle rentals are not available. Bicycles are available for sport to ride on trails and are not used for transportation due to the steep, narrow nature of roads on St. John.
The public bus system is called VItran. Buses run along Centerline Road. Currently, August 2018, the bus schedule is from Cruz Bay 6am, 8am, 3:25pm and 5:25pm. From Coral Bay at 7am, 9am, 4:10pm and 6:10pm. The fare is $1 a person. Senior Citizens receive a discounted fare of $.55. The public bus is not super reliable, if you are on a tight or limited time schedule it is not a good idea to depend on the bus. For more information on VItran public buses call them at (340) 626-4010.