Top 7 Ways to Get Around St. John, Virgin Islands
You are on this page because you are heading to St. John in the US Virgin Islands and you want to know how to get around the beautiful little island. We got you covered! In this article we share the top 7 options for getting around St. John, from taking a taxi, and renting a car, to hiking. We also include what is not available on St. John, like an airport, scooter rentals, and Uber.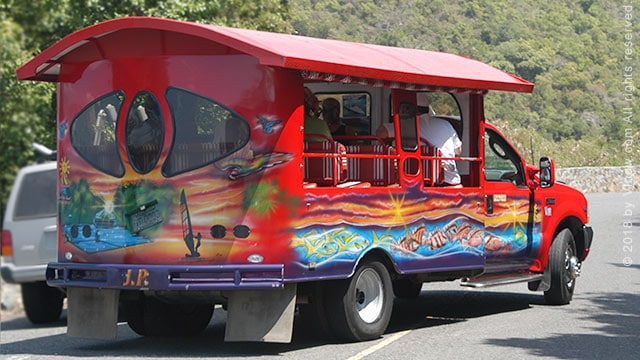 1. Take a Taxi on St. John
Taxi service on St. John is well organized and there is a good availability. Popular locations like the ferry dock, Trunk Bay and Cinnamon Bay have a taxi dispatcher on site and a taxi waiting area. You can call for a taxi to pick you up at other locations. St. John taxis charge per person and by destination. There are no metered taxis. Due to limited parking on St. John, particularly at some of the smaller beaches and at most trailheads, taking a taxi is a top choice for getting around the island. St. John Taxis & Rates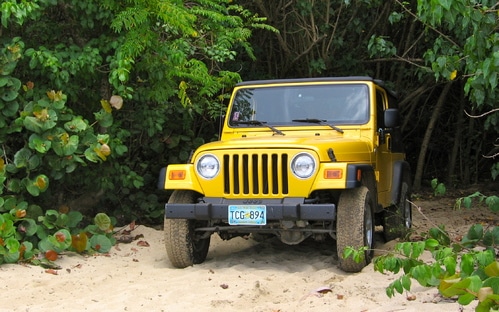 2. Rent a Jeep on St. John
Renting a jeep on St. John is a popular choice. Car rental agencies on St. John are locally owned businesses, and the majority are in Cruz Bay. There are several agencies to choose from. Jeeps are the most popular vehicle type because St. John is mountainous, and many of the island's villas have steep access roads and driveways. Rent a Jeep on St. John. 
PS: If you are renting a car on St. John or bringing a car over from St. Thomas, you need to know about parking so be sure to read this nugget of St. John travel information: Where to Park on St. John!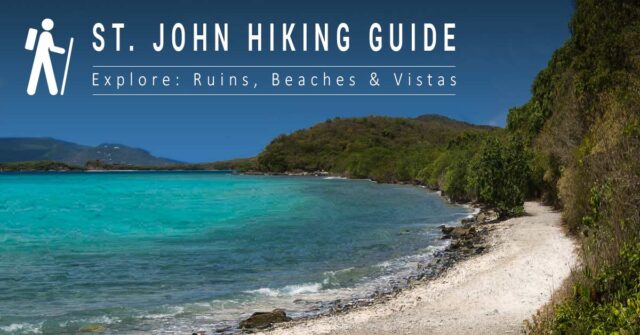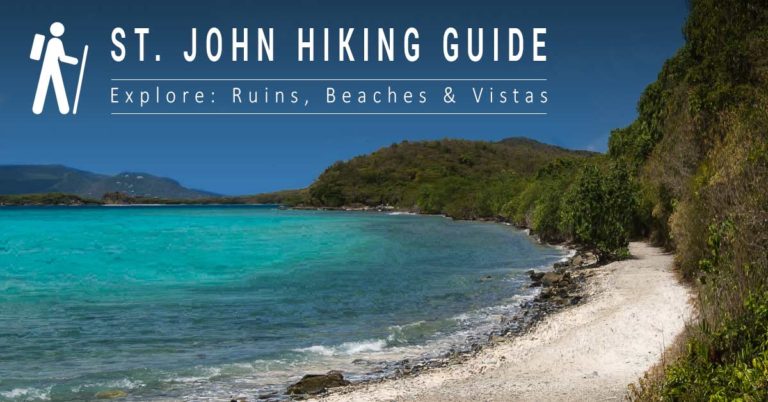 3. St. John on Foot
St. John is a great place for hiking! It is home to the Virgin Islands National Park, with over 22 hiking trails. The trails crisscross the island and include easy, to challenging hikes. The main roads on St. John however are not pedestrian friendly. Very few roads on the island have sidewalks and drivers aren't used to sharing the roads with humans. They do however slow down for donkeys and deer, both of which are frequently seen on St. John. So, in theory drivers should slow down for humans too! Just make sure you hug the edge of the road. St. John is hitchhiking friendly, but at your own risk. St. John Hiking Trails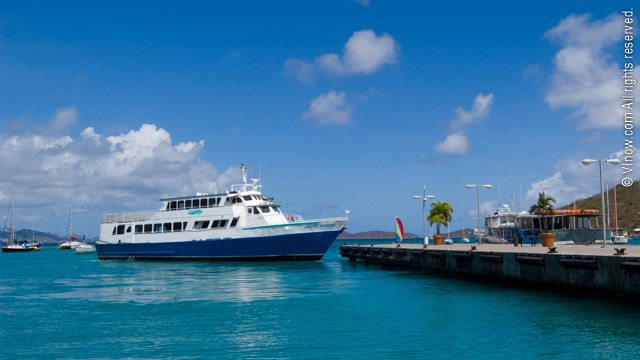 4. St. John by Ferry
If you are going to St. John, chances are you are getting there on a boat. Most visitors get to St. John on the passenger ferry, or on the car barge, from St. Thomas. Passenger ferry service is reliable and frequent. The car barges between St. Thomas and St. John are also reliable, and they take vehicles along with the vehicle's passengers. There is extremely limited ferry service between St. Croix and St. John, and none between St. John and Water Island. Due to COVID related restrictions ferry service is not currently available from St. John to the British Virgin Islands (BVI)
Several resorts offer ferry service in St. John. The private Westin ferry is available for resort guests traveling between the Westin Resort, St. John, and the neighboring island of St. Thomas. And the Lovango Resort & Beach Club operates a ferry between St. John and the island of Lovango for use by its resort, restaurant, and beach club customers. St. John Ferry Schedules
5. Water Taxi
For St. John travelers that desire personal service, water taxis are available between the islands of St. Thomas and St. John. Water taxi service is also usually available to the British Virgin Islands (BVI) however due to COVID travel restrictions water taxi service between St. John and the BVI is currently limited. Water Taxis in the USVI
6. Boating
The best way to island-hop from St. John to neighboring islands and cays, on your own schedule, is to rent a boat with captain. The captain will help you plan the itinerary, experiences, and destinations. Choices include powerboats, sailboats, and catamarans. The most popular choices are half day and full day trips from St. John. If a day is not enough, consider an overnight trip. Island Hop from St. John by Boat
7. Public Transportation
The Virgin Islands public transit system in St. John is called VITRAN. The bus fare is $1, and there are discounted fares for seniors and students with ID. Public bus routes on St. John travel through main commercial areas and some residential areas. A short walk from the bus stop to your destination may be required. VITRAN buses are easy to spot. They are generally blue and white, have VITRAN in big letters, and a destination indicator with route number above the windshield. Public buses in St. John are a good option for travelers on a budget, those that support the environmental benefits of public transit, and those that like the opportunity to chat with residents while on vacation.
Three things to be aware of, VITRAN does not cover the entire island of St. John, so check the routes to see if it can work for you. Second, VITRAN has a reputation for being late, so leave extra time or use another transportation option if on a tight schedule. Thirdly, a VITRAN Plus service is available for passengers with disabilities. Documentation that passenger is ADA paratransit eligible in the state or jurisdiction in which they reside is required along with completing an application (which should be done before arrival to St. John).
What's Not Available on St. John – Airport, Scooters and Uber
Just in case you are wondering about the transportation options we did not cover, lets get to those.
Is there an airport on St. John, USVI? St. John does not have an airport. The nearest airport is on St. Thomas. It is called the Cyril E King Airport (airport code STT).
Can I fly to St. John? Yes, but keep reading. You can get to St. John by helicopter from St. Thomas, but availability is very limited. There is a helipad at the clinic on St. John, and for a donation to the clinic they allow private helicopters to land there.
Can I rent a bicycle, scooter, or motorcycle on St. John? St. John does not have options for renting a bicycle, scooter, or motorcycle. St. John is a challenge for anyone that wants to use two-wheeled transport to get around. It is a mountainous island, with narrow roads and no designated bike lanes or trails. There has been in the past a shop that rents scooters but at the time of writing this article (September 2021) we could not find one. Also, the company on St. John that used to rent bicycles and offer mountain bike tours is no longer offering bike trips.
Can I get Uber or Lyft on St. John? Neither Uber nor Lyft exist on St. John. There are currently no ride sharing companies operating in St. John, US Virgin Islands.
Now that you know how to get around St. John, how about checking out where you can go. Visit the St. John Beach Guide and the National Park Guide.