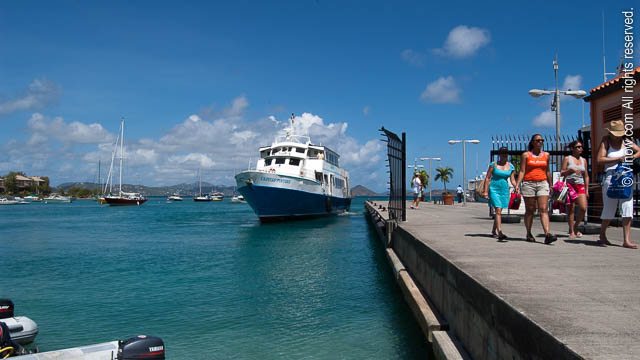 St. John, in the US Virgin Islands, is a popular travel destination. You can expect beautiful beaches, history and hiking in the National Park, and fun boating experiences. Before you enjoy these amazing adventures however, you must first get to St. John. On this page of VINOW you will find essential information about St. John that affects how you get there. Plus the most popular options to get to St. John from St. Thomas including the passenger and car ferries. Also included are water taxis, boat charters, and term yacht charters. There is information on ferry options between the British Virgin Islands and St. John, links to articles and FAQs about taking the St. John-St. Thomas ferries, and cruise lines with Caribbean itineraries that include St. John. Here we go, everything you need to know about getting to the island of St. John!
The Essential Facts About Getting to St. John
There is no airport on the island of St. John.

The closest airport to St. John is the Cyril E. King Airport on St. Thomas, and its airport code is STT.

St. Thomas and St. John are both part of the U.S. Virgin Islands. The two islands are maybe 6 miles apart at their closest points.

The only way to get to the St. John, in the US Virgin Islands, is by boat. The options include taking a passenger ferry, car barge, water taxi, boat charter, or term yacht charter.

Cruz Bay, the main town on St. John, is the primary gateway to the island. It is where all the ferry landings are located, and its where private boats drop off and pick up passengers.

There are two ferry landings in Cruz Bay: Loredon Lawrence Boynes Sr. Dock (Cruz Bay Dock), and Victor William Sewer Marine Facility ("The Creek"). The Theovald Eric Moorehead Dock and Terminal are at Enighed Pond (very close to Cruz Bay).
Top 5 Options for Traveling between St. John and St. Thomas
Articles about the St. John-St. Thomas Passenger Ferry and Car Barge
Additional Ferry Options for Visiting St. John
St. Croix/St. John Ferry: In recent months one of the St. Croix ferries offered round-trip day trips from St. Croix to St. John. It was offered largely during season. You can check whether anything is currently scheduled by visiting: St. Croix to St. John Ferry.
BVI/St. John Ferry: Ferry service between the British Virgin Islands and St. John is limited but there are trips from Tortola and Jost van Dyke. The Virgin Gorda and Anegada ferries plan to resume service in March 2023. Review the USVI-BVI Ferry Schedules for updates.
Visiting St. John on a Cruise
It is possible for you to visit St. John, US Virgin Islands on a cruise ship. St. John receives on average two cruise ships a month during season (December to April), and generally no ships in off season. The yacht-style cruise ships, SeaDream I and SeaDream II, through SeaDream Yacht Club; and mid-sized ships from Azamara Cruises such as Azamara Quest, offer Caribbean cruise itineraries that include Cruz Bay, St. John.