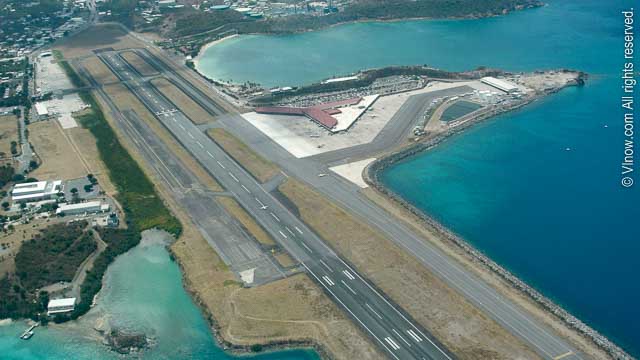 There are only two ways to get to the Virgin Islands, by air or by sea. Use the links below to skip to the section of interest or scroll down and read it all. For Passport Guidelines visit our Visitor Information FAQ Page.
Visiting by Air from the United States
There are two major airports in the Virgin Islands; the Cyril E. King Airport on St. Thomas and the Henry E. Rohlsen Airport on St. Croix.
Non-stop and connecting service from the US mainland to St. Thomas and St. Croix are available. Most flights make connections in San Juan, Puerto Rico. Flights on inter-island carriers can be made from San Juan to St. Thomas and St. Croix and between islands. Below is a table with approximate flying times and a list of airlines with service between the US Mainland and the USVI.
Flying Times from Major Gateways to the USVI*
STARTING POINT
ST. THOMAS
ST. CROIX
San Juan, Puerto Rico
30 minutes
20 minutes
Miami, Florida
2.5 hours
3 hours
New York, New York
3.5 hours
4 hours
Houston, Texas
8 hours
8.5 hours
San Francisco, California
10 hours
10.5 hours
*These are approximate times and are for reference only.
American Airlines: offers non-stop and connecting service to St. Thomas and St. Croix.
Continental Airlines: offers connecting service to St. Thomas.
Delta Airlines: offers connecting service to St. Thomas.
United Airlines: offers connecting service to St. Thomas.
US Airways: offers nonstop and connecting service to St. Thomas.
Inter-Island Carriers
Traveling within the Virgin Islands, Puerto Rico and neighboring Caribbean islands is easy with the use of inter island carriers. Fly to Puerto Rico from the US mainland and make a connection from Puerto Rico to St. Thomas or to St. Croix. Visit St. Croix from St. Thomas in minutes or visit other neighboring islands.

Day trips to St. Thomas, St. Croix, Vieques, Mayaguez, Tortola, Culebra and Virgin Gorda are a breeze when you fly Cape Air. Enjoy the view, you'll be there in minutes, with over 100 flights a day to choose from. For connecting flights, our partnerships with major airlines mean less waiting, simpler ticketing, and faster check-thrus. Cape Air, Your Wings in the Caribbean. Book online at www.capeair.com or call us 800-CAPE-AIR (U.S).
Getting to St. John & Water Island
Neither St. John nor Water Island have airports. The nearest airport is on St. Thomas. To visit these islands from the US mainland one must fly to St. Thomas then take a taxi to the ferry terminal/dock and take an inter-island ferry to the final destination. Regular, reliable, inexpensive ferry service is available to both islands from St. Thomas.
Cruise Ship
St. Thomas is a popular cruise ship destination. St. Croix also accommodates cruise ships and St. John receives a few cruise ship calls. A cruise visit to the Virgin Islands is an excellent way to get a taste of what the islands offer! Many cruises require that you fly to Puerto Rico to board the ship. A few itineraries begin on the mainland; primarily Miami, Florida.
The cruise lines listed below frequently stop in the Virgin Islands. Visit this Month's Cruise Ship Schedule.
Carnival Cruise Line
Celebrity Cruise Line Disney
Cruise Line
Holland America Line
Norwegian Cruise Line
Premiere Cruises
Princess Cruises
Royal Caribbean Int.
Seabourn Cruise Line
Sun Cruises
Topaz International Shipping
Yacht Charters/Marinas
If you own your own yacht you can sail to the Virgin Islands. The islands have inviting facilities set up to accommodate various size vessels for short and long term visits. Visit Marinas and Anchorages in the Virgin Islands for more information. If you do not own your own yacht you can charter one for a yacht vacation. Learn more about Term Charters.