Visitor Centers on St. Thomas, St. Croix and St. John offer a variety of booklets, brochures and maps to help you plan your vacation. These booklets cover information on accommodations, activities, events, shopping, beaches, restaurants, transportation and many other topics useful to planning your trip. You can order print versions and have them mailed to you; and some of the booklets have on-line versions so you can click and read.
Featured Booklets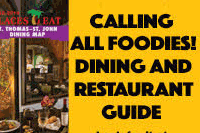 Places to Eat Maps (St. Thomas and St. Croix)
mediamarketinginc.net
Visitors need to know two things while vacationing on our beautiful islands - How to get around and Where To Eat! PLACES TO EAT MAPS are user friendly, easy to carry, portable maps that take you directly to where you need to go. A Foodies Guide to Local Eateries! For more information - visit us online or give us a call.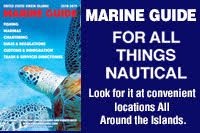 Marine Guide
mediamarketinginc.net
Informative, user friendly, easy digest size guidebook that caters to the interest of our marine communities. USVI MARINE GUIDE is distributed at hundreds of locations throughout the USVI, BVI and Puerto Rico. With features on navigating, government rules and regulations, marine services and supplies, fishing and regatta calendars, ferry schedules, things to do, shopping, dining and much more. Visit our virtual edition at www.vimarineguide.com. To obtain a copy or for advertising information, please call or email.
Places to Explore
mediamarketinginc.net
Informative and Easy to Use Guide! PLACES TO EXPLORE St. Thomas-St. John-St. Croix, the official publication of the USVI Hotel and Tourism Association, is filled with enlightening facts and activities to enjoy while visiting the Virgin Islands. PLACES TO EXPLORE is a veritable library of visitor information. Visit our virtual edition at www.viplacestoexplore.com. If you would like a copy of PLACES TO EXPLORE or for advertising information please call or email.