The Virgin Islands are located in the Caribbean. The arc of Caribbean islands begins off the coast of Florida and extends all the way to South America. The region includes hundreds of islands and cays.
Greater Antilles & Lesser Antilles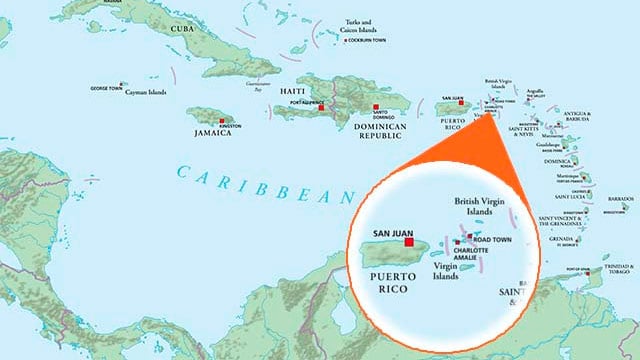 They are grouped by location into the Greater Antilles which includes the larger islands in the northwestern area (Cuba, Jamaica, Cayman Islands, Haiti/Dominican Republic and Puerto Rico); and the Lesser Antilles which includes all the other islands from the Virgin Islands in the northerly Leeward Islands, to the southeastern Windward Islands and the islands just north of Venezuela.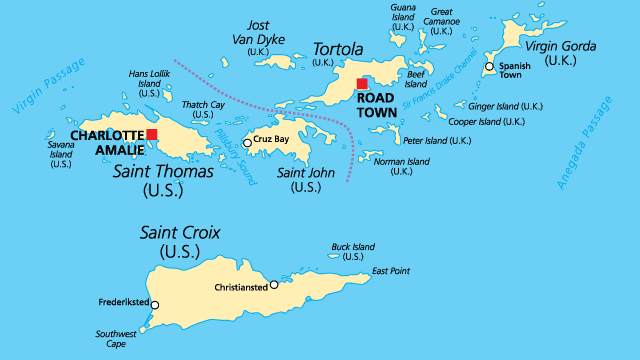 The US Virgin Islands are 40-50 miles east of Puerto Rico; and about 1106 miles southeast Miami, Florida.
The Virgin Islands are divided between the United States and the United Kingdom; so you have the United States Virgin Islands (USVI) and the British Virgin Islands (BVI).
The British Virgin Islands (BVI) are made up of 4 larger islands; Tortola, Virgin Gorda, Jost Van Dyke and Anegada, and 32 smaller islands. The total area of the BVI is 59 square miles. The British Virgin Islands lie to the northeast of the United States Virgin Islands.
The islands are the peaks of submerged mountains that rise from the ocean floor. Most of the islands rise only to a few hundred feet above sea level. The highest point is Mount Sage on Tortola in the BVI, which is 1,710 feet high. The geography of the islands consists of seaside cliffs, mountains with lush forest, tiny streams, arid lands and beautiful white sand beaches.
St. Croix is 84 square miles in size, 22 miles long and the widest point is a little more than 6 miles. The terrain on the east end of the island is rocky and arid with short grassy hillsides and many cactus clusters. The west end of the island is lush with large fruit trees and ferns gracing the mountains. In the middle of the island are miles of beautiful beaches, rolling pasture lands and beautiful land. St. Croix's highest peak, Mount Eagle, is 1,088 feet high. The land slopes to flat-lands on the southern side of the island. There are two main towns Frederiksted and Christiansted. There are a few natural harbors and protected bays. St. Croix is about 40 miles away from St. Thomas. St. Croix →
St. Thomas is known for having one long ridge of hills running east and west through the center of the island with smaller ridges branching off from the center. St. Thomas, thirteen miles long by four miles wide, encompasses a little over 31 square miles. The highest point is Crown Mountain at 1,556 feet. St. Thomas has a beautiful natural harbor and many protected bays. There are relatively no flat areas on St. Thomas. St. Thomas →
St. John is located about 4 miles from St. Thomas' east end. It has hills and valleys and relatively few flat areas. St. John encompasses 20 square miles of beautiful scenery. The island is 7 miles long by 3 miles wide. The highest point is Bordeaux Mountain at 1,277 feet. The island's coastal areas have many fine protected bays. A natural harbor is found in Coral Bay, however Cruz Bay is the main town and 'harbor'. More than two thirds of the island is protected by the National Park Service. St. John →
Water Island is the smallest populated island of USVI group. It is only 491.5 acres in size. Water Island is 2½ miles long and ½ to 1 mile wide. The island has an irregular shape with many bays and peninsulas. The highest Point is 300 feet above sea level. It is located just half a mile from St. Thomas' south side. Water Island →