Top 11 Options for Getting Around St. Thomas
A big part of planning a vacation to St. Thomas, US Virgin Islands is figuring out how to get around. From catching a taxi, island hopping by ferry, to budget friendly public transportation, here are the best ways to get around St. Thomas.
1. Rent a Car in St. Thomas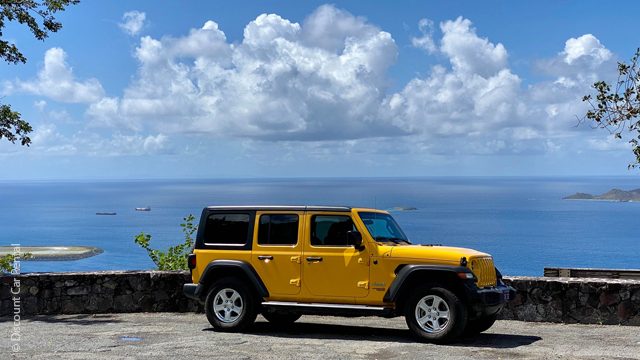 Renting a car is one of the top choices for getting around St. Thomas. There are car rental agencies located at St. Thomas' Cyril E. King Airport, just outside the airport, near the two cruise ship docks, and at some resorts. Rental car choices in St. Thomas generally include compact, full size, SUV, jeep, minvan, and truck. 
2. Catch a Cab in St. Thomas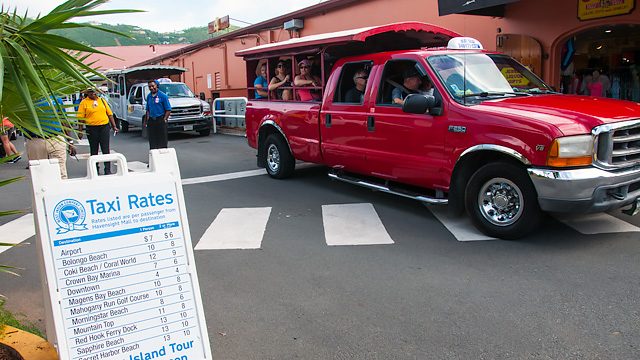 Taxis in St. Thomas are abundant, well organized, and reliable. They are readily available at the airport, cruise ship docks, resorts, and at popular beaches and attractions. Licensed taxis are regulated by the VI Taxicab Commission. Taxi regulations include fixed rates per person, by destination. 
3. Luxury and Accessible Private Cars
The popularity of private and luxury cars in St. Thomas has increased in recent years as travellers seek to travel in comfort and style, have their needs met, and customize their experience. Luxury cars and limos are available for airport transfers, corporate transfers, tours, events and more. Accessible private car services are also available, including wheelchair/scooter rentals.

St. Thomas Private Cars (Luxury & Accessible)

4. Island Hop by Ferry from St. Thomas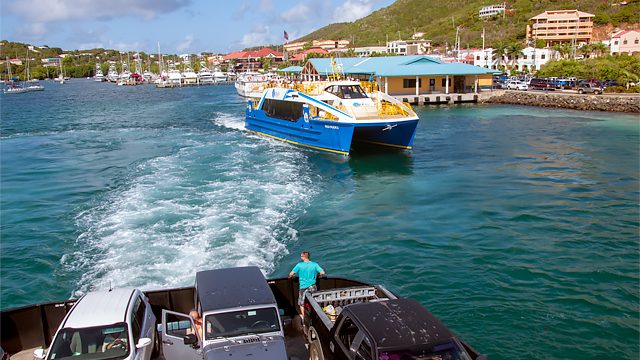 St. Thomas is a popular base for island hopping by ferry. Public ferry service in St. Thomas is timely and reliable. Within the US Virgin Islands, you can take a ferry between St. Thomas and St. John, St. Thomas and St. Croix, and St. Thomas and Water Island. Ferry service from St. Thomas to the four main islands of the British Virgin Islands (BVI) is usually available. Due to COVID related restrictions however, service is currently available only between St. Thomas and Tortola (BVI).
Another option between St. Thomas and St. John is the car barge. The car barge takes vehicles along with the vehicle's passengers.
Several resorts offer ferry service in St. Thomas. These include the private Westin ferry for resort guests traveling between St. Thomas and the Westin Resort, St. John. The Lovango Resort & Beach Club operates a ferry between St. Thomas and the island of Lovango for use by its resort, restaurant, and beach club customers. And the Marriott, on St. Thomas, offers a ferry between their Frenchman's Cove Resort and the islands' harborside main town of Charlotte Amalie.

St. Thomas Ferry Schedules and Rates

5. Take a St. Thomas Water Taxi
Water taxis in St. Thomas are a popular choice for those seeking personal service, when the ferry schedules do not work with a traveler's schedule, and when the destination is not accessible by ferry. Water taxi service is available from St. Thomas to St. John, and St. Thomas to the various islands of the British Virgin Islands (BVI). Due to COVID travel restrictions, water taxi service between St. Thomas and the BVI is currently limited. 
6. Island Hop by Boat in St. Thomas
The best way to island-hop from St. Thomas to neighboring islands and cays, on your own schedule, is to rent a boat with captain. The captain will help you plan the itinerary, experiences, and destinations. Choices include powerboats, sailboats, and catamarans. The most popular choices are half day and full day trips from St. Thomas. If a day is not enough, consider an overnight trip, or a yacht charter. 

Island Hopping from St. Thomas by Boat

7. Fly from St. Thomas to Neighboring Islands
Travelers can fly to St. Croix, Puerto Rico, the British Virgin Islands, and other Caribbean destinations from St. Thomas. Taking a helicopter is an option for getting from St. Thomas to St. John, which does not have an airport, and for traveling to some of the neighboring small islands and cays. Airplanes, seaplanes, and helicopters are available from St. Thomas. 

Island Hopping from St. Thomas by Air

8. Get on the Bus in St. Thomas
The Virgin Islands public transit system in St. Thomas is called VITRAN. The bus fare is $1, and there are discounted fares for seniors and students with ID. VITRAN routes travel through main commercial areas which include some resorts and attractions, though a short walk from the bus stop may be required. VITRAN buses are easy to spot. They are generally blue and white, have VITRAN in big letters, and a destination indicator with route number above the windshield. Public buses in St. Thomas are a good option for travelers on a budget, those that support the environmental benefits of public transit, and those that like the opportunity to chat with residents while on vacation.
Three things to be aware of, VITRAN does not cover the entire St. Thomas island, so check the routes to see if it can work for you. Second, VITRAN has a reputation for being late, so leave extra time or use another transportation option if on a tight schedule. Thirdly, a VITRAN Plus service is available for passengers with disabilities. Documentation that passenger is ADA paratransit eligible in the state or jurisdiction in which they reside is required along with completing an application (which should be done before arrival to the island). 
9. Dollar Rides, St. Thomas' Other Public Transportation
St. Thomas has a public transportation/taxi mash up method of getting around, it is called the "dollar ride" or "dollar taxi". The dollar ride is a popular choice among island residents that rely on, or prefer to use, public transportation. To be clear however it is a pseudo public transportation system, it is run by taxis, but it is not a regular taxi, and it runs a public transportation service, but it's not the government public transit system.
The dollar ride in St. Thomas has a set fare, $1 for short trips, like anywhere within downtown Charlotte Amalie, and $2 for longer cross-island trips. The dollar ride generally follows a similar route to the previously mentioned VITRAN public bus route, similar but not the same, and they often pull into or near the VITRAN bus stops.
St. Thomas' dollar ride drivers use safari buses, many regular taxis use them too. Safaris are trucks, the truck bed is retrofitted with a covering and there are bench seats for passengers. The sides are open air, and there are no seat belts. Since many regular taxi drivers use their safari buses to operate as actual licensed taxis, and the dollar ride is run by taxis in the same safari buses it can be confusing to tell them apart. The best tip is, if it is pulling into or near a bus stop then its likely a dollar ride. The biggest thing to remember is a regular taxi and a dollar ride are not the same rate. Ask other people waiting at the bus stop for help. If there are no other passengers around to ask, then ask the driver if they are a dollar ride, before boarding. Also ask where its heading, to make sure it is going the way that you want to go. The dollar ride vehicles do not have destination signs and route numbers like the public bus does.
10. Ride a Scooter, Motorcycle or Bicycle in St. Thomas
There is usually only one shop that rents scooters and motorcycles on St. Thomas at any given time. St. Thomas is not considered a bicycle friendly island due in part to its hilly nature and lack of bike lanes and bike trails. It is however possible to explore parts of the south side of St. Thomas by bicycle, primarily along the harbor front and around downtown Charlotte Amalie.
11. Take a Walk in St. Thomas
The infrastructure in St. Thomas has not, in recent decades, been designed around pedestrians. There are some sidewalks but not yet enough, there is currently only one official hiking trail, there are not yet any pedestrian-priority spaces, and vehicles are presently allowed everywhere a public road exists. Walking on St. Thomas, as your main option for getting around, ranks low among the available options. That said, there is some hope, mostly around the main town of Charlotte Amalie.
The historic main town of Charlotte Amalie and neighboring Frenchtown can be explored on foot. Also, the Charlotte Amalie harbor seawall has recently been expanded. The Veterans Drive Improvement Project, a major roadway initiative that is still ongoing, includes the new expanded promenade with promises of natural and cultural enhancements for pedestrians.
As far as hitchhiking, very few residents hitchhike in St. Thomas. Most residents that are without vehicles use public transportation. The most common hitchhiking situation is typically a man hitchhiking and a driver with a truck picking them up by having them hop in the back of the truck. Seldom do women hitchhike, the exception being seniors, and they generally are not hitchhiking in the true sense but rather they wait for a neighbor, or someone they know, to pick them up. Visitors generally do not hitchhike. Hitchhiking in St. Thomas is at your own risk.
You made it to the end of VI Now's "Top 11 Ways to Get Around St. Thomas", and I am guessing you might have one question, and its "Is there Uber in St. Thomas?" Uber does not exist in St. Thomas. Lyft does not exist in St. Thomas either. There are currently no ride sharing companies operating in St. Thomas.1
Now that you know how to get around St. Thomas, where do you want to go?