St. Thomas is not suitable for walking as a means of getting around and it is for the most part not hitch-hiking friendly. Exploring the island requires motored transportation.

Car Rental Agencies
Rental Agencies are located at the airport, walking distance from the main cruise ship dock and at large resorts. Having your own transportation will make sightseeing, beach hopping, dining, shopping and exploring the island much more convenient.

Taxis & Rates
Taxis are abundant and reliable. They are readily available at the airport, cruise ship dock, large resorts and at popular attractions and beaches. Taxis charge per person and by destination. There are no metered taxis. Taxi rates are are set by the VI Taxi cab Division.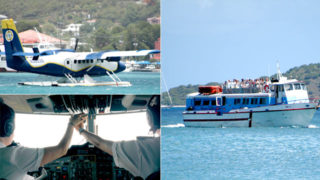 Inter-Island Ferry and Air Service
Inter-island travel is facilitated by reliable ferry service and commuter airlines. Get more more information about Ferry Schedules and Inter-Island Flights.
Scooters, Motorcycles, Bicycles
There are a few shops that rent scooters on the island. Motorcycle rentals are not popular but a couple of the scooter rental shops do have them. Bicycles are available more for sport than transportation. Due to the mountainous nature of the island, using a bicycle to get around would really only be feasible for a serious athlete.
Public Transportation
Country Buses travel between town and Red Hook every hour. They start running at 5.15am from town and end at 8.00pm from Red Hook. There are buses that travel past the airport toward Bordeaux. City buses travel between the Schneider Regional Medical Center bus stop to town starting at 6.15am until 8:00pm. The first bus from the Airport to town is at 6am and the last is 8:00pm. Country Bus Fare $1 and City Bus $.75. The public bus system is not very reliable so is not recommended for people on a tight or limited time schedule.
'Dollar Rides' or 'Dollar Taxis'
There are taxi drivers that run 'dollar rides' in safari buses. A safari is a truck that has been outfitted with bench seating in the back. It is open air but covered. Not all safari buses are 'dollar rides', some are regular taxis. The 'dollar rides' do not have signs identifying them as such; however they generally run the same route as the public bus and pull in or close to bus stops. If in doubt ask the driver before boarding. Also ask where they are heading to make sure they are going the route you want to go. They are for the most part un-regulated, and operate mostly to assist with the transportation needs of residents. Some 'dollar ride' drivers charge non-residents regular taxi rates.
Dollar rides are $1 for short trips like: anywhere in town between the University of the Virgin Islands and the Hospital (Schneider Regional Medical Center), traveling to points between the Hospital and Pricesmart (supermarket), traveling from one point in the country to another (country is used to describe the middle and east end of the island). The fare is $2 for longer cross-island trips like: traveling from the Hospital to Pricesmart and beyond and traveling from Pricemart and beyond to anywhere in town.