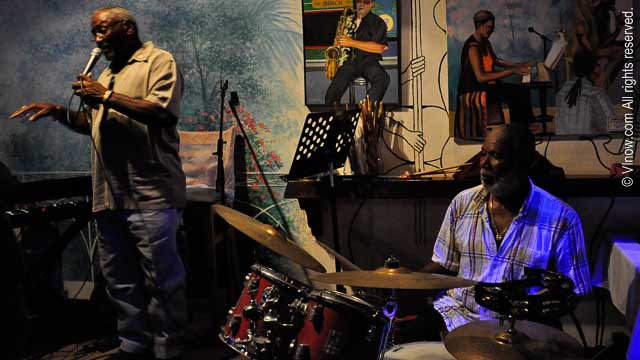 St. Thomas has the liveliest nightlife in the Virgin Islands. It certainly is not Las Vegas, South Beach or New York City but it can be great fun! How about dancing, bar hopping or karaoke? Many bars/clubs play a mixture of American hits and popular Caribbean music.
Featured Nightlife
Night Kayak in the Mangrove Lagoon
viecotours.rezgo.com/details/70315/night-kayak-in-the-lagoon-with-pirate-and-ghost-stories | Facebook
Looking for a really unique adventure? Then you will love our Night Kayak Adventure with Pirate and Ghost Stories. From Blackbeard, Bluebeard, and Teach, prepare for an experience with a dash of history, a pinch of the macabre, and a spooky twist when you kayak along the dark and winding waterways of the Mangrove Lagoon. Enjoy the starlit sky as you look for stingrays, tarpon, and other marine life illuminated with lights below your kayak. You will go back in time and relive those days when pirates, ghosts, and jumbies still roamed the islands. Hear tales of shipwrecks and the eerie legends that haunt the islands to this day.
Virgin Islands EcoTours offers guided Kayak Hike & Snorkel Adventures at three locations: St. Thomas Mangrove Lagoon; St. John Honeymoon Beach; and Historic Hassel Island. Book online right now using promo code: VINOW, for your 10% discount!
Book Now
Happy hour at bars and restaurants is popular and is a good way to start a fun evening. Happy hour often includes discounts on food and drinks.