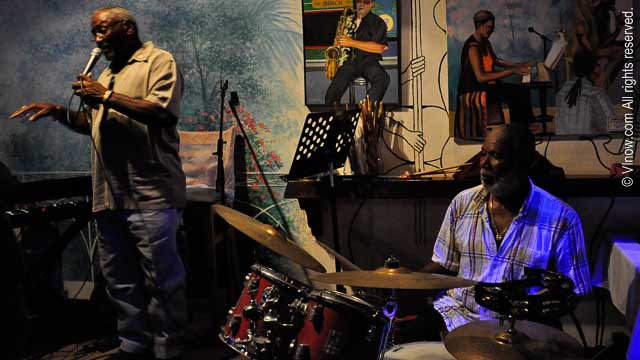 St. Thomas has the liveliest nightlife in the Virgin Islands. It certainly is not Las Vegas, South Beach or New York City but it can be great fun! How about dancing, bar hopping or karaoke? Many bars/clubs play a mixture of American hits and popular Caribbean music.
Bars and Nightlife
Happy hour at bars and restaurants is popular and is a good way to start a fun evening. Happy hour often includes discounts on food and drinks.
Some New Places
Best St. Thomas Nightspot Areas
Havensight
In Havensight you will find several bars and restaurants, often with rock and roll music playing, live bands, TV's for watching sports, pool tables and good times.
Charlotte Amalie
In Charlotte Amalie, along the waterfront area you will find some happening bars and restaurants. The restaurants and bars are in walking distance from each other. It is not a good idea to walk in downtown Charlotte Amalie at night outside of the popular restaurant/bar area.
Frenchtown
Frenchtown, just outside of Charlotte Amalie, is another good place to go out at night. There are several great restaurants and a few small bars in that area.
Red Hook
If you are looking for a semi-block party island style, try heading to Red Hook. Start off with some dinner and drinks at one spot and then head over to another bar or restaurant to listen to music or maybe a live band. Red Hook has several fun spots that are all in walking distance which makes bar hopping easy.
Hotels & Resorts
Most resorts and hotels offer some type of nightlife; including bars, pool tables, restaurants and karaoke. Some offer casual night activities like beach volleyball and Caribbean shows complete with calypso singers, steel drum player and mocko jumbie dancer. Ask for information at your hotel's reception desk.
Other Options
Movie theaters are available on St. Thomas.
Theater
For a night on the town combine an early dinner with a live performance. Plays, orchestras, ballets and concerts are performed throughout the year at centers for performing arts and theaters like Reichhold Center, Pistarckle Theater and Tillett Gardens.