Shopping on St. John is unique and fun. Casual and entertaining shopping areas are in Cruz Bay and Coral Bay. These two areas are the primary "towns" if anywhere on St. John can really be considered such. Quaint tropical buildings and gorgeous stone Caribbean structures house small stores that sell an assortment of items. Shops and boutiques on St. John are well known for unique items like hand made jewelry, local crafts, paintings and pottery.
Featured Shopping
VItraders.com
vitraders.com
You can shop online for your favorite souvenirs, travel guides and maps from the Virgin Islands. VItraders.com has been serving customers for over 19 years. Planning a vacation and need a guide book, beach guide, map or bird watching book? VItraders.com has a great book section. Are you looking for souvenirs like wall calendars, cook books, Caribbean dolls, coloring books, hot sauce, magnets, postcards, mugs, Christmas Cards and ornaments, hats or shot glasses? You will find a nice selection of all of those and more. Click over to VItraders.com for Virgin Islands Books and Souvenirs.
In Cruz Bay, the main "town" and shopping area, you will find shops at Mongoose Junction, along King Street and at Wharfside Village – all are in walking distance from the ferry dock. A casual walk through Cruz Bay and you will find swimwear, bags, liquor, jewelry, art work and more – all in a delightfully calm and casual environment.
Cruz Bay is a small area so restaurants and bars are all in the same vicinity as the shops; making a break for lunch or a drink easy.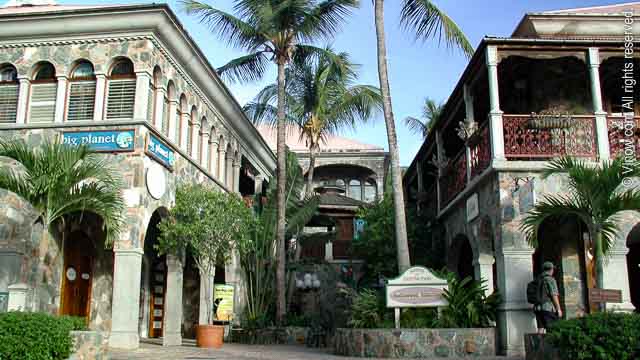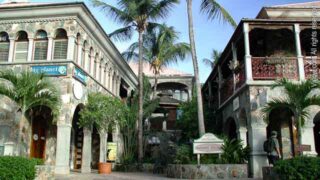 Shopping Hours on St. John
Normal hours: 10 am to 5 pm 7 days a week. A few stores open earlier (9 am) or close later (8 pm). During slow season and on weekends some shops close.
Mongoose Junction attracts the eye; it's a beautiful piece of art in itself and it houses many fantastic stores with fascinating items; handmade pottery, paintings, jewelry and even hand painted clothing! Get great deals on beautiful gold earrings and necklaces and pick up unique souvenirs.
Shops in Coral Bay offer an assortment of t-shirts and souvenirs. Great restaurants are mixed in with the shops – making shopping, having lunch and beach time a great and easy way to spend the day.
Resorts on St. John also offer shopping. Boutiques on hotel grounds offer an assortment of books, sundries, handicrafts, sportswear, sunglasses, watches and souvenirs.
Shopping on St. John is great fun; shops are individualized and unique. Walking through shady alleys, having a break on a beach front veranda or cool courtyard and purchasing special gifts is what it's all about. Happy Shopping!