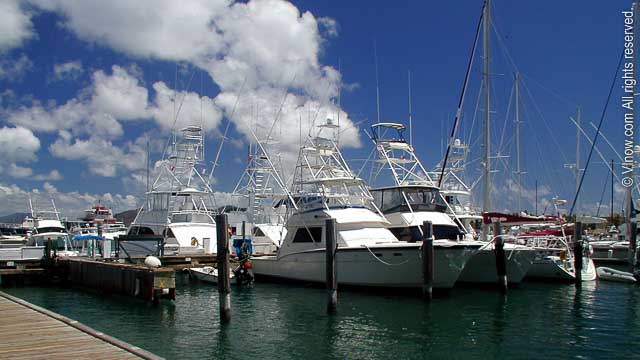 The Virgin Islands is considered one of the finest sailing grounds in the world. The location offers sunny weather, dependable trade winds, beautiful scenery, protected anchorages and short passages between islands. From local pleasure boat owners to those who enjoy cruising on their yachts through the Virgin Islands, there is unanimous agreement that the Virgin Islands are a boater's dream come true.
Tip: VHF channel 16 is monitored by marinas and used in the USVI.
Clearance & Immigration
Vessels entering the US Virgin Islands should proceed directly to a port of entry for clearance. Passengers and crew are not allowed to go ashore until properly cleared. All passengers must present themselves and their documents to US Customs and Border Protection. For clearance it is necessary to present not only documentation of nationality for each passenger but also the ship's documents, identification for all crew members and clearance from the last port of call. Penalties are given per passenger for those that do not have documentation and per ship for failure to clear.
Marinas in the Virgin Islands
There are marinas on St. Thomas and St. Croix with facilities to accommodate long term regulars, transients, mega-yachts and live-aboards. St. John and Water Island do not have any marinas. There are designated anchorage sites and moorings around all four islands. Both St. Thomas and St. Croix have active yacht clubs.
Below you will find a list of marinas and areas designated for anchoring and mooring. Brief information is presented for each marina. Please contact the marinas directly for; prices, closest customs and immigration offices, arrival procedures, reservations, marina rules and other specific information.
Marinas on St. Thomas
(All marinas listed below have water and electricity. Restaurants and shops are either on the premises or nearby.)
NAME OF MARINA
# OF SLIPS
MAX SIZE
DOCK SIDE DEPTH
PUMP OUT
FUEL
American Yacht Harbor
(340) 775-6454
106
110′
–
–
yes
Boater's Haven Marina
(340) 775-6144
86
60′
6.5′
yes
no
Crown Bay Marina
(340) 774-2255
99
200′
20′
yes
yes
Fish Hawk Marina
(340) 775-9058
4
50′
6′
no
yes
Independent Boatyard
(340) 776-0466
80
50′
7′
no
no
Pirate's Cove Marina
(340) 774-4655
30
55′
–
no
yes
Saga Haven Marina
(340) 998-1301
55
75′
6.5′
no
yes
Sapphire Beach Marina
(340) 714-3837
65
60′
10′
no
no
Yacht Haven Marina
(340) 774-6050
160
400′
–
yes
yes
Tip: All facilities can do repairs except; Fish Hawk Marina that caters mostly to local sport fishermen and Sapphire Beach Marina where minor repairs can be done.
Marinas on St. Croix
NAME OF MARINA
# OF SLIPS
MAX SIZE
DOCK SIDE DEPTH
PUMP OUT
FUEL
Green Cay Marina
(340) 718-1453
150
100′
8′
yes
yes
Salt River Marina
(340) 778-9650
–
–
–
–
–
St. Croix Marina
(340) 773-6011
60
200′
12′
yes
yes
Tip: St. Croix Marina offers full boatyard facility for repairs.
Mooring and Anchoring Areas in the Virgin Islands
Regulations on Short Term Anchoring: Anchoring in the USVI is allowed in any bay or harbor for up to 14 cumulative days, within a six (6) month period, in any one location. After 14 days you can move to another bay or harbor and the regulation of short term anchoring is reapplied. You can also apply for a long-term anchoring permit from the division of environmental enforcement (DPNR) for anchoring in a designated long-term anchoring area for a duration of one (1) month. Any questions or concerns feel free to contact DPNR at 340-773-5774 on STX or 340-774-3320 on STT/STJ.
DESIGNATED MOORING AND ANCHORING AREAS
St. Thomas
Benner Bay **
Bolongo Bay
Cowpet Bay *
Elephant Bay
Secret Harbor **
Pacquereau Bay
Long Bay
Hull Bay *
Jersey Bay *
Long Bay
Red Hook
Vessup Bay
Charlotte Amalie Harbor
Villa Olga (Frenchtown)
Careening Cove
Water Island
Honeymoon Bay*
St. John
Coral Harbor
Great Cruz Bay
Cruz Bay
Chocolate Hole
St. Croix
Chenay Bay
Christiansted Harbor
Cotton Garden Bay
Frederiksted Harbor
Salt River
Teague Bay
*March 2019: currently at capacity and subject to availability
**Designated sanctuary

Source: Rules and Regulations for Mooring and Anchoring Vessels in the USVI by Dept. of Planning and Natural Resources
National Park
There are restrictions on vessels traveling through and anchoring in National Park waters around St. John and St. Croix. Please contact the National Park Service for details on their regulations; (340) 776-6201 for St. John and (340) 773-1460 for St. Croix.
The Friends of the National Park organization have set up about 210 moorings in National Park waters around St. John in an effort to protect coral reefs and marine habitats from damage caused by anchors.
Other Moorings
The Reef Ecology Foundation of St. Thomas and St. John have set up 45 moorings for public use. This organization was set up to help protect coral reefs around the islands. The moorings set up by the Reef Ecology Foundation use special easy-to-see blue striped buoys. Use is free but restricted to boats under 60′ long. The sites include; Thatch Cay, Grass Cay, Congo Cay, Carvel Rock, Great St. James, Little St. James, Cow and Calf, Capella Island, Flat Cay and Saba Island for St. Thomas/St. John and Long Reef, Salt River, Cane Bay, Davis Bay and Annaly Bay on St. Croix. For more information on sites and regulations contact (340) 775-0097.
Cruising & Mooring Permits
There are no required cruising permits in USVI waters. If a vessel remains in the USVI for 6 months or more the vessel must be registered with the Department of Planning and Natural Resources (DPNR).
Mooring permits are not required for any public moorings or National Park moorings and day use is free. Public moorings are not intended for overnight use and the National Park has a fee for night use. Mooring permits are issued to an owner of a registered vessel. In order to obtain a permit for anchoring or mooring an applicant is required to apply in person, through a resident agent or through any representative duly authorized to complete application procedures in the owner's behalf. A first time applicant is required to submit with the application a current colored photograph of the vessel and an affidavit executed by the applicant fully setting forth the facts to support the applicants claim of ownership. Source: Section 405-1 Application Instructions and Procedures for Mooring.
Yacht Clubs
For More information
On anchorage and mooring sites, mooring permits, registration and other like information and regulations contact the Department of Planning and Natural Resources: (340) 774-3320 or (340) 775-6762 for St. Thomas/St. John and (340) 772-1955 for St. Croix.