St. Thomas
Plan your perfect vacation with our guide to Activities, Restaurants, Beaches, Attractions, Accommodations and more.
St. Thomas, a top travel destination in the United States Virgin Islands, offers visitors a unique blend of historical attractions and modern amenities. The island is home to Charlotte Amalie, the capital of the U.S. Virgin Islands, and has been the heart of St. Thomas' activities from colonial times to the present day. The historic buildings in downtown Charlotte Amalie offer a glimpse into the Danish era when the town was a bustling port of trade. Meanwhile, modern additions such as taxis, duty-free shops, souvenir vendors, and cruise ships in the harbor remind visitors that tourism currently drives the economy. Whether you're looking to explore the island's history or soak up its vibrant atmosphere, St. Thomas has something to offer everyone.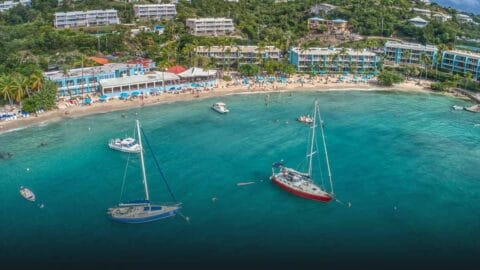 comprehensive guide
Start planning your unforgettable St. Thomas vacation today
Charlotte Amalie, the main area and the sub district, is home to almost half of the islands 51,000+ residents. Other residents live on the East End, West End, and North Side. These references might seem quite broad, but on an island of just 32 square miles, they work well. If you ask for directions, you are likely to hear them.
St. Thomas, known for its stunning mountainous landscapes, offers visitors breathtaking panoramic views of the Caribbean Sea. Many roads around the island offer terrific panoramic views of the island and ocean. Amongst the hills on St. Thomas and along the beaches, you will find an assortment of accommodations; resorts, historic inns, guest houses, vacation homes, villas, and condos.
St. Thomas is a paradise for water sports enthusiasts, offering excellent opportunities for a few beach days, snorkeling, scuba diving, windsurfing, a day charter, kiteboarding, sailing, fishing, kayaking and parasailing. While on land, you can take an island tour, visit some attractions or explore historical downtown sites while shopping. In the evening you can enjoy happy hour at a bar or restaurant, listen to live music and have dinner with a sublime view!
The Cyril E. King Airport serves travelers coming to St. Thomas, United States Virgin Islands. Visitors staying on St. John and Water Island will also land here and can easily day trip to St. Thomas; daily ferry service is available. Also St. Thomas, United States Virgin Islands is connected to St. Croix, Virgin Islands by regular inter-island air service and ferry service.
The Travel Basics
Accommodations, Restaurants, Car Rentals & Taxis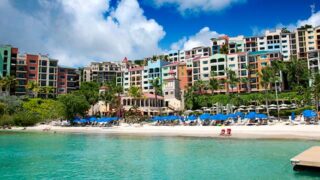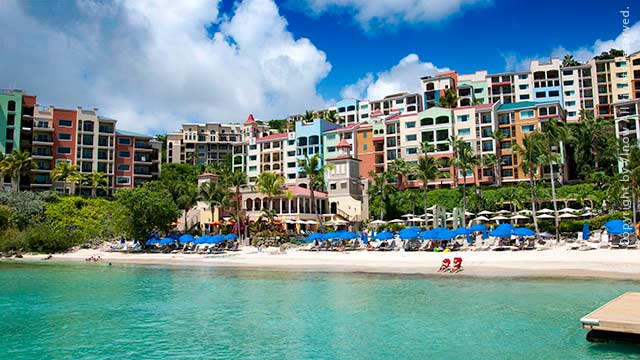 Best Places to Stay in St. Thomas
Hotels, Guest Houses & Villas. Find the perfect place to stay on your St. Thomas vacation.
Accommodation List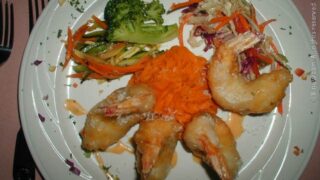 Top Restaurants in St. Thomas
Let your taste buds explore the flavors of St. Thomas. Over 100 different dining options available.
Restaurant Options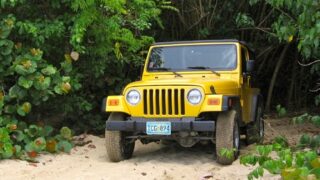 Car Rental Options in St. Thomas
Renting a car is the best way to see the whole island at your own pace. Just remember we drive on the left.
Book Now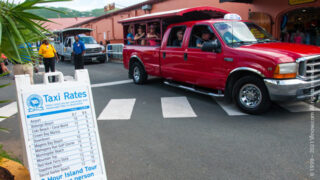 Taxis & Rates
Taxis are a popular transportation choice for visitors to St. Thomas. Find rates and private taxi options.
Transportation Options
What to Do and See
Top Activities & Attractions on St. Thomas
Get ready for thrilling adventures, as St. Thomas is overflowing with activities and captivating sites that will ensure each day of your holiday is filled with excitement! Take a look at our handpicked favorites for the most entertaining and lively experiences to have while uncovering the island's charms in St. Thomas:
Attractions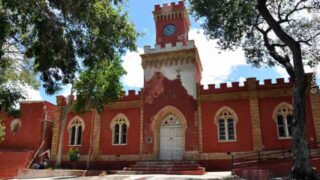 Explore historical Charlotte Amalie, Fort Christian, Bay Marina, or take in some stunning views from Mountain Top or Drakes seat.
More Attractions >
Island Hopping
The Virgin Islands, including both the US and the British islands, are made up of more than 120 islands, cays and islets. Read more
St. Thomas - Tortola, BVI Ferry
Island hopping between the US Virgin Islands and the British Virgin Islands is an option by ferry. The most popular route is between the islands of St. Thomas (USVI) and Tortola (BVI).
Beaches, shopping, and & Nightlife
Exciting Things To See in St. Thomas
St. Thomas is a Caribbean island filled with stunning beaches, fantastic duty-free shopping, and an exciting nightlife scene. Our Beach Guide will help you enjoy sunbathing and water activities to the fullest. Find great bargains on jewelry and rum, and immerse yourself in the lively evening entertainment.
Yachts, Real Estate, and Wedding Planning
Premium Services in St. Thomas
Located in the heart of the Caribbean, St. Thomas is a dream destination for couples seeking the perfect wedding venue. Beyond its romantic charm, the island boasts prime real estate for vacation homes and savvy investments. And for unparalleled yachting adventures, St. Thomas stands as the Caribbean's premier gateway.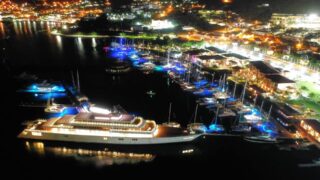 Virgin Islands Yacht Charters
Explore the Virgin Islands on a weeklong yacht charter. Crewed and bareboat adventures on catamarans, motor yachts, and sailing vessels. Book a yacht charter today!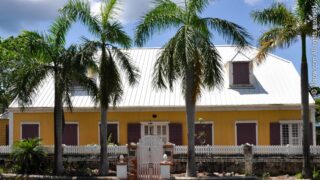 St. Thomas Real Estate
The real estate market on St. Thomas includes houses, land, condos, timeshare and commercial properties. Read More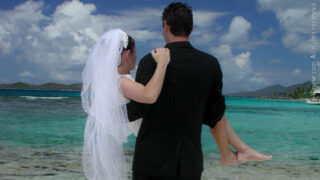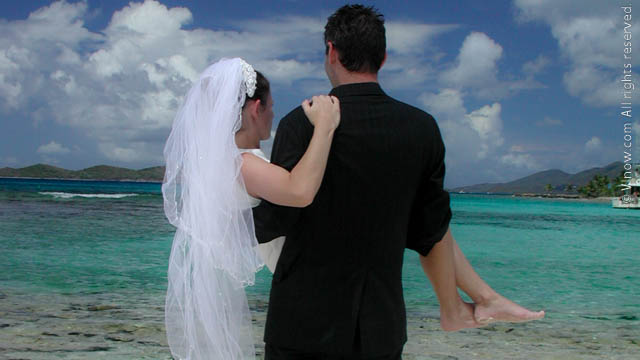 Wedding Planning
A wedding on St. Thomas will be a magical beginning to your new life as husband and wife, or celebrate your anniversary with a vow renewal. Read More
Find Local tips
Latest Blog Posts on St. Thomas Travel
"St. Thomas Uncovered: Exotic Getaways, Expert Advice, and Essential Attractions" is the newest section of our travel blog dedicated to the captivating St. Thomas. Dive into a world of island adventure as we share hidden gems, local recommendations, and unforgettable experiences on this mesmerizing Caribbean paradise.
Arriving on a Cruise Ship?
Essential Cruise Ship Information for St. Thomas Visitors
Arriving in St. Thomas, cruise-goers will be enchanted by the picturesque Caribbean harbor. Unearth our cruise-centric FAQ, explore recommended sights and activities for visitors, access monthly cruise schedules, and learn about navigating the island, all to make your stay truly unforgettable.
Cruising to St. Thomas? Monthly Cruise Ship Schedule!
As a prime destination for cruise ships, St. Thomas boasts two distinct docking areas. Determine your vessel's designated mooring spot.
View Cruise Ship Schedule