One of the most popular vacation activities in the Virgin Islands is snorkeling. Its therefore no surprise that at VInow.com we get asked "what are the best beaches for snorkeling" quite a lot. So here you go, our Top 5 Beaches for Snorkeling on St. Thomas. We considered: ease of snorkeling and included only easy and moderate locations, cool things to see like turtles, and availability of some amenities. Have a great time snorkeling in St. Thomas.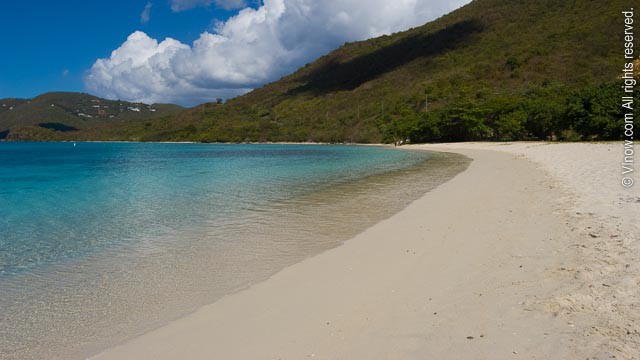 5. Brewers Bay
Difficulty Level: Easy
Brewers Bay is a lovely beach with a sandy shore line, super clear water, few people, a view of the airport, and snorkeling with a high chance of seeing turtles. Start your snorkeling around the middle to left side of the beach. Brewers Bay is a favorite for Green Sea Turtles and Hawksbill Turtles. The beach is home to the The University of the Virgin Islands Center for Marine and Environmental Studies and the "VI Sea Turtle Project" (VISTP). If you see turtles, keep your distance. Its the right thing to do to keep turtles safe in their environment, and its against the law to harass or touch sea turtles.  There are bathrooms and showers at Brewers Bay, and a couple of road-side food trucks sell food, snacks and drinks.  Read More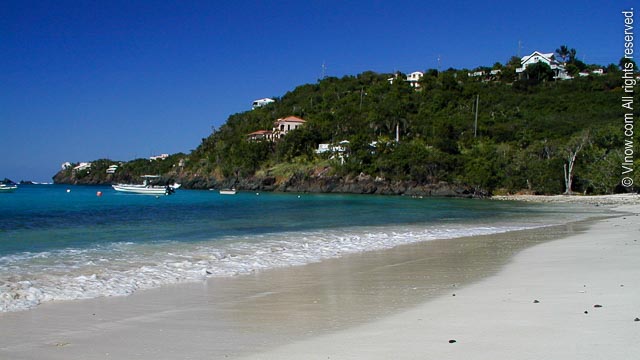 4. Hull Bay
Difficulty Level: Moderate
Hull Bay is is a picturesque, little beach that is somewhat off the beaten path for visitors but a favorite with residents. There are numerous small fishing boats moored at this beach which adds to the view but can take away from swimming and snorkeling. Also, in the water its rocky with rocky outcrops, this offers good hiding places for juvenile fish and sometimes lobsters but its hard on the feet. The right side offers some sandy spots to enter the water, and its where you can snorkel. Snorkel above the rocky outcrops that run parallel to the shore, and around the rocks. There is a bar and restaurant in walking distance from the beach. Read More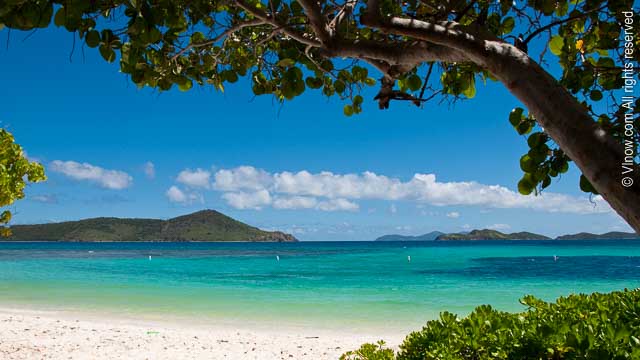 3. Lindqvist Beach (Smith Bay Park)
Difficulty Level: Moderate
Lindqvist Beach (also spelled Lindquist Beach) is part of a protected 21 acre area called Smith Bay Park. Snorkel on the right side above and around the sea-grass. Sea-grass meadows are often overlooked in favor of the more colorful coral reef environment but keep an eye out, sea-grass is a favorite for turtles and stingrays. It is also common for juvenile fish to hide in sea-grass, be patient and you might see them darting around. You can snorkel on the left side along shallow rocky outcrops and coral, but only if conditions are very calm. Be careful not to stand on or touch any coral; and keep a safe distance if you see turtles and rays. An entry fee is charged. There are bathrooms, showers and a lifeguard. Read More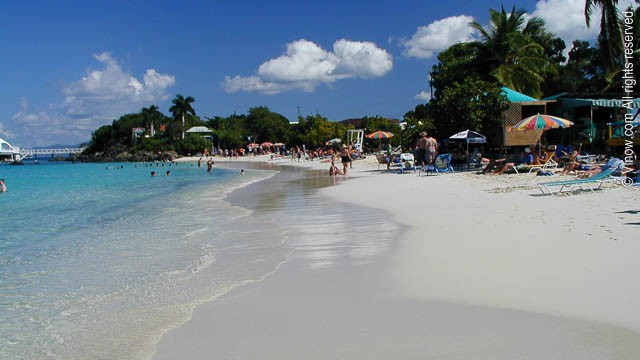 2. Coki Beach
Difficulty Level: Easy
Coki Point Beach has a near shore rocky, reef area on the right side that offers good snorkeling. You can also snorkel on the left side along the rocks. The snorkeling here is very easy for all ages and abilities; and particular for those with minimal swimming and snorkeling skills. The fish have been fed by tourists for years, therefore they swim toward humans expecting a handout, even in very shallow water. This is what makes the snorkeling at Coki Beach super-duper easy. Feeding fish however is no good for marine life. Help stop the practice, just enjoy the fish in their natural environment and let them eat what's natural for them. Dog biscuits and human food are not. Amenities include dive shop, vendors renting snorkel gear and chairs, bar and restaurant, bathroom, and taxi stand. Read More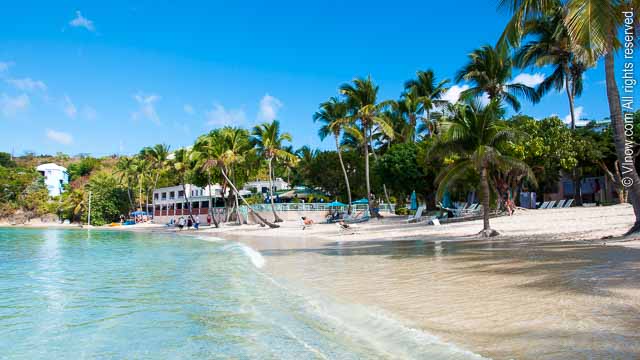 1. Secret Harbor Beach
Difficulty Level: Easy to Moderate
Secret Harbor is a favorite St. Thomas beach; for residents, visitors, cruisers and marine life! The shoreline is mostly sand, but in the water there are some rocky areas. Enter the water where its sandy and then have fun swimming and snorkeling. Secret Harbor is part of the St. Thomas East End Reserve. There is very good snorkeling on the left side near the docks and from there toward the middle of the bay. There is marine life to see along the rocks on the right side too. Snorkel everywhere at Secret Harbor. Resort, bar and restaurant on site, chair and snorkel gear rentals, a dive shop, bathroom, taxi stand and other amenities. Read More
Looking for more information on snorkeling in the Virgin Islands? Shop for Snorkel Guidebooks and Fish ID Cards.
Related Reading