St. John provides relative seclusion for vacationers. There is a mix of resorts, camping, inns and villas to choose from; they fill up quickly, particularly during winter months.
The main towns are Cruz Bay and Coral Bay. Several small inns are available in those areas, as are a few vacation homes and condos. A stay in these areas will allow easy access to popular restaurants, bars and shopping. Access to beaches will require a short 8-20 minute drive depending on destination.
St. John Villas
A popular choice for visitors to St. John is a villas. You will feel like a king or queen in one of these spectacular homes. Private pools, guest services including caterer if wanted, amazing views and tranquility will make you want to stay forever. Villas are located throughout the island.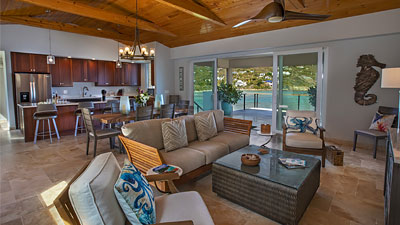 The Hart Bay Beach House was designed and built with quality lifestyle and love of beauty in mind. Wake up to the sounds of the surf. This home abounds with amenities for the perfect vacation. The villa includes 3 bedrooms 3 baths, and a great room, ideal for entertaining, dining, and casual living. The outside deck offers spectacular views and has open and covered areas for lounging or enjoying a meal. Take a short walk to Hart Bay Beach to swim, snorkel, and beach-comb. Conveniently located, just 10 minutes to the town of Cruz Bay and 15 minutes to the National Park beaches.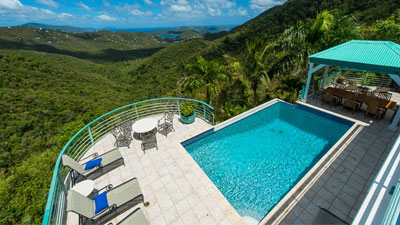 Chateau Margot, snuggled into the verdant hillside of Bordeaux Mountain, is an impressive 4 1/2-acre estate. Enjoy majestic views of St. John's East End and neighboring islands and cays along the Sir Francis Drake Channel. This villa's classic quality and exceptional superiority are impossible to deny. The interior living space is 6,165 square ft. and the exterior decking is 2,300 square ft. for a total of 8,465 square ft. of pure Caribbean paradise. There are six bedrooms situated among the great house, the guest house, and the cottage. This countryside villa is ideal for one, two or three families. Visit our website to learn more.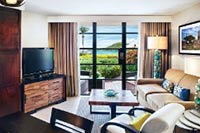 St. John Vacation Ownership & Rentals
Vacation ownership properties, or timeshares, on the island of St. John offer a unique accommodation experience unlike any other. Located within 5 star resorts, guests will indulge in luxuries like modern bathrooms with premium toiletries, multiple airy bedrooms, private balconies with panoramic vistas, and plush king-sized beds. On-site you'll discover a wealth of things to do: cocktail lounges, sparkling infinity pools, lively entertainment, and restaurants can all be found at these spectacular resorts. By renting or buying a St. John timeshare through VacationOwnership.com, you'll have the opportunity to save hundreds off resort costs while not having to sacrifice any of the aforementioned luxuries.
Experience sophisticated elegance at Mare Blu Villa. A great floor plan of four spacious pavilions linked together by generous outdoor living spaces distinguishes this spectacular rental. The view of Rendezvous Bay on the southern coast of St. John is striking. A gorgeous 48' pool, air conditioning, stunning gourmet kitchen, lovely outdoor seating, and an attractive great room are just the start at Mare Blu. The six-large bedroom/bath suites are beautifully decorated and take full advantage of their picturesque location. Mare Blu is ideal for groups of 5 to 12 guests. Rental rates are available for use of 3, 4, 5 or all 6 bedrooms. Visit Mare Blu's website to learn more.
Catered To Vacation Homes is an on-island management firm that offers privately owned vacation rental villas located within easy reach of National Park beaches on St. John, US Virgin Islands. In business since 1989, ALL of our agents live here and know each villa by heart. With 50+ of the finest homes on St. John, entrust your vacation to Catered To Vacation Homes.
Andante is ideally located on St. John's scenic southeastern shore, and is just minutes from the restaurants and shopping of Cruz Bay. The villa is nestled on a shelf carved into living rock directly above beautiful Hart Bay. Panoramic decks offer spectacular views of both sunrise and sunset. Three large bedrooms all with sea views, private decks, full bathrooms, and air conditioning await. A gourmet kitchen provides everything you need. Relax in the pool or hot tub and enjoy ocean views and breezes. Make memories that you will cherish for a lifetime. Contact us to reserve your stay at Andante!
Caribbean Villas of St. John
We are a premier vacation rental management company with over 35 years of experience on St John. We have welcomed thousands of guests to our beautiful island and look forward to welcoming you. Our knowledgeable villa consultants are here to help you choose from our excellent selection of over 80 villas and condos, ranging from 1-7 bedrooms, from luxury to affordable. We will be your island host, greeting you at the dock and assisting you throughout your entire stay. As a guest of Caribbean Villas of St. John, you have friends on the island. Call or visit us online today.
Calabash Cottages in Coral Bay offers a range of secluded and romantic one bedroom cottages and villas for couples. Larger groups can combine our homes. Our smallest cottage has a beautiful view, a private hot tub and is a great choice for couples traveling on a budget. Our largest offering is a spacious one bedroom villa with a pool and a hot tub. Each house is private, located in a very quiet area of the island and has a beautiful view as well as a spa. We can arrange for discounted car rentals. We also meet our guest upon arrival to escort them to their home away from home.
Vacation Vistas has been providing excellence in vacation villa rentals and property management on the island of St. John for over 24 years. We offer a wide range of island style affordable homes to luxury private villas for weekly rentals. Visit our website to browse our selection of villas, amenities and availability. Call us today to reserve your rental or check our specials and last minute discounts.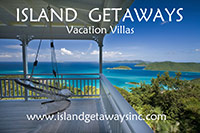 Island Getaways offers a wonderful selection of Elegant Upscale Villas and Classic Caribbean style homes from 2 to 6 bedroom. All of our homes have private pools and offer spectacular ocean views. Whether your traveling to St. John as a couple, with family or friends, let us help you plan your "Island Getaway". Creating Unforgettable Vacations since 1996. Call or email us today!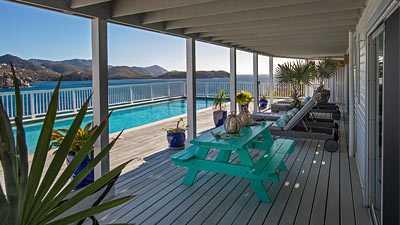 Waterfront Villa, 4 bedrooms, Pool, Ocean Views and Rare Water Access! Hart Bay Great House is a perfect choice for newlyweds, families, and small groups. This 4 bedroom 3 1/2 bath villa offers a combination of sophistication and romantic tropical charm. Lounge by the pool, catch up on reading in the great room, or enjoy your favorite songs while gazing out at the fabulous ocean views. From the house take a short walk down the path to Hart Bay Beach where you can swim, snorkel and beach-comb! Convenient location, near the main town of Cruz Bay, shopping, dining, and the famous North Shore beaches.
Hotels, Resorts & Timeshares
On St. John you will find a few luxury resorts, they invite you to be waited on; to dine on beachfront property and to have your every reasonable request met. Situated on spectacular beaches, offering luxury and fabulous diversions the resorts on St. John are a perfect retreat.
Complete Hotel, Resort Timeshare List
Inns and B&B's
Complete Inn & B&B List
Campgrounds
In contrast to the main developed areas the remainder of the St. John, primarily the National Park areas remain forested and undisturbed. St. John boasts some of the most beautiful beaches and dramatic vistas to be seen in the Virgin Islands. To enjoy the National Park a stay at a campground will meet all your needs.