The island of St. John offers a tranquil retreat with a diverse range of accommodations, including resorts, campsites, inns, and villas. However, it's important to note that these can fill up quickly, particularly during the high-demand winter season.
As you search for accommodations in St. John, keep in mind the two primary towns: Cruz Bay and Coral Bay. Several small inns are available in these areas, as are a few vacation homes and condos. Staying in the Cruz Bay or Coral Bay areas will allow easy access to popular restaurants, bars and shopping. Access to beaches will require a short 8-20 minute drive depending on destination.
Featured Accommodations
Navigating Between St. John Villas, Resorts, Campsites, and Inns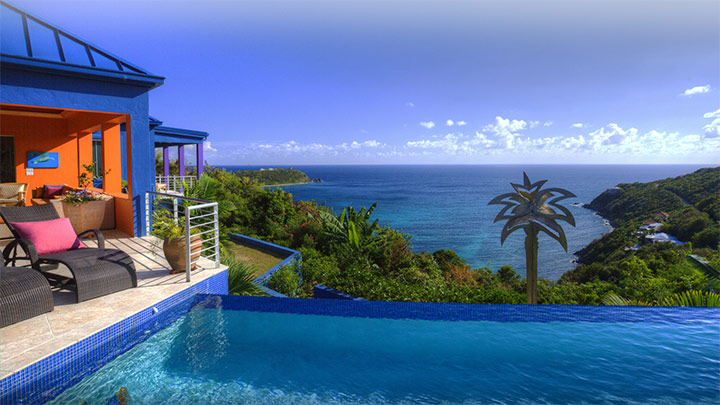 Experience Unmatched Comfort
St. John Villas
A popular choice for visitors visiting St. John is a villas. You will feel like a king or queen in one of these spectacular homes. Private pools, guest services including caterer if wanted, amazing views and tranquility will make you want to stay forever. Villas are located throughout the island and range from small to very large.
Top Tips for Selecting the Ideal Villa on St. John
Villa Size: Determine the number of bedrooms, bathrooms and services you require.
Location, Location, Location: Decide whether you prefer close proximity to a beach, ocean views, or easy access to Cruz Bay / Coral Bay.
Amenities: Check what the villa offers, such as a private pool, Wi-Fi, air conditioning, beach chairs, cooler, etc
Budget: Set a budget before you start your search (High Season Vs. Low Season) to avoid overspending.
Book Early: Secure your preferred villa early, especially during peak seasons.
Complete St. John Villa List
Explore a diverse selection of over 100 St. John properties, perfectly tailored to meet your every need.
Discover Luxury and Convenience
St. John Hotel, Resort & Timeshares
St. John offers a few luxury resorts, hotels & timeshares that invite you to be waited on; dine on a beachfront property and to have your every reasonable request met. Some resorts & hotels are situated on spectacular beaches, offering luxury and fabulous diversions. The resorts on St. John are a perfect retreat for the perfect vacation. Below we have included some key considerations to look for when booking your accommodation.
Key Considerations for St. John Hotels, Resorts, and Timeshares
Type of Accommodation: Determine whether you prefer the privacy of a timeshare, the luxury of a resort, or the convenience of a hotel.
On-Site Facilities: Consider what facilities are important to you. This could include a spa, fitness center, restaurants, or kids' club.
Service Level: Consider the level of service you desire. Do you want a VIP a packages, or a more self-catered approach.
On-Site Fun and Adventure: Consider resorts for a variety of on-site activities and entertainment. These could encompass facilities for water sports, organized island excursions, or even live music performances every evening.
Transportation and Accessibility: Evaluate the location of your chosen resort, hotel, or timeshare with respect to key areas like the ferry dock, Cruz Bay, and the St. John National Park. Depending on their locations, some accommodations may be within walking distance, while others might necessitate a car rental, which could add to your overall expenses during your stay.
St. John Hotel, Resort & Timeshares List
From luxury resorts to charming boutique hotels, St. John offers a variety of accommodations to suit every traveler.
The Home Away From Home
St. John Bed & Breakfasts & Condos
Welcome to St. John's Bed & Breakfasts and Condos section, where comfort meets island charm. Experience the warm hospitality of a B&B, known for their home-like atmosphere and delicious breakfasts. Alternatively, enjoy the flexibility and independence offered by fully-equipped modern condos, perfect for longer stays. Whichever you choose, you'll be perfectly poised to explore the stunning beauty of the St. John National Park or Cruz Bay.
Reasons to Opt for a Bed & Breakfast or Condo Over a Villa or Resort
Island Charm: Bed & Breakfasts and Condos in St. John offer a unique island charm that larger resorts or villas may not. They provide a cozy, home-like atmosphere that can make your stay on this small island even more special.
Local Insights: Staying at a B&B or Condo on St. John often means getting local insights from owners who know the island intimately. They can guide you to hidden gems and off-the-beaten-path spots that you might not discover otherwise.
Budget-Friendly: Given the exclusivity of St. John, villas and resorts can be pricey. B&Bs and Condos often present a more affordable option, allowing you to enjoy the beauty of the island without breaking the bank.
Island Pace: Condos offer the flexibility to live at your own pace, aligning with the laid-back island lifestyle of St. John. You can create your own schedule, cook local produce in your own kitchen, and truly immerse yourself in island living.
Community Connection: B&Bs in St. John often foster a sense of community, allowing you to connect with fellow travelers and locals alike. This can enrich your experience, providing a deeper understanding of the island's culture and way of life.
Bed & Breakfast & Condos List
Explore the full range of St. John's Bed & Breakfasts and Condos, and start planning your perfect island getaway today.
Discover the Great Outdoors
St. John Campgrounds
In contrast to the main developed areas, the remainder of St. John, primarily the National Park areas, remains forested and undisturbed. St. John boasts some of the most beautiful beaches and dramatic vistas in the Virgin Islands. To fully enjoy the National Park experience, a stay at one of the campgrounds will meet all your needs.
The Next Step: Transportation
Unlock the Freedom of St. John: Navigate the Island by renting a Car and Experience the Best of St. John, U.S. Virgin Islands on Your Unforgettable Vacation.
St. John Transportation Guide