Your vacation destination is chosen, St. Thomas Virgin Islands here you come! Next on the to do list is deciding where to stay.
On St. Thomas, beach front resorts are a very popular option. You can find hotels situated in convenient areas such as near the Cyril E. King airport and in Charlotte Amalie, the main town on St. Thomas. There are beautiful bed and breakfasts (B&Bs), and friendly guesthouses. Another well-liked choice in the USVI are villas and vacation rentals. Villas on St. Thomas range from cozy cottages, to luxurious, multi-room homes, with spectacular ocean views. You might consider renting or purchasing a timeshare at one the timeshare resorts on St Thomas. And finally, rentals from owners through sites like Airbnb and VBRO have grown in popularity in recent years.
Featured Accommodations
SellMyTimeshareNow has hundreds of St. Thomas timeshare rentals and resales available through private owners. Choose anywhere from a beautiful studio to a 2-bedroom suite at top resorts like Bluebeard's Castle Hilltop Villas and Marriott's Frenchman's Cove. Timeshares for rent offer you the comfort of a homelike setting for the same price as an area hotel, or even lower! Amenities include full kitchens, balconies, pools, tennis courts, beach access and more. Choose to buy a timeshare in St. Thomas and enjoy years of affordable luxury in your very own resort home.
We invite you to experience authentic Caribbean charm in a quaint, tropical setting overlooking Lindbergh Bay, one of the most beautiful beaches on St. Thomas. Conveniently located 5 minutes from the airport, gracious hospitality and a complimentary rum punch await your arrival. Our affordable 59 guest rooms offer a variety of room styles and pricing options, the historic main building, the quaint cottage rooms, the sea wing with impressive views, and the luxurious villa-style rooms. All are beautifully decorated and appointed with thoughtful comforts. As one of the top St. Thomas hotels, we offer everything you need for an unforgettable family vacation, romantic escape or business trip.
A tranquil, relaxing and remarkably affordable boutique hotel, the Emerald Beach is situated directly on stunning Lindbergh Bay just a short drive from St. Thomas airport and the charming shops, restaurants and attractions of Charlotte Amalie. With 90 beach front guest rooms tucked among swaying palms and beautiful tropical gardens, our US Virgin Island resort offers effortless access to the water sports, cuisine and breathtaking natural attractions. Emerald Beach is a 100% beachfront resort. Swim at Lindbergh Bay or sip your favorite Caribbean cocktail while lounging by the oceanfront pool. Spend your day exploring St. Thomas and close with authentic island cuisine at our signature restaurant, Caribbean Fusion.
Discover Your Ideal Stay: A Guide to the Different Accommodations Types on St. Thomas.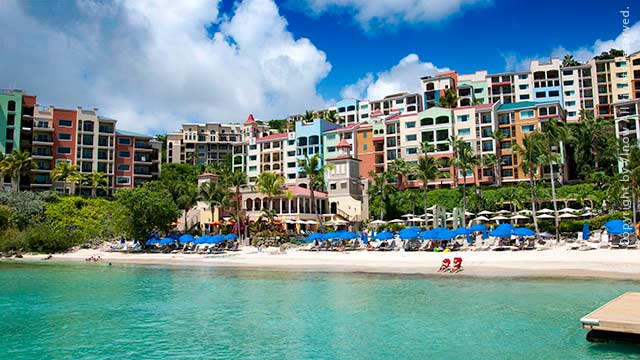 Uncover the Top Resorts & Hotels on St. Thomas
St. Thomas Resorts
Daydreams of vacationing in the US Virgin Islands often include imagery of laying on the beach, or by the pool, at a gorgeous resort. Certainly, staying at a St. Thomas resort is a great choice. They typically offer beautiful rooms, swimming pool, concierge desk, restaurants, bars, spa, and beach amenities. Some of the preferred resorts on St. Thomas include Emerald Beach Resort, Bolongo Bay Resort, Secret Harbour Beach Resort, and Point Pleasant Resort. The largest and most luxurious resorts on St. Thomas are The Ritz Carlton in Great Bay and Frenchman's Reef & Noni Beach Resort.
Update: The Ritz Carlton St. Thomas very recently reopened after extensive renovations. Frenchman's Reef Resort and Noni Beach Resort are currently working on extensive redesigns and hope to reopen soon. Sugar Bay Resort & Spa is closed at this time.
St. Thomas Hotels
Your choices of hotels in St. Thomas speak to convenient locations. Near the airport is Lindbergh Bay Hotel, and in the main town of Charlotte Amalie there are several hotel choices including Windward Passage, Bunker Hill Hotel and The Green Iguana. Staying in one of the downtown St. Thomas hotels allows for easy access to historical sites, shopping, dining, ferries and public transportation.
Tips for St. Thomas Hotels & Resorts
Look for Special Offers: Some hotels and resorts might offer special deals and packages. For instance, a nightly resort credit when you stay for four or more nights. Such offers can provide added value to your stay.
Season and Pricing: The time of year you plan to visit can significantly impact the price of your stay. For instance, the lowest average price for hotels in St. Thomas is found between September and November (Hurrican Season).
Consider Club-Level Rooms and Suites: Some resorts offer club-level rooms and suites that come with additional perks like a dedicated concierge and access to an exclusive lounge.
Dining Options: Consider the dining options available at the resort. Some resorts, offer multiple types of dining experiences. This can be a great feature if you're a foodie or simply enjoy variety in your meals.
Surrounding Area: The location and surrounding environment of the resort or hotel can greatly enhance your stay. Is the resort conveniently located near downtown for shopping opportunities, or is it closer to the East End? Also, consider its proximity to the St. John ferry.
St. Thomas Hotel & Resort List
Discover your perfect accommodation from our selection of over 25 properties on St. Thomas, tailored to suit all your requirements.
Unlock Your Home Away From Home
St. Thomas Timeshares
Marriott's Frenchman's Cove, The Ritz-Carlton Club St. Thomas and Margaritaville Wyndham St. Thomas are the newest additions to the island and offer owners and guests resort living. Expect spectacular rooms, lush landscaping, sprawling swimming pools, outdoor and indoor dining options, and beach amenities. Additional timeshare properties include Bluebeards Castle Resort and Flamboyan on the Bay Resort, among others.
Authentic Hospitality
B&Bs and Guest Houses on St. Thomas
A bed and breakfast or guesthouse in St. Thomas provides comfortable rooms, cozy general areas, unique personal touches like small libraries, honor bars, homemade breakfast, and receiving tips and vacation help from the innkeepers. Several of the B&Bs on St. Thomas are in homes that date to the 1800's and come with interesting stories, a delight if you enjoy old world charm and history.
Indulge in Luxury Living
Villas and Vacation Rentals on St. Thomas
The concept of a villa dates to ancient Roman times and European upper-class country houses. Today, Caribbean destinations like the US Virgin Islands have run with the concept and offer a variety of vacation villas. There are intimate retreats for couples, family friendly homes with amenities for children, to luxury villas with infinity swimming pools, stunning views, modern professional kitchens, and more. Some St. Thomas villas are owner operated while others are managed by a villa agency.
Uncover Unique Stays
St. Thomas Rentals from Private Owner
In recent years the trend of renting from owners has grown in St. Thomas, Virgin Islands. Through services like VBRO and AirBnB, property owners on island offer you everything from their house, condo, and apartment, to a boat cabin or a room with shared general areas. Hundreds of properties are available from owners in St. Thomas and their listing includes photos, reviews from past guests and other tools that allow you to shop around and find what is right for you. Rentals come in all shapes and sizes, fit within a wide range of budgets, and offer different amenities.
Embrace the Great Outdoors
Camping & Work Holidays on St. Thomas
The only campground on St. Thomas is located at the islands' most popular beach, Magens Bay. The beach, including the camping area, is managed by Magens Bay Authority. They allow camping stays up to 2 days, 3 nights. An application and fee are required at least a week in advance and must be completed in person at the Magens Bay gatehouse. Tillett Hostel is the only hostel on St. Thomas. Couch surfing is available on St. Thomas, check relevant websites and apps for a list of hosts. And homestays, volunteering and working holidays are sometimes available in the Virgin Islands and can be an option for visiting St. Thomas.
The Next Step: Transportation
Once you've secured your ideal accommodation in St. Thomas, be it a beach resort, a hotel, or a historic B&B, it's time to strategize your transportation for your stay. Enjoy the planning phase and have a great vacation in St. Thomas U.S. Virgin Islands.
St. Thomas Transportation