Ferry service between Charlotte Amalie, St. Thomas and Road Town, Tortola includes three trips in each direction daily. Information about the Tortola to St. Thomas ferry including the schedule, rates, and the option to buy ferry tickets is available below.
Route: Charlotte Amalie (St. Thomas) - Road Town (Tortola)
Operated by: Native Son Ferry, Smith's Ferry, and Road Town Fast Ferry
Telephone: (340) 774-8685, (340) 775-7292, (340) 777-2800
Docking Location St. Thomas: Blyden Ferry Terminal, Charlotte Amalie
Docking Location Tortola: Road Town Jetty
Travel Time: The ferry between Tortola and St. Thomas takes 1 (one) hour, this includes time for boarding, customs, and sailing.
Charlotte Amalie → Road Town
Daily
9:00 AM
2:30 PM
5:00 PM
Road Town → Charlotte Amalie
Daily
7:30 AM
11:30 AM
2:30 PM
CHARLOTTE AMALIE – ROAD TOWN FERRY RATES
** Ticket purchase is through Native Son Ferry.
Last Updated: 03/26/2022
Port fees, security fees, and departure taxes are not included in the cost of your tickets.
Presently, port fees are $10 from St. Thomas to Tortola. Fees from Tortola to St. Thomas are $15 for BVI residents, and $20 for non-residents. These fees are subject to change by their respective authorities and are not the responsibility of the ferry operators.
NOTE: COVID related travel requirements and testing for entering the British Virgin Islands (BVI), and the US Virgin Islands (USVI) can be found on the following pages:
As an alternative to taking the ferry, you may want to fly to the BVI through Beef Island, Tortola (the Terrence B. Lettsome International Airport "EIS"). Inter-Island Airlines can take you from St. Thomas to Beef Island, Tortola. Learn More
Want to Island Hop while visiting the USVI?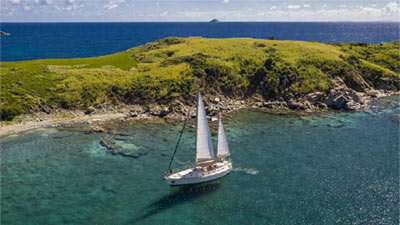 Go Sailing
Take a sailing excursion and enjoy the beautiful scenery and water.
Island Hop by Powerboat
Explore the Virgin Islands on a private boat trip… your boat, your way!