Sailing in St. Thomas Virgin Islands is the epitome of a relaxing vacation activity. Cruise away from the shoreline, catch the trade winds in your sails, take in the magnificent scenery, and pull into a quiet bay to swim, snorkel and have lunch. You will find a list below of some of the finest sailing charters in St. Thomas. Sailing conditions in the USVI are spectacular. What's more, St. Thomas' captains are top notch. Their experience might include growing up in sailing families, living on a boat, sailing around the world, and competing in regattas. Ask your captain for a tale or two about their sea-faring life. St. Thomas charters include full day sailing trips, half day excursions and romantic sunset sails. If you are a fan of fleet racing and sailing competition see the section on St. Thomas regattas at the end of this page.
Spend the best day of your vacation aboard Independence, a big, comfortable ketch, cruising the bays of St. John and the small islands in Pilsbury Sound. She is equipped with awnings for shade, mats for sunbathing, top notch snorkel gear and all US Coast Guard required safety equipment. Captain Pat Stoeken has been delighting guests with sea stories, delicious meals, beverages, great sailing and snorkeling for over 20 years. A limit of 6 guests and a crew of 2 make for a personalized experience. Half or full day. Let us know what we can do to make a special day for you.
Sailing on Catania is one of the most amazing days you will spend in the islands! Catania is the definition of classic elegance, a traditional 80-year-old wooden sloop with nostalgic lines and beautiful teak accents. Her legacy includes spending over 30 years circumnavigating the globe. And you have her captain, Ocean, who is commended in over 300 TripAdvisor reviews as excellent and the best. He will enthrall you with stories of his around the world voyage on Catania, share the history of the Virgin Islands, and take you to pristine white sand beaches and enchanting hidden coves. Full day, half day, and sunset sails. Up to 6 guests.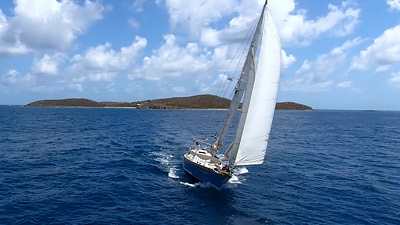 Sailing the Cosmos Charters
"Cosmos Mariner" is a classic Robert Perry designed Baba 40' Pilot House. With an overall length of 48' she provides the perfect blend of comfort, stability, and style. Impeccably maintained she ensures a first-class luxury experience for up to 6 guest. Whether you are seated in the shaded cockpit or soaking up the sun on the large padded foredeck you'll find all the amenities necessary to complete the perfect day on the water. Contact us today for more information about our semi-private or private half day, full day and sunset sails.
Looking for an unforgettable day on your Caribbean vacation? Spend the day on a luxury sailing yacht with Max Charters! With Captain Hunter you will sail in the National Park on St. John to the protected bays that are perfect for turtles, and who doesn't like turtles, and fish. Max Charters sails with a maximum of six guests, if you would like the boat all to yourselves just ask for a private trip. Charters include: sailing, snorkeling, an unforgettable Mediterranean style lunch and open bar. What could be better!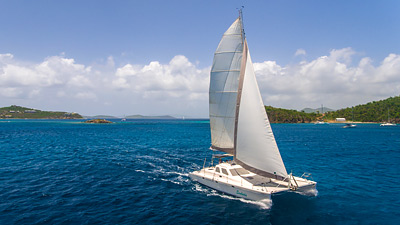 Sail with Liberty & Justice Charters
Sail VI welcomes you aboard for a memorable full, half, or sunset sail on our luxurious 43-foot sailing catamaran Justice out of Red Hook, St Thomas for up to 12 guests. We also offer exclusive sailing charters for those who desire a more private experience. Sail among the tropical islands and cays of St. Thomas and St. John National Park on our beautiful Voyage 430 catamaran while Captain Ryan and crew treat guests to a fun-filled day with amenities that include a gourmet lunch, signature drinks, shaded cockpit, expansive decks, quality snorkel gear, and a spacious swim platform. TripAdvisor and Google reviewers consistently rank their experience as "Excellent."
Whether you are looking for a Private Full Day or 1/2 Day Sailing Adventure or you are a Solo Traveler, Small Family or a Couple looking to join a Scheduled Tour at Per person Pricing, Stormy Pirates Boat Charters has you covered!! Our 41' Fountaine Pajot sailing catamaran is the perfect way to explore the beautiful Virgin Islands in style and comfort. On your boat day our friendly crews will cater to your every need. We offer a well-stocked Open Boat Bar, Light Snacks, use of Snorkel Equipment, a SUP and Kayak. We only take a maximum of 10 people on every trip, so you will receive a very personalized experience.
Sailing aboard the Fury will be the highlight of your vacation. The ½ day excursion departs from Yacht Haven Grande Marina in Charlotte Amalie, St. Thomas. Our destination is the National Wildlife Marine Refuge at Buck Island. We will anchor at Turtle Cove where you will experience a large population of green sea turtles in their natural habitat. Trip includes snorkel gear, open bar, snacks, and freshwater shower. Fury can accommodate up to 25 guests. Voted #1 excursion activity on St. Thomas by Tripadvisor.com. Also available for custom private 1/2 day, full day and sunset sails upon request.
St. Thomas Yacht Club and Regattas
The St. Thomas Yacht Club (STYC), in the US Virgin Islands, hosts multiple sailing regattas throughout the year. If you are an avid sailor and planning a vacation to St. Thomas, then consider picking a time when you can get in on the sailing action for which St. Thomas island is renowned. Contact the STYC for information on races. St. Thomas sailing regattas include Columbus Day Regatta, MLK Regatta, Round the Rocks Race, and the most well known the St. Thomas International Regatta (STIR). STIR was first sailed in 1974 and has continued with an exceptional program of serious world class yacht racing that has earned it the status of the 'Crown Jewel of Caribbean Yacht Racing'. STIR attracts both the latest yacht designs and hottest one-design classes as well as the greatest skippers and crews from across the globe. STYC has produced champion sailors through its Junior Sailing Programs. It hosts a regatta for young sailors, the International Optimist Regatta.