The Cas Cay/Mangrove Lagoon Marine Reserve & Wildlife Sanctuary is located on the south side of St. Thomas. It is an area of exceptional natural beauty, where mangrove trees provide homes for an assortment of animal life both above and beneath the waterline.
It had been more than a few years since I had explored the lagoon. Now here I was at the V.I. Ecotours office listening to one of their guides, Frank, give a pre-tour talk on what to expect. I was getting ready to do their Kayak, Hike & Snorkel Adventure Tour. A few weeks earlier I had been driving by their office when a gorgeous snowy egret in the mangroves caught my eye. I questioned myself on why I had let so much time pass since I had done a tour of the lagoon. By the end of the day I had contacted V.I. Ecotours, the only outfit that takes visitors into the reserve, and booked a trip!
The Mangroves
"Can anyone tell me why mangroves are so important?" asked Frank. A gal in the group answered that they provide homes for wildlife. "Yes," replied Frank before enthusiastically adding that they also serve as natural barriers for sediment and as land formers.
As soon as the intro-talk was over everyone heads down to the waters edge, climbs into a kayak and off we go. Paddling along through the calm, clear water my eyes move from scanning for critters swimming below to searching the tree tops for feathered friends. We stop to admire a magnificent frigate bird soaring above us while Frank provides information about bird life in the lagoon and on other animals.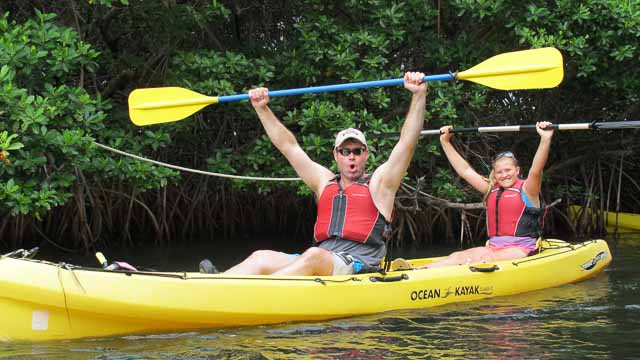 Kayak Ecotour
V.I. Ecotours offers a few different tour options for the lagoon. The tours include a hiking stop at Cas Cay. It's a 15-acre island; home to a variety of plant and animal life. On the small, pristine island we hike along dirt trails and a coral-rubble shoreline to a tidal pool. The pool is framed by interesting volcanic cliffs and contains snails and small fish. It is here that many of my fellow tour-mates appear to be most intrigued by the animal and plant life they had seen so far. They ask a variety of questions and busily snap photos of the rocks, the water, the view and themselves.
We head back to the shore where we had left our kayaks. It was time to put on our snorkel gear! While I had visited the lagoon before I had never snorkeled there, so I was really looking forward to this part of the tour. I head into the water, and wasn't disappointed. The long prop-roots of the mangroves are like support beams for the tree. Each tree puts down dozens of these roots and they form a cavernous tangle; the perfect place for small fish to hide from big fish! Looking and peering through the roots I am able to view cute little butterfly fish, young snappers, small pufferfish and other juvenile fish. Mangrove roots serve as a fish nursery!
When we arrived at Cas Cay the guide of the previous tour had mentioned to Frank that there was a lionfish in the area. Frank asked us all to keep an eye out while snorkeling so they could mark the lionfish's current location. Lionfish are a non-native, invasive species and a serious threat to our local reefs.
Everyone on the tour was listening to Frank while he pointed out various marine animals. I could hear him in the distance but I had slightly lagged behind the group, temporarily side tracked. I was looking for a lionfish! Moments later, I spot it hanging out next to a rock. I show it to Frank and then return to the regular scheduled program of leisurely snorkeling. Another V.I. Ecotours guide, named Sean, later catches the lionfish. Great job Sean!
After snorkeling we board our kayaks and set off for an enjoyable paddle back. At the V.I. Ecotours office Frank gives a post-tour talk. He reminds us of the importance of mangroves, encourages us to spread the word on protecting them and other natural resources, and sends us on our way.
The Cas Cay/Mangrove Lagoon Marine Reserve & Wildlife Sanctuary is a valuable and interesting area of St. Thomas. It is worth exploring if you have any interest in nature, birds, marine life, eco-tourism, kayaking or just want to do a fun recreational/educational activity. Thank you to Frank and everyone at V.I. Ecotours. I had a terrific time and definitely will be back to do another tour of the lagoon!
For more information about visiting the Mangrove Lagoon visit Virgin Islands Ecotours.