Contact Us
More Info
Thank you for visiting VInow.com. Your feedback is important, please direct your questions or comments to us as indicated below.
For Visitors
Virgin Islands Related Questions
Read through the Frequently Asked Questions page.
Get tips & answers from fellow travelers on the Travel Forum.


Brochures & Guidebooks: Purchase books, planning material, maps & videos on-line at our site VI Traders.
PS... For more information, pricing & reservations from businesses you see listed on this site you must contact them directly.
For Businesses
Advertising Inquiries
Please review the Advertising Section. For more information e-mail info@vinow.com (include name, telephone number, business name/website and message). Or call 340-774-1181 (10am to 7pm EST, Mon-Fri, Closed on Holidays).
Mailing Address & Telephone Numbers
VInow.com
P.O. Box 9678
St. Thomas USVI 00801
Tel: (340) 774-1181 (10am to 7pm EST, Mon-Fri, Closed on Holidays)
Email: info@vinow.com
St. John Feet Fins 4 Wheel Drive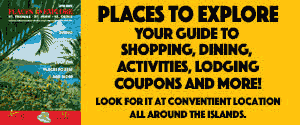 Virgin Islands Newsletter Signup
Sign up now for our FREE Virgin Islands Now Newsletter and we will email you regular updates on what's happening in the Virgin Islands & on VInow.com. You can unsubscribe at any time. Simply fill in the form below.
×