St. Croix Beach Guide
St. Croix's palm lined and sun kissed beaches call visitors to spend a couple hours and sometimes the entire day enjoying the natural beauty. Miles of secluded spots can be found along St. Croix's shores; in fact many beaches on St. Croix are continuous with different segments having different names. Take a look at the 23 beaches included in this guide and select your favorites - you are certain to find a few!
Beaches at a Glance
Click on Overview or Beach Name for more details.
Note Resort beaches are open to the public; only some however rent chairs and water sports gear to non-guests. Swimming pools and similar resort amenities are typically reserved for registered-guests only.
Beach Information and Tips
All beaches on St. Croix are open to the public, beyond the sand and tree line however is often private property and should be respected as such.
There are no clothing optional beaches in St. Croix; public nudity is illegal.
Removing shells from beaches on St. Croix is illegal.
Don't feed marine life or sea birds. Food not naturally in their diet, like various human foods, can create health problems for these animals.
Protect yourself from the sun. Wear sunblock, a hat and sunglasses.
Sun, rum and fun can spell dehydration, drink plenty of water.
Related Articles
Coral Reef 101 (Read about Coral Reefs.)
The Queen Conch (You might see these marine critters.)
Northside Beach Map
×
Southside Beach Map
×
East End Beach Map
×
West End Beach Map
×
St. John Off the Beaten Track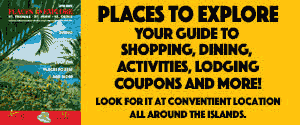 Virgin Islands Newsletter Signup
Sign up now for our FREE Virgin Islands Now Newsletter and we will email you regular updates on what's happening in the Virgin Islands & on VInow.com. You can unsubscribe at any time. Simply fill in the form below.
×