Lind Point Trail
This trail connects the National Park Visitor Center in Cruz bay with Honeymoon Beach and Caneel Bay. The trail ascends .4 miles to the scenic Lind Point overlook. The overlook is at an elevation of 160 feet and offers a great opportunity to take pictures of Cruz Bay. A side trail at .7 miles leads to Salomon Beach. The trail weaves through semi-dry forest and cactus scrubs.
User Ratings/Reviews
coconut
Good hike & beach day
Hike wasn't too bad; mostly flat, a few inclines at the start and finish. Kids wanted to be carried at some points which makes hiking just a bit tougher, but was fine. Dirt trail, various trees and shrubs on the sides. Didn't see any critters besides a few spiders. Wear a hat, sunscreen, bring water & snacks.
Explore More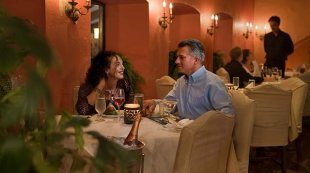 The Old Stone Farm House Restaurant is situated in a 200-year old, restored plantation field house overlooking the Mahogany...