St. John: Virgin Islands National Park
National Park
In 1956 Lawrence Rockefeller, through the non-profit organization Jackson Hole Inc., donated 5000 acres of land on St. John to the National Park Service. On August 2nd of the same year United States Congress passed legislation to establish the Virgin Islands National Park. The legislation stipulated that the Park's holdings on St. John could not exceed 9,485 acres. St. John contains a total of 12,500 acres. In 1962 the boundaries of the Virgin Islands National Park were expanded to include 5,650 acres of submerged lands and waters that contain a significant amount of coral reefs, shorelines and marine life. In 1978 the Park again expanded to include Hassel Island, a small island located in St. Thomas' Charlotte Amalie Harbor.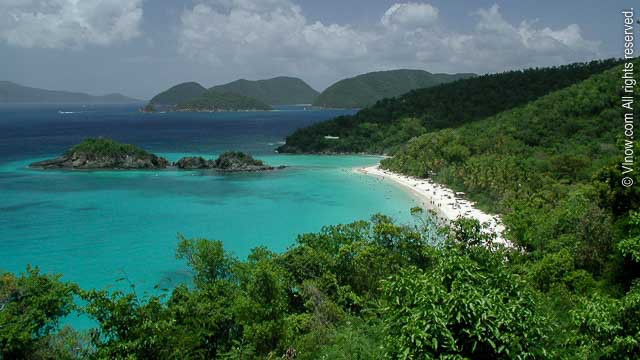 In 2001 the Virgin Islands Coral Reef National Monument was established from 12,708 acres of federally owned submerged lands off the island of St. John. This area, administered by the National Park Service, protects coral reef and mangrove habitat crucial for the biological diversity of the entire Caribbean.
The Virgin Islands National Park encompasses underwater areas that teem with marine life, gorgeous white sand beaches and acres of lush green forests. The land and sea are not the only treasures in the park, there are also historical treasures including Pre-Columbian Amerindian settlements, Danish colonial sugar plantation ruins, forts and a marine railway.
Virgin Islands National Park
Virgin Islands National Park
1300 Cruz Bay Creek
St. John, VI 00830
Telephone: (340) 776-6201
Park entrance: free. Donations accepted at the Cruz Bay Visitor Center. Trunk Bay Fee: $4 Adults, 16 and under, no charge. Golden Age & Golden Access annual card holders, 1/2 price. Annual fees: $10 individual, $15 family.
The Visitor Center in Cruz Bay, picnic areas at Trunk Bay and Hawksnest and several Cinnamon Bay campsites are wheelchair accessible. Steep topography extremely limits wheelchair accessibility to beaches and trails.
** Pets are not allowed on Park beaches, campground or picnic areas, but may be walked, on a leash, on trails.
The Virgin Islands National Park on St. John is well developed which makes exploring the historical sites, beaches and trails easy and rewarding. The top points of interest are Trunk Bay, Cinnamon Bay, Cinnamon Bay Plantation ruins and Annaberg Plantation. These are just four of the dozens of beautiful areas you can explore. You can enjoy the National Park by boat, camping, fishing, kayaking, nature walks, hiking, scuba diving, snorkeling, swimming and bird watching! Learn more about Activities in the National Park.
Hassel Island, located within St. Thomas' Charlotte Amalie Harbor, is 135 acres in size of which 122 acres are part of the Virgin Islands National Park. Once a peninsula connected to St. Thomas, the land mass was separated in 1860 by the Danish Government in order to facilitate better water and vessel circulation in the Charlotte Amalie harbor. There are four historical structures on the island now listed on the National Historic Places Registry. One of these structures is the remains of a British military garrison built during a brief British occupation of the former Danish West Indies (what is today the US Virgin Islands) in the 1800s. Another historical site is the Creque Marine Railway which dates back to the mid-1800s and is one of the oldest surviving examples of such a railway.
Get: National Park Map, Trail Bandit Map, Island Peaks To Coral Reefs